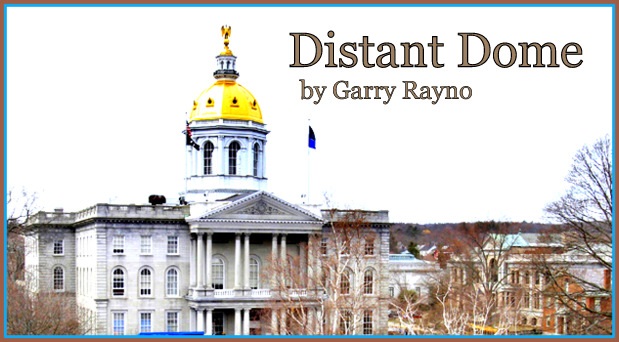 By GARRY RAYNO, InDepthNH.org
At this time a year ago, the coronavirus was ravaging China, but not on the front pages of every newspaper in the United States and 2 million deaths worldwide was unimaginable.

The Black Lives Matter movement was not as prominent as it is today, and the Proud Boys, the Oath Keepers and other anti-government militia and white supremacist groups were not being investigated for ransacking and desecrating the U.S. Capitol Building.

Last week and this week remind us the world is changing rapidly and not necessarily for the best.

President-elect Joe Biden will be sworn in as the nation's 46th president Wednesday in Washington D.C., but there will be no comparisons to past ceremonies and attendance because very few people will be there.

Instead, like much of the rest of the world today, most people will experience Biden's inauguration remotely or virtually.
The presidential inauguration was always going to be small this year because of the pandemic, but the violent riots at the Capitol Building will mean even fewer people will attend.

What once was a joyous occasion for the country, is now a security threat because domestic terrorists want to disrupt the ceremony or worse.

The areas around the Capitol Building and White House are more war zones than hallmarks of democracy while tourist attractions like the National Mall are closed to the public.

Fences topped with razor wire now guard the iconic buildings and soldiers at checkpoints sift the unwanted from the authorized. Saturday a man was arrested at one of the checkpoints with a fake inauguration badge, two loaded pistols and hundreds of rounds of ammunition.

And who can forget the pictures of the National Guard troops sleeping on the floor of the Capitol Building in order to protect it and the people who work there.

There are hundreds of troops if not thousands from all over the country including New Hampshire called in to help preserve order in the coming days.

The nation's capital with the highly visible troops and law enforcement personnel looks more like something an authoritarian, third-world leader trying to retain power would order than one representing the world's most successful experiment in self-governing.

With the precautions, most expect to see the traditional orderly transition of power from one President to the next President.

Along with threats to the nation's capital, calls for armed protests have involved all 50 state capitals at both state and federal buildings.

Last week, Gov. Chris Sununu said state law enforcement is prepared with State Police and the National Guard ready for any situation.
He said protesting is fine, but violence is not.

"Having a voice is fine," he said. "The State House grounds are there, they're open, and if folks want to come up and have a voice, that's absolutely the right place and the right time to do it, providing they are safe and they're following the guidelines and regulations of safety that we expect from folks."

Although he said most New Hampshire residents are responsible gun owners, he cancelled his inauguration ceremony earlier this month because of concerns over what he characterized as armed threats against him and his family.

Protesters began appearing at his home in Newfields after he was the last New England governor to institute a mask mandate in November.

After the town passed an ordinance outlawing picketing in residential neighborhoods, another protest resulted in the arrest of one person who was carrying a firearm, which is permitted in New Hampshire after Sununu signed a law during his first term repealing the necessity for a concealed carry permit that had been in place for decades.

Groups seeking to end the state of emergency restrictions imposed by Sununu's executive orders, and the mask mandate as well as a group wanting to dissolve the state of New Hampshire, planned a large demonstration for Sununu's inauguration ceremony. The traditional ceremony for the newly elected governor was to be held outside the State House this year to allow for social distancing to prevent the spread of COVID-19.

One group's website asked protesters to bring pots and pans and bullhorns to disrupt the ceremony. If you are a politician with career ambitions, that is not a video you want your opponent to have.

So, Sununu cancelled his inauguration ceremony citing increasingly aggressive threats to him and his family and instead held a private ceremony in the State House and gave his inauguration speech to video cameras instead of people.

Now the state capital faces the prospects of armed protests from this weekend through Biden's inauguration Wednesday.

While the inaugurations of the president and governor have been disrupted, the Legislature faces its own challenges in trying to adapt to the changing environment brought on by the coronavirus and heightened security concerns.

At this point in the Legislative session, committees should be scheduling public hearings on bills and beginning the initial process leading to cross over.

The Senate, which is easier to manage with 24 members and by its nature more bipartisan, has been tending to its business.
Early on the Senate decided to do what it did at the end of the last session, craft omnibus bills on a single topic to limit both the number of public hearings and length of Senate sessions to limit exposure to COVID-19.

The Senate met remotely earlier this month and finished its work on rules and a bill to allow the voting changes due to the pandemic to remain in place for town and school meetings and allowing those meetings to be postponed.
|
And last week the Upper Chamber began holding public hearings remotely and continues the process this week.

The House is another animal and as former House Speaker Donna Sytek used to say, "It's like trying to herd cats."

Committees usually spend January educating new members on the finer points they will have to consider and that is ongoing remotely.

House Speaker Sherman Packard, who replaced newly elected speaker Dick Hinch, who succumbed to COVID-19 one week after being elected speaker, appears willing to do hybrid hearings having some members in the Legislative Office Building with its new air control equipment and others at home on Zoom.

Safety remains a concern for everyone, but some GOP members are pushing to a return to normal while Democrats want remote hearings and sessions.

What is clear is the majority party has more members from its Free Stater/Libertarian wing than in prior terms and how all this plays out with a backdrop of division both here and nationally will certainly make good theatre even if it does not make good governance.
And will the violence, threats and intimidation on the national level also be heard and felt in Concord?

Judging from the past few months, that is more likely than not.

For those who say New Hampshire is different from Washington, that is still somewhat true, but law enforcement arrested an Amherst man last week who threatened members of Congress and had an arsenal. The pandemic and the national division have made the new year every bit as challenging as 2020 and why did anyone think it would be different.
Garry Rayno may be reached at garry.rayno@yahoo.com.
Distant Dome by veteran journalist Garry Rayno explores a broader perspective on the State House and state happenings for InDepthNH.org. Over his three-decade career, Rayno covered the NH State House for the New Hampshire Union Leader and Foster's Daily Democrat. During his career, his coverage spanned the news spectrum, from local planning, school and select boards, to national issues such as electric industry deregulation and Presidential primaries. Rayno lives with his wife Carolyn in New London.
InDepthNH.org is New Hampshire's only nonprofit, online news outlet dedicated to reporting ethical, unbiased news and diverse opinions and columns.