Editor's note: This story will be updated through the day until the House finishes its work.
By GARRY RAYNO, InDepthNH.org
DURHAM — The first 2021 House session and the first held in drive-in theatre style, was delayed an hour when arriving lawmakers in their vehicles created a traffic jam.
There was only one access point to Parking Lot A at the University of New Hampshire's Durham campus and cars lined Main Street waiting to enter the lot.
The session was held outdoors to better protect members from the spread of COVID-19 which claimed the life of newly elected House Speaker Dick Hinch last month, and infected other House members including one now in intensive care on a ventilator.
However, the outdoor session has been controversial as Democrats pushed for remote access saying the drive-in arrangement disenfranchises disabled and health compromised members of its caucus.
Rep. Debra Altschiller, D-Stratham, posted on Twitter from her car:
"OK Team, here we go. @NHHouseofReps is getting ANOTHER warning to keep masks on. That seems to be a problem for the Members in front of me who are clustered around the port-o-potties smoking. 1 is wearing paper bag on his head. Awesome."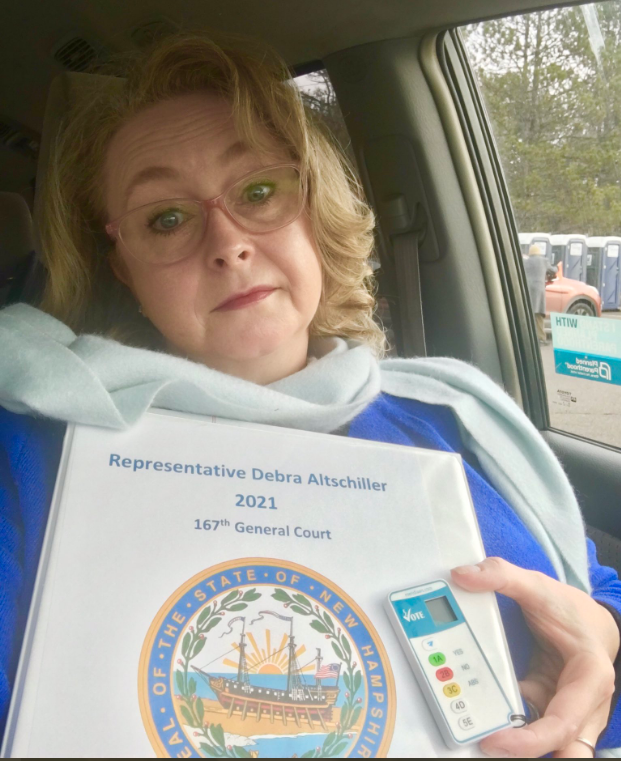 Disability rights activists protested the session at the entrance with one sign saying drive-ins are for "movies and making out."
When the session does begin, the House is expected to elect Sherman Packard of Londonderry as the new Speaker, and adopt rules for the next two years.
Democrats are expected to propose rules to allow remote sessions with voting or hybrid sessions with some members meeting in person and others remotely.
Packard said the lack of such a rule prevented him from allowing some members to meet remotely.