By NANCY WEST, InDepthNH.org
CONCORD – The state Department of Health and Human Services won't say how many state legislators and staffers have tested positive for COVID-19 claiming that is confidential health information.
InDepthNH.org also asked the department to identify the lawmakers by name, which spokesman Jake Leon also declined to answer.
"We are bound by federal privacy laws from releasing an individual's protected health information unless that information is necessary to protect the public's health," Leon said in an email. "That includes an individual's COVID-19 status."
Leon said all legislators and staff determined to be a close contact of a confirmed case have been required to quarantine, similar to any other resident who is a close contact of a case. The department worked with the Legislature to make testing available to legislators, State House staffers and their families on Saturday.
"All persons who have tested positive have had contact tracing to occur and close contacts identified and notified. If the department is unable to identify all close contacts and there is elevated risk of community exposure, a public notification would be necessary," Leon said.
The question has become controversial in the wake of House Speaker Dick Hinch's death last week, which was caused by COVID-19, and the announcement Saturday by his appointed Speaker Pro Tem Kimberly Rice that she is recovering from the virus.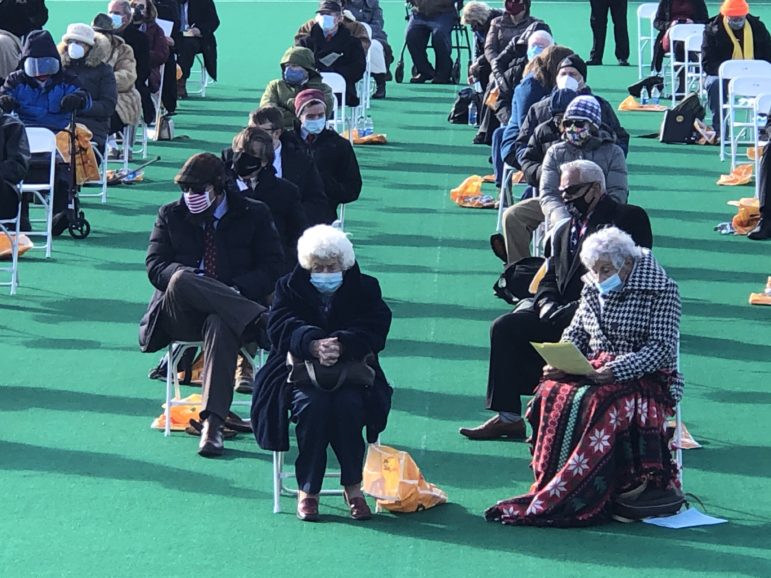 There were reports that four Republicans tested positive after the GOP caucus met indoors – many not wearing masks – at the McIntyre Ski Area in Manchester Nov. 20, but neither the state, nor Interim House Speaker Sherm Packard, R-Londonderry, would confirm that Tuesday.
"That's private information that I'm not going to discuss," Packard said. "A lot of that is personal information," Packard said. "That's what they tell us. I can't confirm or deny anything at this point."
The question is also controversial because many of the Republican House members disagree with the state's mask mandate and about 80 sat in the maskless section outdoors at Organization Day at UNH in Durham Dec. 2.
Packard said Rep. Al Baldasaro, R-Londonderry, and Rep. Tim Lang, R-Sanbornton, are also running for the Speaker's position at Friday's caucus, which will be held remotely. The full House will vote on the Speaker Jan. 6, but Packard said he is not sure where that meeting will be, but said he is investigating whether to have a drive-in meeting at UNH in Durham.
State Sen. Thomas Sherman, D-Rye, who is also a physician, said the state is technically correct about releasing private health information, but he believes the number should be released and lawmakers should make their test results public voluntarily.
"While it is important to respect both privacy and protections provided under federal law there is a public right to know about the status of the health of our leaders especially when the public may have been exposed," Sherman said.
"In the absence of this disclosure reassurance is provided by strict adherence to comprehensive contact tracing. Fundamentally the confidence of the public depends on the honesty and responsible behavior of their leaders."
Sherman said it is critically important to continue wearing a mask, social distancing and following the published state guidances.
House Democratic Leader Renny Cushing, D-Hampton, raised the concern over the weekend that the State House could have become a super spreader hotspot because of the events involving the Republicans starting with the caucus Nov. 20.
"I think there needs to be transparency in this instance. Lawmakers have been exposed to people confirmed to have COVID-19…," Cushing said.
"They assemble from throughout the state and come to Concord and Manchester where they meet with carriers who should be quarantining," Cushing said, adding they could bring the virus back to their communities. "I would like to be told who it was (that contracted the virus), how far the contamination has spread," Cushing said.
Some Republican lawmakers have refused to wear masks at the State House, even in offices where staffers are wearing masks, he said.
"They went into a town after the governor issued a mask ordinance and the town of Durham and university have ordinances thinking they were above any regulation. That's arrogant and selfish," Cushing said. "Legislators do not have the right to infect other people with COVID."