By NANCY WEST, InDepthNH.org
CONCORD – The number of COVID-19 positive inmates at the New Hampshire State Prison for Men in Concord has doubled in a week and stands at 12 who are currently infected, with most of them housed in the psychiatric units.
There was only one positive case in late May at the men's prison. On Nov. 25, the state Department of Corrections' website reported six positive tests, also mostly at the Secure Psychiatric and Residential Treatment units at the men's prison in Concord.
There were 23 active cases among staffers in various state prison facilities.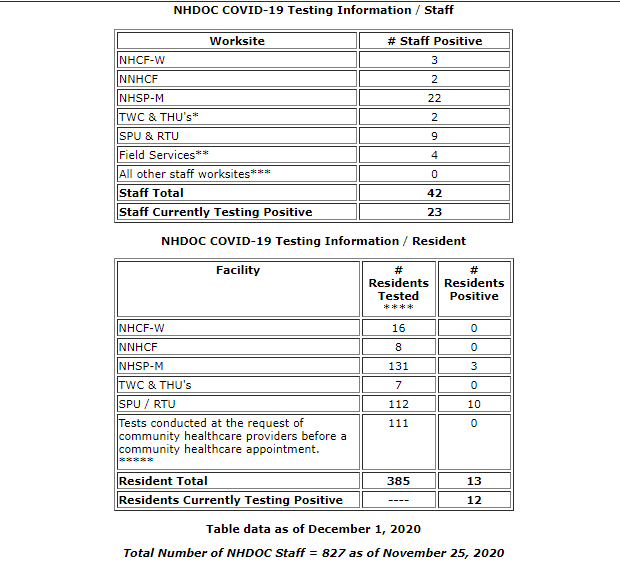 There were no reported inmates who tested positive at the other state prison facilities including the Northern New Hampshire Correctional Facility in Berlin and the New Hampshire Correctional Facility for Women in Concord. The total resident population in state facilities is 2,153.
Corrections Commission Helen Hanks said in an email: "All members of this Department are dedicated every day to the needs of residents and are equally concerned about the impact of COVID-19 on the lives of those we are entrusted to supervise and care for.
"The Department, in consultation with New Hampshire Public Health, will continue to respond to the positive cases in line with CDC and NH Public Health COVID-19 guidance with all our residents wellness at the forefront. We have had no deaths associated with a COVID-19 diagnosis at this time."
The Federal Correctional Institute in Berlin was reporting two active cases among inmates and two among staffers on Wednesday.