By PAULA TRACY, InDepthNH.org
Sewn together like a string of beads in my memory are summer Monday mornings. Outdoors. They are like a necklace of happy times in my mind.
This pandemic brought some new customs, which frankly I like and might just keep up after it is over.

There is a tiny wedding trend, for example.
Socially-distanced dining works for me outdoors.
Zoom church in my jammies with coffee in hand has its benefits. I keep the video off.
The lack of traffic is great.
Working near the fridge….well, I could go on.

One which I have embraced, and you should too, is starting every work week on Monday with a walk, paddle, water ski, swim, hike, dog walk, apple pick, or simple time with the lowly watering hose out by the stone wall, giving my flowers a good drink.
This November, I vote for work starting at noon on Mondays at least until there is a vaccine.
Work Mood
Let's face it, work has been pretty depressing for most of us in 2020, even if we have work.
After people have left the Lakes Region and gone back to their homes and offices Monday, there is also space out there to enjoy hikes without finding a packed parking lot.

Monday morning hikes have put me in the proper mood to attack the work week. It has been a life-saver for my sanity and it has helped me keep the proper perspective on what is important.

While not all mornings I can afford this luxury, I make the point to try to get outdoors, now.

Surprise Visitor
The surprise of the summer came about the end of June one Sunday night while I was watching Lucy Wolsey's show on British History on PBS.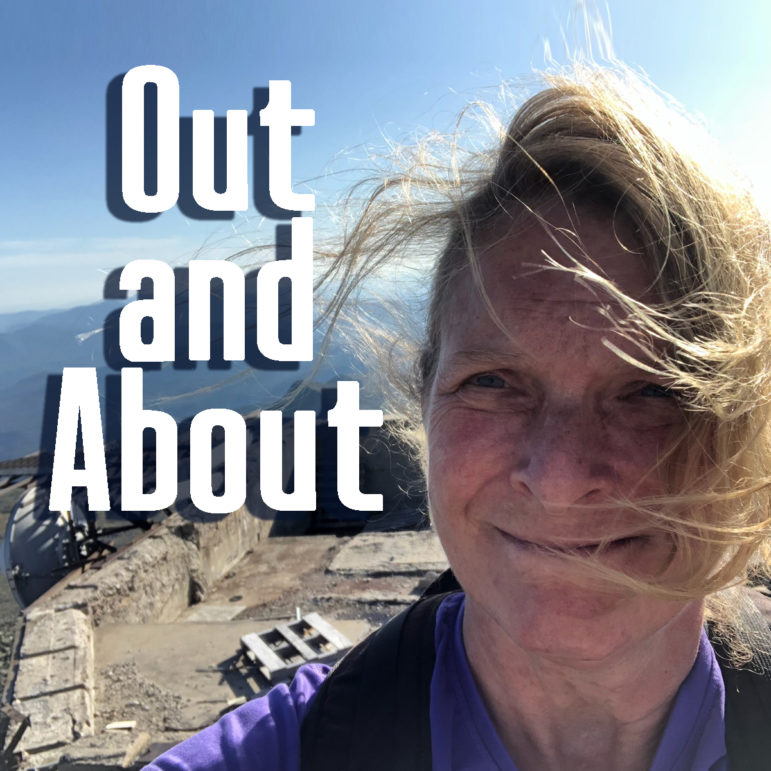 The pets all scattered as a young woman wearing a Black Lives Matter face mask came to the darkened door with my husband behind her.
Until I could find the mute button and hear her muffled voice behind the mask, I thought it must be someone else showing up really early.
It was our 26-year-old daughter, Eliza, who lives in Colorado. She surprised us when she found she could work remotely from anywhere in the country where there was internet.

As it works out, this place not only has pretty good wifi, it has a stocked kitchen, a cook or two, cleaning and laundry help, pets to snuggle with night and it is all free.
Another bonus of the pandemic.
She left this past Saturday after being here for 10 weeks.
A benefit for us was the fact she worked on Mountain Time. When it was 8 a.m. here it was still 6 a.m. or even earlier on the West Coast.

Most of my work did not begin until Zoom calls at 10 a.m.
That allowed us a regular morning adventure.

An Assignment
Find your own local spot to explore and enjoy this fall, which is near your own backyard. You can do your research online.
I can suggest that the best information might be found at websites like your town's conservation commission, a local land trust, even the Society for the Protection of New Hampshire Forests has many properties to explore throughout the state.
Now that it is a bit crisp in the mornings, I enjoy the outdoor adventures even more but wear a whole bunch of layers.
I hate the humidity.
I am glad to see it go.
And I will be happy to see COVID-19 go, too.
We need to stay outdoors for our own sanity and build buffers in our lives to protect us from going crazy.
Though I have lost my Monday morning outdoor partner, I still have the happy-faced dog who sees the shoes go on and knows it's time to sniff and explore.
Winter will be here soon and I want to be strong for ski season.
Squam Lake Ridge Walk or Run Race
If you are up for a bit of a challenge, this is a great event Oct. 4 which is still on. Have fun!
https://www.squamlakes.org/events/squam-ridge-race-2020
Paula Tracy's first big hike was in 1975 with classmates from Concord up Mount Lafayette with teacher and outdoor enthusiast Ned Bergman. She was 13 and was immediately captured by the wonders of New Hampshire's great outdoors. It would lead to a lifetime love of exploring the woods, water, and wildlife in the Granite State. As a staff reporter, for 25 years at the NH Union Leader and then for WMUR.com, she has written about the subject extensively and continues here with the hope of connecting New Hampshire's residents with their own backyard.