By PAULA TRACY, InDepthNH.org

CONCORD – Cases of COVID-19 have been increasing throughout the state with 37 cases now at the University of New Hampshire in Durham, a state official said.

Patricia Tilley, deputy director for the New Hampshire Division of Public Health, said UNH continues to be the most active campus for COVID-19 cases, jumping from 10 cases last week to 37 active cases. Another 25 have recovered, according to the state's website.

She gave an update to the Governor's Economic Reopening Task Force Thursday.
She stressed that the number of cases is going up across the state, particularly among a younger set of people and that the percentage of positive cases in COVID-19 PCR tests is now at 1.10, up from below 1 percent for the past few weeks. From Sept. 3 to 9 there have been a total of 214 new cases for a total of 7,517.

Part of it, she said, has to do with increased testing and detection as students return to college campuses.

Other data provided in her presentation include:
– three COVID-19 cases at New England College in Henniker
– three at New England College in Manchester
– One case at Dartmouth College in Hanover
– One case at Plymouth State University
– Three cases at Keene State College
– One at Rivier College in Nashua
– Two cases at UNH-Manchester
– One new case at Franklin Pierce College in Rindge while nine students have recovered from COVID-19.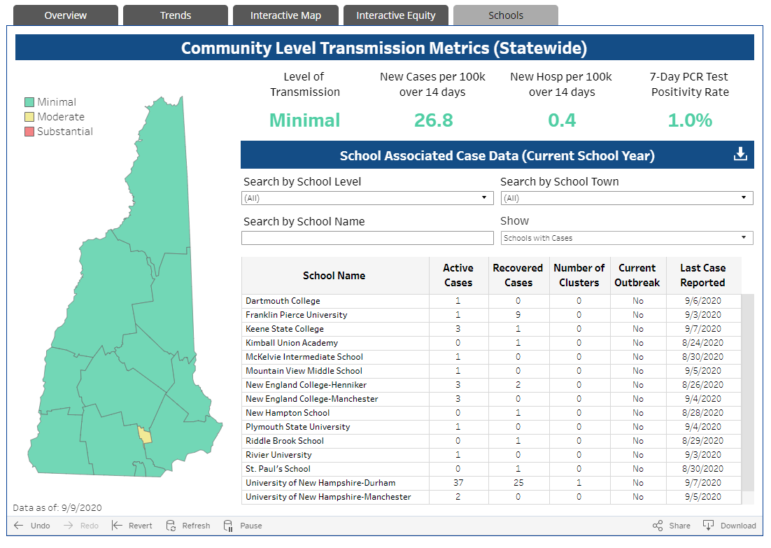 She said officials at UNH are taking the matter "seriously" and she feels they are trying to address the problems which include an outbreak related to a large party at a fraternity off campus which was not sanctioned.

While there have been reports of cases related to Windham School District, those are not being recorded on the school COVID-19 dashboard because the students were not yet in school. However, information about the number of cases is in the dashboard related to town and city COVID-19 cases, Tilley said.

She said despite the increases in cases in the state, there is not an increase in hospitalizations, with about nine people in the hospital now.
Tilley noted, however, that these are new cases and may or may not lead to hospitalizations. The fact that many infected are younger and are healthier is a good thing as recovery rates in that cohort population are higher than in the elderly cohort, she said.

There have been 433 deaths from the virus, primarily among the elderly and currently, there are 242 active cases in the state. Now that seasonal allergies are coming on, she said there are some similarities to COVID-19 symptoms.

One symptom which is more of a COVID-19 characteristic than allergies is fever. She urged people who suffer from ragweed and other fall pollen allergies to take their allergy medications.

The task force will hear next Thursday from Andy Smith of the UNH Survey Center who has been doing some polling on consumer confidence in the pandemic. He is expected to explore some of the issues identified in the survey.

Nancy Kyle, a member of the task force and the president and chief executive officer of the New Hampshire Retailers Association, made a plea for Gov, Chris Sununu to consider lifting the retail occupancy restrictions at 50 percent to 100 percent like restaurants, especially as the holiday shopping season approaches.
Rep. Tim Lang, R-Sanbornton, asked also about allowing for live entertainment and games, such as pool and darts, in bars.

Taylor Caswell, acting chair and the commissioner of the New Hampshire Department of Business and Economic Affairs, said Sununu would be addressing his GAP Program for businesses Thursday in a press conference.

The GAP Program is for businesses which did not get grants through the Main Street fund, for whatever reason. The GAP program has federal CARES Act money available to help these businesses through the pandemic.