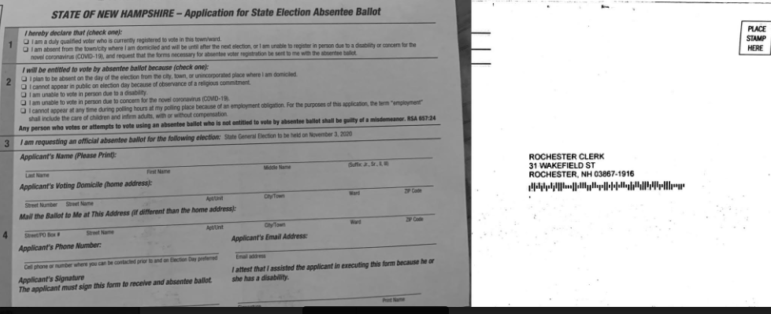 By NANCY WEST, InDepthNH.org

An 83-year-old Pennsylvania man received an absentee ballot application in the mail from the New Hampshire Republican Party telling him to return it to the Rochester, N.H., city clerk and his daughter wants to know why since he has never lived here and didn't request one.
Frances Langum said her father, Ian Short, who lives in Pittsburgh, Pa., contacted her after receiving the request trying to figure out what was going on.
"My dad is a long-time Pittsburgh resident who has never lived in New Hampshire. He's also a registered Democrat," Langum said.
This is the just the latest wrinkle of confusion in New Hampshire relative to the NH GOP absentee ballot request mailers. On Aug. 10, InDepthNH.org reported that the NH GOP had mailed requests to New Hampshire residents that would have been returned to the Durham, N.H., town clerk even though they didn't live there.
On Saturday, another NH GOP absentee ballot request mailer, this one with President Donald Trump's picture on it like the one Short received, was reported by a Dover man whose absentee ballot request said to return it to the Exeter, N.H., town clerk.
After reviewing both mailers Thursday, Associate Attorney General Anne Edwards said there were no updates on the mailer investigation. The Attorney General's Office has been looking into the mailers since the first round was discovered and has said the NH GOP will reimburse them for their work.
"We are looking into the issues raised with respect to the mailers we have received," Edwards said.
Last Friday, Edwards addressed the first mailer that would have sent responses to Durham in an email to reporters saying on Aug. 19, the Attorney General's Office retrieved 237 postcards from the Durham Post Office.
"These postcards were separated by municipality, recorded, and mailed to 94 town and city clerks for processing. To date, the Attorney General's Office has correctly delivered 2,051 postcards to more than 186 town and city clerks."
The Democratic Party has criticized Gov. Chris Sununu for not ordering an indepth investigation into what happened with the first round of NH GOP mailers.

On Thursday, NH GOP spokesman Joe Sweeney asked for a copy of the mailer that went to Pennsylvania and didn't respond to a request for comment after receiving it. The Republican Party hasn't said who printed them.
Langum, an associate editor at the popular progressive/liberal blog Crooks and Liars, conceded her bias and wrote about it on the site.
https://crooksandliars.com/2020/08/why-new-hampshire-gop-sending-absentee
But it still raised many questions, she said, like where did the NH GOP get her father's name and address. It was addressed to his correct address where he has lived since 2017.
"Either this is an effort to disenfranchise Pennsylvania voters or it could be a legitimate mistake," Langum said.
"This could be an effort to confuse senior citizens," Langum said, although that wouldn't work on her father since he still does the New York Times crossword puzzle every day.
Or perhaps it could be an attempt to accuse a Pennsylvania voter of trying to vote in two places to create a fake story of voter fraud, Langum said.
Rochester, N.H., City Clerk Kelly Walters said she hasn't received any responses from Pennsylvania as yet.
"This does happen. If we receive one, we have to investigate see if it is a registered voter," Walters said. Then the person would have to fill one out in person or complete a complex mail packet.
"We treat each one individually," Walters said.
For this year only, New Hampshire is allowing voters to request absentee ballots if they are concerned about voting in person because of COVID-19.
That has also caused confusion as pre-COVID-19 affidavits are being used to sign under penalty of perjury to return completed ballots that do not list COVID-19 concern for voting absentee.
Town and city clerks are now sending a sticky note with the ballots explaining that it is OK to use the incorrect form to return the completed ballot.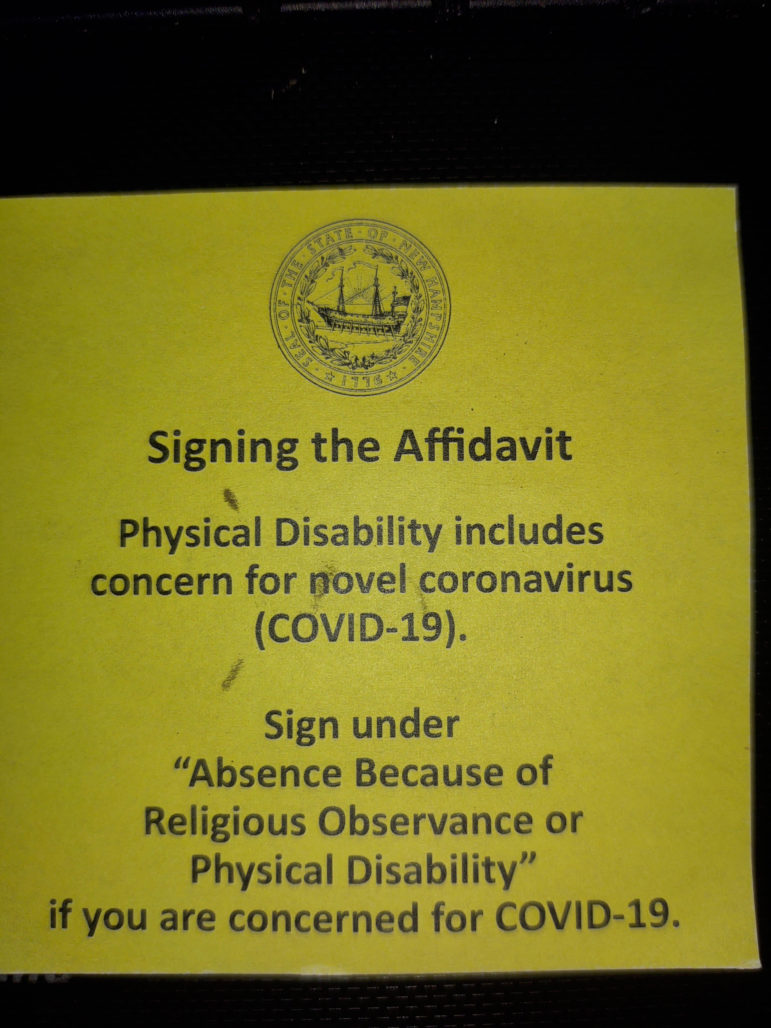 Walters said absentee ballots are due at 5 p.m. on election day. What hasn't been decided at the state level yet is whether people can bring their completed absentee ballot into their polling place and hand deliver it, Walters said.
Walters recommended that voters looking for information go to the official source.
"If they have any concerns at all, the best source is the Secretary of State's website," Walters said. https://sos.nh.gov/