By SUSAN DROMEY HEETER, Joyful Musings
Sometimes you need to hop on a plane to Nantucket.
Sometimes you need to sit next to your husband who happens to pilot small aircraft and go. Go. Go. Go.
Wear your bathing suit and pack your Superman towel and get out of Dodge, escape from a world of Covid and politics and move into a place where cities look small, where clouds are within reach, where the 17 year old girls in the backseat of the Cessna dance to Tik Tok and eat Pringles.
Sometimes you need to rent a scooter on Nantucket and sail around the island, smell the ocean breeze, zip by million dollar homes, park your wheels on Madaket Beach and grab that Superman towel. You need to jump right into the waves and delight in the jellyfish and get out unscathed but salty, happy, fresh from a swim.
Sometimes you need to zip down the road wet from an ocean swim and walk into the Whaling Museum and look, really look at the whaling boat and imagine what it was like to be in that thing for days, for weeks, for months on end. Sometimes you need to read a book like In The Heart of the Sea: the Tragedy of the Whaleship Essex by Nathaniel Philbrick. Sometimes you need to imagine a world where sailors are so hungry they eat ANYTHING and then, well, then Covid does not seem so bad.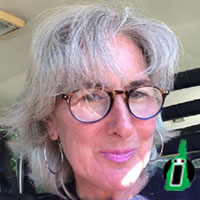 Sometimes you need to buy yourself a roast beef sandwich and zip back to Madaket Beach because now you know the way and where to park. And you need to jump in one more time and laugh in the waves and wonder why more people are not swimming.
 Sometimes it's such a beautiful day, the water glistens in the sun, the sand envelops your unpedicured toes. . Sometimes you have to go to an island and swim, swim, swim, brave the jellyfish, forget any semblance of fashion, bask in a day, delight in a day you'll unpack in February sigh and say, "That was a good one…"
Sometimes you need to meet up with your family, your plane companions and compare adventures of fishing and getting bit by jellyfish and celebrating a life in a day, a beautiful world from above, below, in between.
Sometimes you need to look at the selfies taken by 17-year-old girls who laugh and like and bask in a beautiful day before they go into their senior year of high school.
Sometimes you need to stop and pause and enjoy. And ride a scooter. And laugh. And jump in waves and use a Superman towel.
Sometimes you need to hop on a plane to Nantucket. I muse joyfully one day you will.