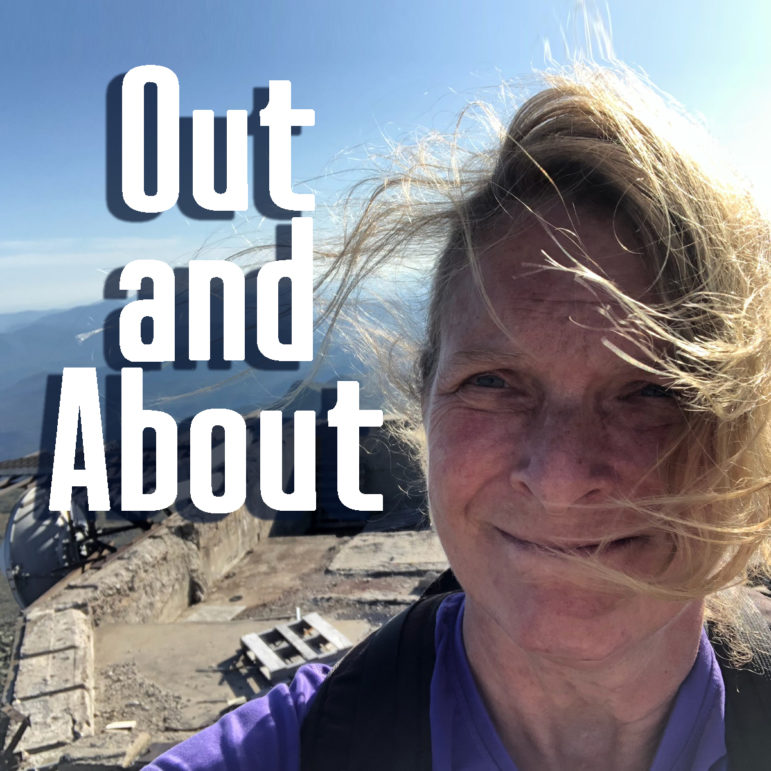 By PAULA TRACY, InDepthNH.org

NORTH CONWAY – Miss Manners, we need you in North Conway, New Hampshire to weigh in on some overflowing trash troubles.
Seems overcrowding in the Mount Washington Valley weekends during this COVID-19 summer has led to some local friction.

Trouble in paradise began early in May and has stayed on like the virus, increased with intensity in July and now August, with parking lots at trailheads overcrowded, trash overflowing and residents and business owners getting upset that people keep picking up and touching but not buying or making a reservation and not showing up.

Whether residents and visitors – craving for a bit of the outdoors, any outdoors really after months inside – can come to some sort of understanding about the rules of common decency in the valley is topic of conversation.

The local chamber has put up an etiquette campaign, mostly through signage, designed to inform people to "mask up" and "clean up," after themselves. The bad behavior is a bit shocking.

"It's taken us all by surprise," said Janice Crawford, executive director of Mount Washington Valley. "We continue to see and hear stories at the chamber about the general disregard for good old' American manners."

She said the signs remind people to wear masks, to maintain a 6-foot social distance, "and to respect our community," Crawford added.
A press release of the Mount Washington Valley Chamber of Commerce was pretty blunt.

Rather than all the superlatives about the region and its beauty urging people to come on a vacation, it read "overcrowding is resulting in an abundance of trash, a disregard for parking regulations and social distancing requests, plus a lack of mask-wearing and a general disregard for the community that has worked so hard to remain a safe refuge for its residents and avid outdoor adventurers that have traditionally come to recreate here. Even with the threat of a $100 fine and towing, more than a hundred cars line River Road and West Side Road to access popular spots like Diana's Bath and First Bridge. Once the cars leave, a trail of trash and refuse remains in its place. And this kind of situation is repeated in parking lots, roadsides and attractions throughout the Mount Washington Valley."

To be sure, a lot of cooped up people from COVID-19 are not behaving well and it seems there is more to be learned with the season not yet over until Labor Day, and then the foliage season and Columbus Day. And don't forget Bike Week coming up statewide Aug. 22-30.

Demand is high throughout New England for recreational spots and the fact New Hampshire is low COVID-19 land, and within a day's drive of about a quarter of the country's population, it's not surprising that we have company this summer.
And not everybody wants to wear a mask.

The chamber said it believes the pandemic is increasingly driving first-timers to the White Mountains.
"The Mount Washington Valley Chamber of Commerce and its members are determined to keep the Valley a safe and congenial place for visitors to enjoy time in the outdoors, take in family attractions, and enjoy tax-free shopping, great dining, and a wide variety of places to stay. Businesses throughout Mt. Washington Valley have worked hard to re-open safely and amidst guidelines that are often restrictive, yet necessary to maintain the welfare of those who work and visit there. "


Make reservations

Gone are the days of walk-ins for many businesses.  Lodging properties are observing time for guest rooms to "rest" in-between visitors to allow safe sanitization. New cleaning protocols mean more time to get rooms ready.  Restaurants have eliminated some tables and are operating at 50-percent occupancy to allow social distancing. Even attractions are bound to limit the number of guests, so without a reserved time, visitors may not be able to enjoy the time there.  Bottom line: Plan and reserve your stay, dining, and fun before you visit Mount Washington Valley to avoid being turned away.

Show up

Once reservations are made, be sure to show up at the appointed time.  Remember, all businesses in the Valley are operating under strict guidelines and diminished occupancy, so when a guest reserves then doesn't show, it's a double loss for the business.  They're already operating under capacity, but when a guest simply doesn't show up, the business can't re-sell that space at the last minute.  Also, late shows mean less time to enjoy the meal or attraction, so please be on time.

Pack in & Pack Out – bring a trash bag

One man's (woman or child's) trash is not another's treasure.  Visitors are asked to be prepared to properly dispose of any trash they create.  Whether it's along the trails or along the roads or parking lot of businesses in Mt. Washington Valley, all people are asked to dispose of all trash carefully and completely in receptacles for that purpose or by taking it home.  Carrying a few grocery plastic bags is a very good idea for trash pick-up throughout Mt. Washington Valley.

Wear a mask    

Masks are simply a necessity to help avoid the spread of the virus and a requirement by most businesses in Mt. Washington Valley.  The chamber asks all visitors to wear a mask when visiting businesses in the Valley.  Without one, it's possible that entry to the business may be denied. "You want to visit us in the Valley? Then wear a mask," explains Janice Crawford.

Touch it, take it  

To avoid as little contact as possible, all those in Mt. Washington Valley are asked to take whatever they touch.  "If you pick up a brochure in our information booths, we ask you to take it with you or we'll have to throw it away," explains Crawford.

Pack a pandemic survival kit when you go out.    

It used to be that water and snacks were enough to fill a backpack when hitting the trail, but that's no longer adequate.  When it's time to visit anywhere in Mt. Washington Valley (or anywhere else during this pandemic) the following necessities should be packed for the day: A mask, hand sanitizer, surface cleaner wipes, trash bag(s), cell phone, and the essential water and snacks, too.  Gloves are a good idea, too.

For more information, visit www.MtWashingtonValley.org or call 800-367-3364.
For more information on vacations in New Hampshire, go to www.VisitNH.gov.
Paula Tracy's first big hike was in 1975 with classmates from Concord up Mount Lafayette with  teacher and outdoor enthusiast Ned Bergman. She was 13 and was immediately captured by the wonders of New Hampshire's great outdoors. It would lead to a lifetime love of exploring the woods, water, and wildlife in the Granite State. As a staff reporter, for 25 years at the NH Union Leader and then for WMUR.com, she has written about the subject extensively and continues here with the hope of connecting New Hampshire's residents with their own backyard.