Writing on the Fly
By GEORGE LISET
As an educator I have taught many people how to do many different activities. I have taught people to swim, to climb, to ride horseback, to throw things, to row things and to know things. That's what teachers do. Sometimes we have more laughs than success, but that should be a big part of the learning experience.
Lately it seems, I have been teaching more people to fly fish which has been fun. I enjoy sharing the sport of fly fishing. But if truth be known, it is just another reason to be on the river "Waving a stick" as the writer John Gierach so aptly puts it.

When my good friend Jeremy gave me a call to go out and hone his fly casting skills I couldn't say yes fast enough. Jeremy is a great fisherman in his own right. Spin casting has been his method of choice, and from the pictures I have seen of him with monster bass, a rather successful one. Jeremy is also a good teacher of the sport as well. He showed me a picture of his wife Cassie with a huge bass she caught at Lake Umbagog.


My first time out with Jeremy was two summers ago when we went down to the local river to introduce the sport. Jeremy and his family were going to Yellowstone National Park, and in the park there are many fly fishing-only rivers and streams. Being able to fly fish opened up the fishing possibilities in Yellowstone and surrounding areas.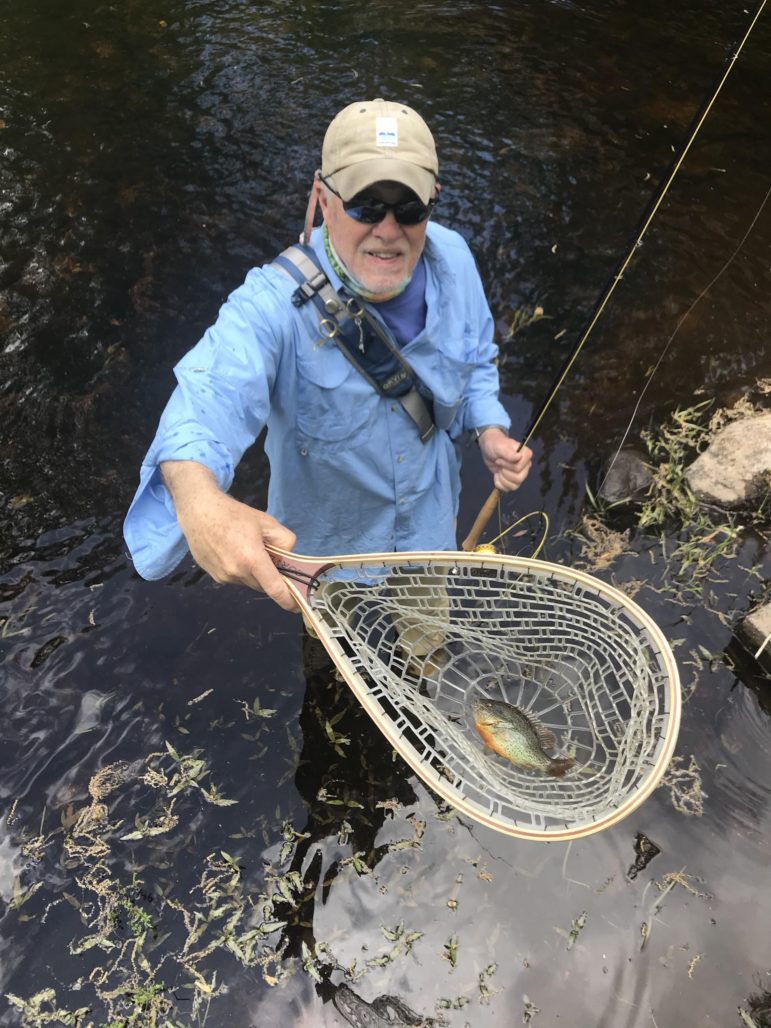 Jeremys' first time out was a success as he picked up the casting quickly and we even got him into a Smallmouth Bass on a streamer. Now here is where I put out my disclaimer, teaching someone to cast, and teaching someone to catch fish are two different things. Teaching someone to fly cast can lead to catching fish but getting people to catch fish on a fly rod is a lot harder. There are many experienced local guides who will get you into fish and help with your casting. They are worth every penny.
The weather was hot, the water warm and the river was low on this hot June day. Not ideal conditions for getting into fish. When we got to the river, I reviewed the rod set up with the line, leader and tippet, and explained about choosing a fly and what type and size. Once on the river I found Jeremy a spot that I knew had some fish and started him casting.
It was apparent that he had been practicing as his casting was smooth and fluid. As we moved down the river Jeremy got the first couple fish of the day. Jeremy had found a bunch of sunfish that are always fun to catch, especially on light rods. If you are ever teaching a child to fly fish, find out where the sunfish or other pan fish are, such as bluegills. Fishing is more fun for the little ones when they catch fish. A few minutes later I caught my obligatory sunfish, the biggest of the day. What else would you expect from the sunfish king!
I wanted to show Jeremy a spot on another body of water where I have had some luck. We threw our rods in the bed of my truck and we headed out. I knew when we reached the stream it would be really low, but I also knew from past seasons there might be a couple of pools that had a few trout. I set Jeremy up with a small streamer and I had him work the pool while I fished another one lower down.
Within a few minutes I hear a "Fish On!" I looked over and Jeremy is reeling in a beautiful rainbow trout. He followed that up with a nice brook trout a few minutes later. I followed that up with a, you guessed it, another sunfish. Jeremys' success was more an attribute to his fishing ability than to my guiding ability.
Jeremys' casting looked great and he will be more than ready to take on Yellowstone again. As for me, I am more than ready to take on that next sunfish.
George Liset of Dover is an outdoor writer and avid fly fisherman who shares insights of his time on the water exploring New Hampshire streams and rivers as well of those around New England. George is a graduate of Wheaton College, Illinois, and the University of New Hampshire.