By PAULA TRACY, InDepthNH.org

CONCORD – While seven deaths and 104 new COVID-19 cases were reported Friday, the state is experiencing a continued downward trend in hospitalizations, officials said, causing optimism that the planned flex openings for some businesses next week will go forward safely.

One week after Gov. Chris Sununu announced his plans to reopen for some hospital procedures, hair salons, golf courses, and campgrounds with restrictions, he announced at a news conference on Friday that dentists and oral surgeons will be able to open their doors as well on Monday.
"All of our decision-making was grounded in public health," Sununu said. The state didn't shut down the dentist offices, he said, but they voluntarily did so except for emergency procedures.

"We are issuing guidance that will offer a road map for many dentists to open (Monday) should they choose to," Sununu said.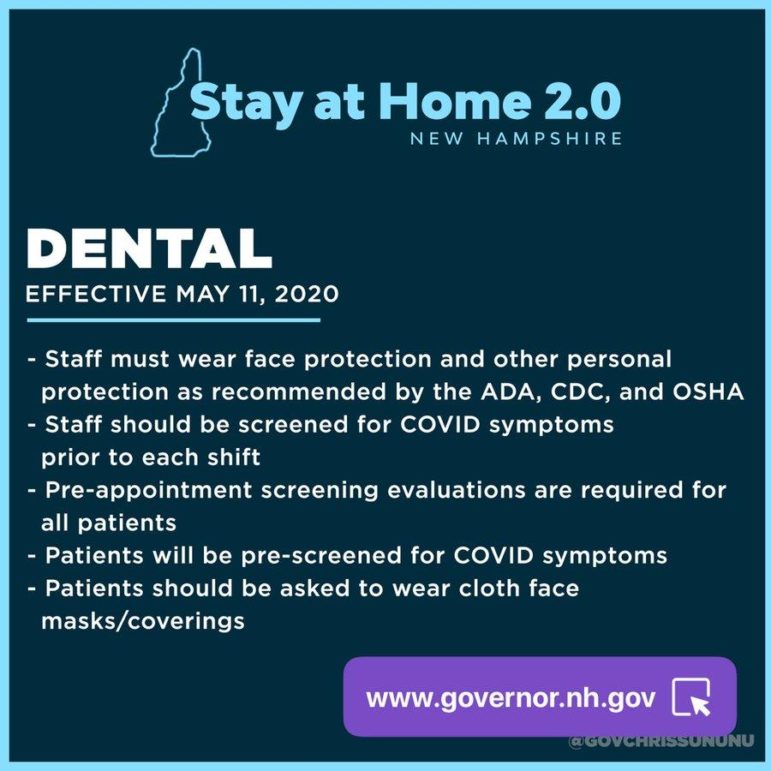 Sununu also announced a new partnership with the urgent care provider ClearChoiceMD at eight of its locations and a new one in Lincoln to do COVID-19 antibody testing next week.
The state has also ramped up its overall COVID-19 testing to 1,238 tests a day the past week, said Lori Shibinette, commissioner of the state Department of Health and Human Services, and she is expecting to be able to handle about 2,600 a day by next week.
Shibinette said there have been 2,947 cases of COVID-19 in the state and the hospitalization rate is at 10 percent of the total "which is a continued downward" trend, an indicator governors are using to help determine whether they can safely reopen parts of the economy.

She did, however, report the seven new COVID-19 deaths, five of which were residents of long-term care facilities.

There have been a total of 121 deaths in the state and about 78 percent have been residents of extended-care facilities and is considered among the highest in the nation on a percentage basis.
Sununu did not respond to questions from InDepthNH.org as to how much the state is paying ConvenientMD and ClearChoiceMD to do the new testing.
Sununu didn't respond to which health-care entities received some of the $50 million in loans/grants provided early on to keep them from closing their doors or whether ConvenientMD and ClearChoiceMD were among the recipients. He did say that about $20 million to $25 million of that fund has been earmarked already, but didn't identify the recipients.
The state has 226 long-term care facilities and 15 of them have had outbreaks of three cases or more, Shibinette said. Some states have as many as 95 percent of their nursing homes with COVID-19, she said.

The state has now tested 32,000 of its 1.3 million residents for the new coronavirus, which is still among the lowest in New England as a percentage of the population.

The fact that the state has independently gone out to find and secure an adequate supply of personal protective equipment has helped in the decision to allow for some dental practices to reopen for procedures if they want to, Sununu said.

They were not included in guidance procedures last week to reopen because more work needed to be done, but has since been completed, Sununu said.

The opportunity to do antibody testing is an important aspect to understanding the virus and who has already been exposed to COVID-19, but Shibinette cautioned that we don't know enough about the virus to know how long a person might be immune.

To get an appointment to be tested, people should start with a telehealth visit and information on that, and the locations are listed at ccmdcenters.com.
If there is no vaccine in six months, the information will be helpful in the fall, Shibinette said, and on a larger scale, it informs the state on community exposure.
In response to a reporter's question, Sununu said he will form a committee to look into why minorities account for a larger percentage of COVID-19 in New Hampshire.

Finally, Sununu noted that this Sunday is Mother's Day and he took the opportunity to recognize the extraordinary efforts of mothers in the past two months where they have had to help serve as educators.

A reminder to dads, like himself: "Kids are not coming home from school with crafts for mom. So you have to put your A-game on…this year is a little different and a little extra special…We can't say thank you enough."
InDepthNH.org's Nancy West contributed to this report