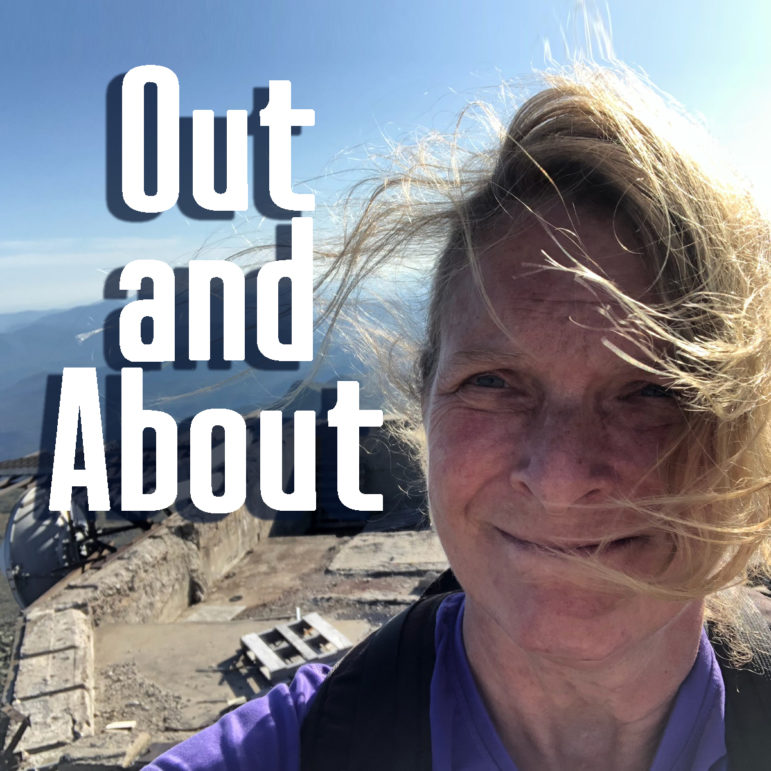 By PAULA TRACY, InDepthNH.org

I was 8 years old on the first Earth Day some 50 years ago today.
The daffodils were in bloom in Concord, New Hampshire. The green "eco" sign logo was as ubiquitous as "peace" signs.

Happy Earth Day!
This is a hard time in our confinement to celebrate but we can do that right in our own neighborhoods.
There is something about waterfalls that offer us a refreshing reminder of the earth's beauty and endurance.
Waterfalls provide a feast for the senses – the sound of the rushing water over rocks, the feel of the icy cold water, the visual splendor as water tumbles over rocks through gravity.
The Granite State is blessed with waterfalls in every region. There is likely one within 20 miles of your house that is worth a visit, and one you may have never seen before.
Here's a list of them.
https://www.visitnh.gov/things-to-do/attractions/waterfalls
From Beaver Brook Falls near Keene to Purgatory Falls near Amherst, Profile Falls in the Franklin area to Beede Falls in the Lakes Region, to Franconia Falls, and the most magnificent of falls of them all – Arethusa Falls in Crawford Notch. There are lovely falls, too, in the Jackson area and Beaver Brook Falls between Colebrook and Stewartstown on NH 145.
Destination waterfall. Take a picnic. Take a short hike. Take a nap to the sound of cascading water. And of course, keep your social distance.
Ditch the world.
We need to be reminded that the earth is still turning, the water is still gushing from the mountains, that this too will pass like droplets of water from rain, springs, and melting snow on its way to the sea.

In the 1860s, orator and religious leader Thomas Starr King https://uudb.org/articles/thomasstarrking.html wrote about waterfalls, the personalities of waterfalls.

In a way, he warns me against trying to be too descriptive here because change is ever-present. Transitory. Ephemeral.

"…what folly to attempt to draw in words the curves and colors, the coyness….the flashes and the moodiness, the laughter and the plaints of these daughters of the clouds!"

Each set of falls has a personality all its own and shape like no other. Each day is different.
Compared to other states in New England, New Hampshire has a treasure trove of waterfalls, complete with a hike, a swim and the falls themselves to make it a memorable day trip.
Vermont's got some, but most are by the side of the road. Comparatively, there is not much in the way of hikes to get at the falls for some reason.
Rhode Island, having just one, is not the place to go for that, though it has killer beaches.
Maine, having many unexplored areas in unincorporated places, these falls are largely in hard-to-get-to spots.
Most of Massachusetts' falls are in parks in the Berkshires with no great pools to swim or wade in areas and rules. Connecticut's lack of hills, like Rhode Island, offers few cascades.
But New Hampshire? We've got them and they are all over.
The general time of year to enjoy the waterfalls of New Hampshire begins right now and May with the snow-melt and great rainfall.
But they can be just as beautiful on a hot summer day.
Falls are particularly nice within two days of a storm that has dropped at least a half-inch of rain.
On Tuesday, following a particularly hard day, I found myself wanting to visit my closest set of waterfalls from home.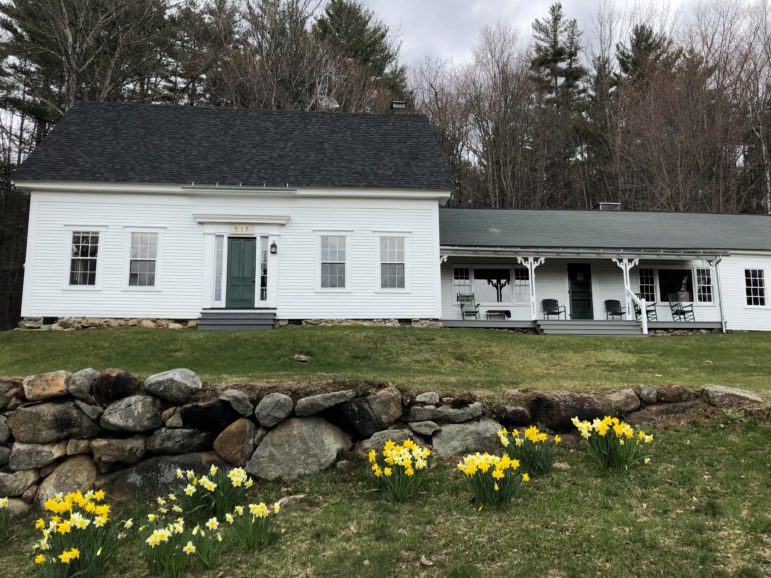 I took my sweet little dog in the old car and we drove 15 miles along the northern edge of Squam Lake to the town of Sandwich where we parked at Mead Base on the southern edge of the White Mountain National Forest.
There were two cars in the parking lot outside the old homestead with its daffodils against the stone wall in full bloom.
I thought of Earth Days long past, with my mother who loved flowers and stopped to smell their wonderful fragrance.
We walked past the empty campground with its sign announcing no toilet facilities due to COVID-19 (perhaps toilet paper theft was an issue? ha!) following the Bearcamp River Trail along the northern edge of a cow pasture with its shocking green shoots of grass, clumps of dark soil kicked up by hooves and the smell manure but no cows in sight.
We seemed to stop at every young fir tree for the dog to sniff, but I don't mind, that slows me down to look around, over a small brook and then into a dark forest. We followed the yellow blazes on the trees through the rooty but relatively flat trail which led to this amazing boulder garden of mossy glacial erratics.
They were the till of the last glacier when it came through and left slabs of granite overhangs filled with watery pools.
The trail led us deeper into the forest and soon, toward the hiss of the falls only about two-tenths of a mile from where we left the car.
Beede Falls, known as Bearcamp Falls in some guidebooks, is about 40 feet high by my estimates and it is considered a "horsetail" style falls with a fanned, flat and steep overfall over rocks.
The falls drop into a beautiful shallow sandy pool about 60 feet wide before flowing out of the area and down into a lower falls area which has a trail. It is a great part of the Bearcamp River experience.
I remember coming 20 years ago with my little girl. She loved to wade in the cold water and stand under the falls and get under its little overhang.
But I do recall that the place had a lot of black flies in June.
Not so much on Tuesday as it was 40 degrees and a storm was approaching.
To my delight and surprise, on the trail, we saw only one person, an old friend from college who lives in the neighborhood and was out for a two-mile loop hike.
We did not do the normal hugs but caught up on life. We did not linger as long as I might have liked, nor hiked together as I would have liked, but we did get a chance to talk, breathe deeply, listen to the relaxing sound of the water and enjoy each other's company for a bit.
I can see how you could spend a few hours, have a picnic, explore the trails down the lower falls and learn about the "Cow Cave," a feature closer to the parking area where lore has it that a calf slipped down the rocks in winter and the local farmer kept throwing hay down into the cave until spring and the calf was able to get out of the cave safely.
Go on a weekday and try to be kind and considerate of others and their desire for space and quiet and don't block the road with your vehicle.
In spite of the roar of water, here, it is perhaps appropriate that this 50th Earth Day finds us with the human world at a standstill while the earth goes about its business.
Perhaps this COVID-19 storm will teach us something.
Stay well.
Send your outdoor story ideas to paulatracy6@gmail.com
Paula Tracy's first big hike was in 1975 with classmates from Concord up Mount Lafayette with teacher and outdoor enthusiast Ned Bergman. She was 13 and was immediately captured by the wonders of New Hampshire's great outdoors. It would lead to a lifetime love of exploring the woods, water, and wildlife in the Granite State. As a staff reporter, for 25 years at the NH Union Leader and then for WMUR.com, she has written about the subject extensively and continues here with the hope of connecting New Hampshire's residents with their own backyard.
Please consider reading this short poem from Wordsworth on waterfalls to help you enjoy this 50th Earth Day.

https://www.poetryfoundation.org/poems/45552/the-simplon-pass.

The Simplon Pass
—Brook and road
Were fellow-travellers in this gloomy Pass,
And with them did we journey several hours
At a slow step. The immeasurable height
Of woods decaying, never to be decayed,
The stationary blasts of waterfalls,
And in the narrow rent, at every turn,
Winds thwarting winds bewildered and forlorn,
The torrents shooting from the clear blue sky,
The rocks that muttered close upon our ears,
Black drizzling crags that spake by the wayside
As if a voice were in them, the sick sight
And giddy prospect of the raving stream,
The unfettered clouds and region of the heavens,
Tumult and peace, the darkness and the light—
Were all like workings of one mind, the features
Of the same face, blossoms upon one tree,
Characters of the great Apocalypse,
The types and symbols of Eternity,
Of first and last, and midst, and without end.