By PAULA TRACY, InDepthNH.org
LINCOLN – New Hampshire has four ski areas that were still open Tuesday but with limited indoor access due to the global pandemic COVID-19.
And Reed Stevens of Concord was thrilled that he got in one more run on Friday to celebrate his 99th birthday before Loon Mountain closed for the season.
Still open Tuesday, St. Patrick's Day, were Cannon Mountain, Gunstock, Waterville Valley and Bretton Woods.
Cannon had 400 people today, a typical Tuesday in March, according to spokesman Greg Keeler.
It was Reed's birthday on Friday so he, family and friends headed to Loon Mountain for lunch, some birthday cake and got out for a few turns with the New England Disabled Sports program before Loon closed for the season over the weekend.
Reed said he learned to ski "back in the 30s, mostly on rope tows" in the Concord area. He recalls a particular rope tow near Turtletown Pond, which was not far from his home.

With the exception of the four years that he served in the Coast Guard during World War II, Reed said he skied his whole life and skied a lot at Mount Sunapee in Newbury.

He and his wife had four children and they all skied. Reed now lives at his home with his daughter, Beverly, after a career in the family-owned business, Concord Lumber Company.
Meredith Stevens, one of Reed's daughters, and Lincoln ski shop owner David Rodgers went to the party and Rodgers provided photos and video.
On his 98th birthday, Meredith said Reed took three runs on his own, but this year had a little help from the folks at New England Disabled Sports. Reed celebrated many birthdays into his 90s on skis in New Hampshire.
"Just to try…" Reed said. "There aren't many who get on skis in their 90s."
True that is. Friday was a rainy day, even at Loon.

"It was really wet," said Reed, but it was fun to be on the mountain with everyone going down the slopes of white, looking around at the mountains that were a bit clouded in by the weather.

Asked about his 100th birthday, Reed said he wants to do it again, but perhaps with better weather.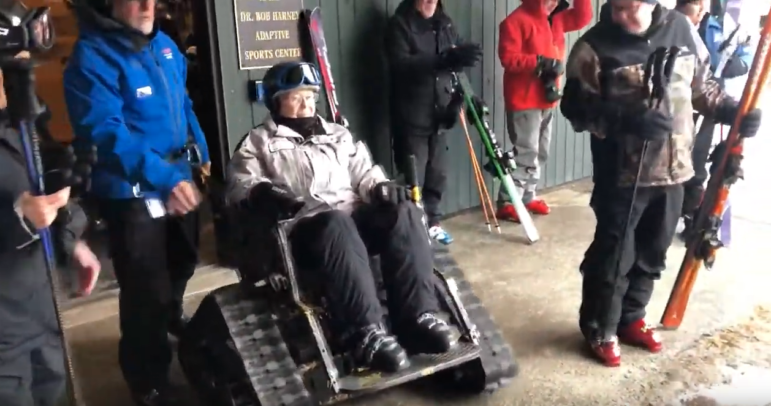 Chairs are still turning at Gunstock in Gilford, which is owned and operated by Belknap County; Cannon Mountain in Franconia which is owned and operated by the state of New Hampshire; Waterville Valley, which is owned and operated by the family of Gov. Chris Sununu and Bretton Woods, which is owned by the corporation Omni Hotels.

All four have curtailed lodge dining and have limited, prepackaged to-go food available. Each has opened a bathroom and is offering outdoor seating only.

Both Bretton Woods and Waterville Valley are offering skiing and riding today, St. Patrick's Day, for $17 as planned, but have halted most services but lift operations.

Cannon, on its website, indicates that "under the direction of the governor, the ski area will remain open until further notice" with the outdoor ticket window open, the food court offering take-out only and seating outdoors at the Peabody lodge only.

The aerial tramway is closed as it normally is on weekdays.
John DeVivo, general manager at Cannon Mountain, said by text, "Cannon remains open on a day to day basis until directed otherwise."

Waterville Valley will allow patrons to use a bathroom on the second level of the lodge, prepackaged food will be offered from the outdoor ticket window and all outdoor seating will remain open.

Bretton Woods has much of the same limited services with the bathroom on the basement level open.
Its website suggests people boot up in their vehicles.

All of the state's more than 20 other ski areas have already closed citing either the end of their season or due to the COVID-19 pandemic.

Jessyca Keeler, executive director of Ski NH, the statewide organization that lobbies and markets for most of the state's ski industry, said it is unclear what the financial impact of such closures will be.

"Right now, we are not entirely sure what this is going to look like just as it will have an impact on all other sectors of life. We are part of the greater travel and tourism industry, which is being impacted by people staying put," Keeler said.

To keep up with information on New Hampshire ski areas visit https://skinh.com/covid-19