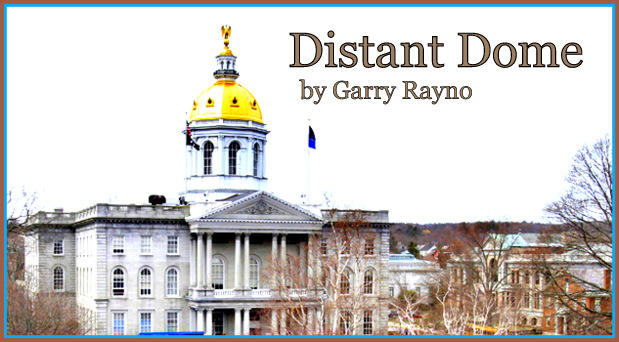 By GARRY RAYNO, InDepthNH.org
CONCORD – The sap is running, clocks are moving forward an hour, the days are longer: It must be Crossover for the Legislature.
Crossover is the deadline for the House to finish work on its bills and the Senate to finish work on its bills.
So, the Senate has all the bills the House passed and the House has all of the Senate-passed bills.
It is one of — one of — the craziest times during the session with long days of debating, bickering and parliamentary maneuvers.
Lawmakers — for some reason — usually put off the most difficult, hotly contested and emotionally charged bills until they are facing a deadline. It is one part procrastination, one part trying to find as many votes as possible, and one part fill-the-calendar-up-so-the-debates-will-be-shorter as they face a late-night session.
Gone are the days when lawmakers worked into the early morning hours to finish their business, but it might be a good idea to revisit if it would end some of the needless one-person debates over a cherished bill because the sponsor did not like the outcome.
The next few weeks are a race to the Crossover deadline with many bills to address in multiple, long session days heading into spring.
But before lawmakers arrive at Crossover Day March 26, there are other deadlines they face.
By Thursday of this week, the House has to act on all bills that did not go to a second committee such as Finance, Ways and Means or Criminal Justice and Public Safety.
The Senate had to act on bills with a financial impact, which means it will have to be reviewed by the Finance or Ways and Means committees by March 5, but then has until Crossover to act on all its bills.
House committees receiving bills that need a second hearing have until March 19 to make a recommendation for the bills to have a final vote March 25 or 26.
This week the Senate and House will meet both Wednesday and Thursday to act on several hundred bills including many that will be familiar because they are similar if not identical to bills passed last session, but were among the record-setting 57 vetoes by Gov. Chris Sununu.
Family Leave
Perhaps the biggest divide between Democrats and Republicans is a family and medical leave program.
Two years ago the then-Republican-controlled legislature agreed on a bipartisan family leave program only to have Sununu veto it.
The program became a major campaign issue in the 2018 gubernatorial race, and when Democrats took control of the legislature, they approved a similar bill that again Sununu vetoed calling it an income tax, while supporters said it is instead an insurance premium.
Sununu will have it back again this year. He is backing a family and medical leave bill sponsored by Sen. Jeb Bradley, R-Wolfeboro, that is similar to his proposed plan with Vermont Gov. Phil Scott that never was introduced last year.
That bill would initially establish a program for state employees under private insurance and allow others to opt in later, while the Democrats' proposal would include all workers in the state not under a plan and would pay for it with a payroll tax. The state would set up the leave program.
The Senate will debate both proposals this week.
The Senate Finance Committee is recommending Bradley's bill be sent to interim study, a polite death in the second year of a two-year session because the incoming legislature has no obligation to act on the study's recommendation if there is any.
Finance is recommending the plan that is identical to last year's and has already passed the House.
The recommendation is ought to pass without an amendment so if that holds — and it probably will — it goes to Sununu, who will veto it.
At public hearings on the two bills last week, Sununu called the Democrats' proposal "a non-starter."
Prescription Drugs
The House and the Senate have a number of prescription drug bills to act on this week.
The bills include allowing wholesale prescription drugs to be imported from Canada, capping insurance co-pays for insulin at $25, requiring pricing transparency, prohibiting price gouging, and establishing manufacturers' take-back programs.
Other bills would allow an electronic subscription program and require rebates paid to pharmacy benefit managers to instead flow to the consumer or the health benefit program.
Teachers and Students
The House and Senate have separate bills they will decide this week that would prohibit sexual contact between a teacher and his or her student.
The bills are somewhat different but accomplish the same goal, saying students cannot legally — no matter the circumstances or their age — give consent to sexual acts with a teacher or person of authority.
In both instances sexual relations would legally be considered felonious or aggravated sexual assault or rape.
Another bill would require colleges and universities to report allegations of sexual assault to the local law enforcement agency.
Solid Waste
Solid waste disposal or the lack of future capacity has drawn the attention of lawmakers after a study committee issued a report last fall indicating the state is behind its neighbors in both reduction and reuse and regulating its waste disposal facilities to better protect future capacity.
Bills in the House would establish a working group to make recommendations on what the state should do about solid waste, to order the Department of Environmental Services to begin developing new rules for composting, to study methods of reducing food waste, to develop solid waste reduction goals and to impose a surcharge of $1.59 a ton on waste dumped in state facilities to support recycling and reuse programs.
Other bills would prohibit landfills near parks or other recreational areas and would place a moratorium on new or expanded landfill permits.
Voting Etc.
Back again is a bill to establish an independent redistricting commission to redraw the political boundaries for Congressional, Executive Council, Senate and House districts in light of the 2020 census.
A nearly identical bill passed the House and was unanimously approved in the Senate but was vetoed by Sununu.
The bill would establish a bipartisan commission to redraw the boundaries but would have the House and Senate approve or deny whatever plan the commission developed.
The House also has several bills that would undue recent changes to voting laws, particularly Senate Bill 3 from several years ago, that requires college students voting in New Hampshire elections to register their car and apply for a driver's license here.
Another bill would allow absentee voting without giving a reason for being out of town on election day.
Other Bills
The House and Senate will deal with many other bills this week, like mandatory seatbelt use and prohibiting surveillance of people on public ways and sidewalks.
And this is but the beginning as the other outstanding bills have to have a vote by the end of this month.
Who said March comes in like a lion and goes out like a lamb.
By the time April arrives lawmakers will feel like they have barely outrun the Crossover lion bearing down on them as it does every session.
Garry Rayno may be reached at garry.rayno@yahoo.com
Distant Dome by veteran journalist Garry Rayno explores a broader perspective on the State House and state happenings for InDepthNH.org. Over his three-decade career, Rayno covered the NH State House for the New Hampshire Union Leader and Foster's Daily Democrat. During his career, his coverage spanned the news spectrum, from local planning, school and select boards, to national issues such as electric industry deregulation and Presidential primaries. Rayno lives with his wife Carolyn in New London.
InDepthNH.org is New Hampshire's only nonprofit, online news outlet dedicated to reporting ethical, unbiased news and diverse opinions and columns.