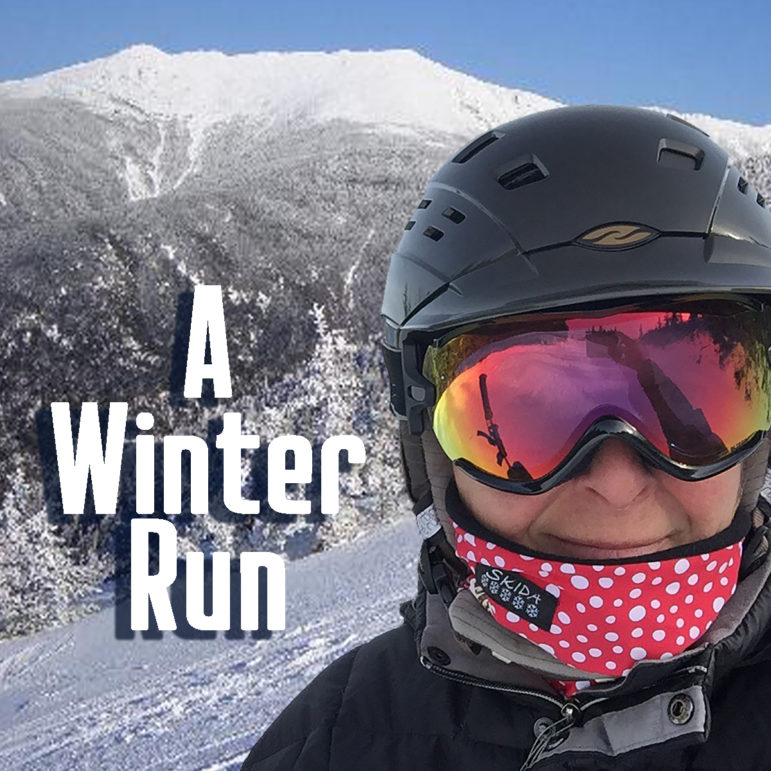 By PAULA TRACY, A Winter Run

I had four days of skiing last week, mostly in Colorado, but some at Loon Mountain.

The powder and scenery were delightful, the altitude proved a bit of an issue one day, but I am stronger and happy to be home to enjoy the month of March here in the East with a lot more ski trips planned before the snow melts.

March is my favorite month of the ski season.

It is when the days get longer, the sun feels warm on your face, the snow softens and you might not need all those layers for a fun day on the trails.
March is when – more often than not – you find the snow is also most forgiving.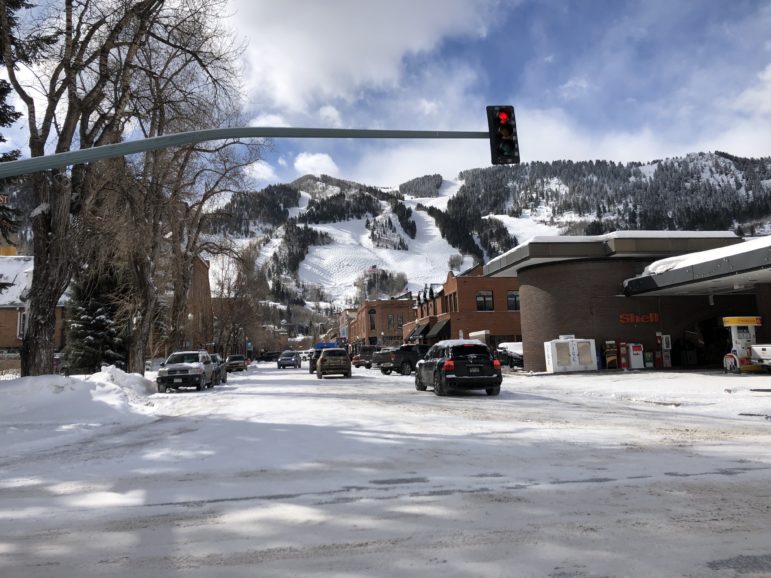 It is a great time to bring a friend or family member who wants to learn to ride the trails with you or wants to return to the hill after a long time. Set them up with a lesson and give someone a chance to enjoy this outdoor playground with you.
Find a warm weekday and cut away from work or school or your normal routine and just go enjoy the day.

Yesterday (Sunday) was not one of those days.
I skied at Loon's South Peak and it was windy, cold and the base was pretty hard. I did not want to fall on it and fortunately, I did not.

Snowmaking Crews

The snowmaking crews had done a good job and the curbs or berms along the side of trails like Boom Run and Twitcher were working to keep the powdery snow from being scraped off into the woods. There is a solid base, but there is only so much you can do with freeze and thaw and freeze situations.

I usually get my skis sharpened after five or six days on snow, depending on the type of snow and was thankful to have a sharp set of them when I lay down some turns on the steeps at Loon and they held pretty well through the carve.

That is $40 well spent on peace of mind and it doesn't hurt to have them when the snow turns to corn.

I brought out the new boards to ski and they are a lot stiffer and required getting used to, compared to my powder skis which went with me to Colorado.

I was happy with my choice of powder skis as they met with some lovely mid-winter, fresh powder to track up at Eldora, Aspen, and Snowmass.

The first day out was in the smaller sized and lower elevation resort of Eldora on the outskirts of Boulder, where my daughter has found a new and wonderful home with lots of great friends.

Eldora is a lot like Waterville Valley in size and atmosphere with a lot of local families enjoying the mountain together.

We stopped for a photo atop the mountain at about 8,600 feet of elevation, looking out toward the mountains which form the Continental Divide.


Ponderosa Pines

Eldora has two distinct areas and they all funnel to the bottom of the mountain, with some sweet glade skiing among the Ponderosa pines and a very efficient lift system.

We caught up with some of her friends and took a few laps, finding nice groomers and ended the day with a beer and a pizza in the nearby town.
On Sunday, we found ourselves on a two-day adventure in Aspen where we stayed at the relatively inexpensive Aspen Mountain Chalet, only a block from the base gondola in town.


Snowmass Rules

Aspen is really a special place in the Roaring Fork Valley and it is huge. It encompasses a vast expanse including Aspen Mountain, Aspen Highlands, Buttermilk and my new favorite, Snowmass.

All of them are on the same pass and the same ownership. It is in an isolated and hard-to-get-to part of Colorado that does not seem to have the crowds of places like Vail or Breckenridge or other Front Range resorts.

There is a local, die-hard ski crowd here that is separate from the fancy ski shops and the $2,000 night hotels and all the uber-rich scene that I find rather comical.

The locals are very friendly and so is the staff on the mountain. They both help guide and allow you to find your fun.

My daughter and I made it out Sunday morning to the Silver Queen Gondola for a 24-minute ride up to near the summit elevation at Aspen of 11,212 feet.

This mountain offers a vertical rise of 3,267 feet which is almost twice as long as a typical run in the East.
Dipsy Doodle
It was snowing when we took our first turns through some cut and uncut powder along trails called Dipsy Doodle and Blazing Star, then took a few runs on Bell Mountain with nothing but steeps and bumps and wide-open spaces to explore.

I did not worry about the steeps because there was so much soft, forgiving powder to fall into.

The food on the mountain was pretty good but not cheap. A burger cost about $15, for example, but it was satisfying and the surroundings were comfortable.

The afternoon found us enjoying a break at Bonnie's a high altitude cabin where the apple strudel is to die for.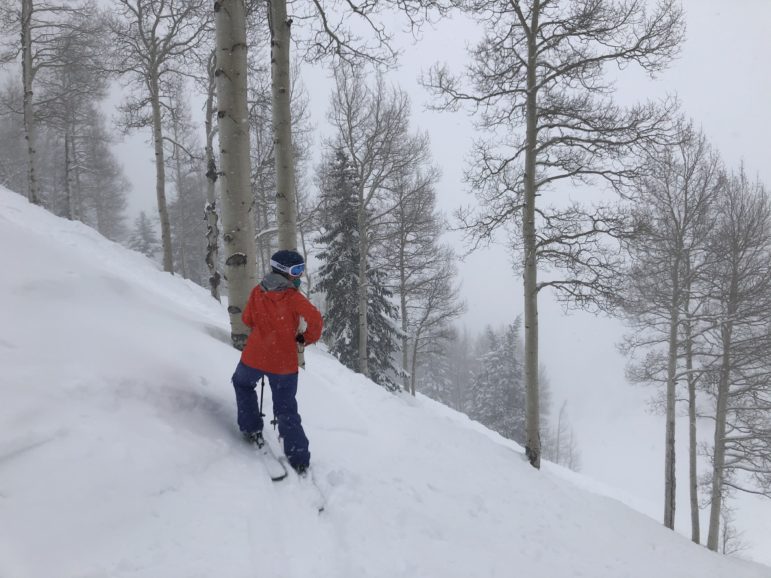 Trump Legend

It is apparently a location where Donald Trump had an interesting encounter between his former wife and mistress, as legend has it, and where Trump tried to escape but his former wife – quite a good skier – caught up with him for a bit of her wrath. At least that is the story.

We skied some of the chutes until I found that the altitude was making my heart race and I could not seem to catch my breath.
So we went down to Gondola Plaza and headed back to the hotel for a nap and some water.

Drinking alcohol at this altitude is not a good idea, especially with altitude sickness which went away after some rest. I stuck to water, seltzer, and tea for the rest of the trip and did not regret it at all.

We enjoyed a delicious but expensive dinner at a French creperie where we dined on cheese fondue and salads for two (one glass of wine for my daughter) and it cost $175 with tip.

Our hotel room cost about $250 a night but next door at one of the fancy chain hotels, the bed cost was reportedly in the area of $2,000 a night.

The next day we awoke to a note on the phone from the National Weather Service warning us of a blizzard and to stay put until 8:45 a.m.
Wildlife Center
The snow cleared almost exactly at that hour and the sun came out, making for a perfect Monday morning.

We packed up and drove to Snowmass, a few miles out of town, past lovely horse ranches and wide-open spaces, and parked in the heated central parking lot in Snowmass Base Village.

We took the Elk Camp Gondola and then the Elk Camp chair to 11,325 feet where we found the lovely little WAPITI Wildlife Center just below the lift. We went inside to find information about all the creatures that inhabit this high perch in the world and enjoyed watching the birds come to a filled feeder. Every day at 11 a.m. and 1 p.m. they offer a free wildlife tour from that location.

This is a very beautiful spot and my favorite among the three places we skied. The mountain had fresh, uncut snow everywhere. It was peaceful and few chairs were loaded.

One thing that was noticeable to me was how vast and open the terrain can be at this altitude where you are not likely to have a conflict with another skier or rider because there is just so much space to explore and so few trees.

We could have skied there a whole week and never skied the same trail twice. We had to get back to Boulder, a four-hour drive, so we left at about 2 p.m. but not before enjoying a delicious lunch at Collective, a dining option I highly recommend at the base of Elk Camp.

Parking was $11 for a few hours and well worth paying the extra freight as the hardest part for me was walking with my skis at that altitude.
Flying here is pretty quick and easy.

I find that JetBlue has a good non-stop route out of Boston to Denver which costs about $300 round trip. There are other options but I like the JetBlue routes.

It's back to New Hampshire now for some more fun in the snow, and I hope you remember that the season is still something to enjoy and that it will likely be gone in a matter of weeks. Enjoy!
InDepthNH.org's Paula Tracy learned to ski at Pats Peak in Henniker in 1972 and has been looking for ways to fit it into her work life ever since. Her first ski column First Tracks was for the Salem (Mass.) Evening News. She then wrote one for the New Hampshire Union Leader and later for WMUR. Paula now writes A Winter Run for InDepthNH.org when she is not busy on her State House reporting.
InDepthNH.org is New Hampshire's online nonprofit news outlet. More information by emailing nancywestnews@gmail.com