WRITING ON THE FLY,
By GEORGE LISET
DURHAM – Over the years I have heard whispers of its existence. Occasionally one would hear about the Milne Collection when fly fishers would get together talking about all things fly fishing. It was supposed to be hidden in the bowels of the Dimond Library on the UNH campus, a place I had spent many hours as a graduate student. Unfortunately, at that time I was not a fly fisher.
So, when I received my Great Bay Trout Unlimited newsletter announcing an open house for the Milne Collection at the UNH Dimond Library, sponsored by the UNH Fly fishing Club, I marked it on my callendar and headed over.
The Douglas M. and Helena McElwain Milne Angling Collection is one of the largest collections of angling literature in the United States. The Milne Collection consists of books, periodicals, artwork and ephemera. The original collection consisted of 1,500 volumes with an emphasis on fly fishing for trout and Atlantic Salmon, with special emphasis on fishing in New England and Eastern Canada. According to the official website, the collection now numbers over 3,500 volumes, of which 3,000 volumes are listed on the UNH library catalogue.
As a collector of books, especially fly fishing books, I was eager to view the collection. When I arrived, I met my friend Bill Ross who oversees the collection. Bill gave me a quick tour as he prepared for the guests to arrive. The collection is housed on the first floor basement of the library.
To say I was amazed was an understatement. I was like the proverbial kid in the candy store as I viewed all the volumes on the storage shelves. There were many volumes I had never seen before. Most were out of print and others were just rare and hard to find. Occasionally there would be some books that I had in my collection.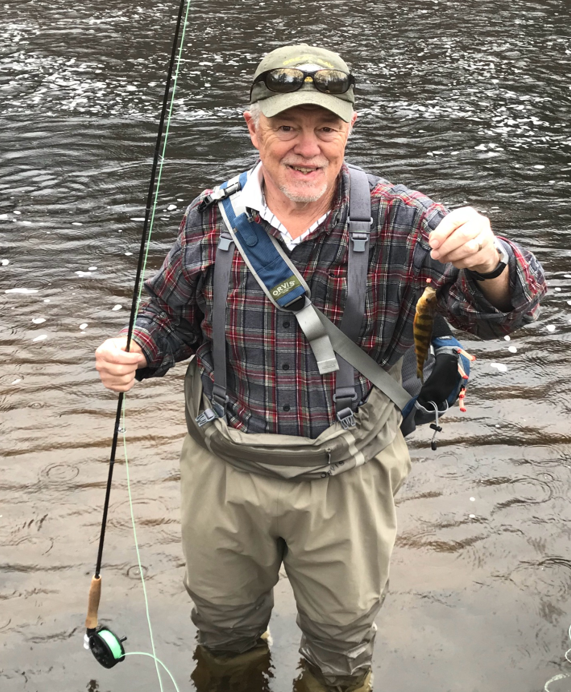 There were many oversized books that contained some gorgeous colored plates of famous flies, especially those used to catch Atlantic Salmon. The volumes covered all aspects of fly fishing. Bill Ross has done a great job making this a living collection.
The open house was co-sponsored by the UNH Fly Fishing Club. I was pleased to meet Aidan Buzard, the president of the club, and a number of their members. We chatted about where they were from and the home waters where they fished. It was great to see their enthusiasm for the sport and the collection.
Master fly rod maker Fred Kretchman (Kretchmanflyrods.com), attended and spoke to the group. Fred was chosen by the Smithsonian Institute to represent the state of New Hampshire in their annual folklife festival. Fred also repairs and restores classic fly rods as well as being an appraiser of fine fly rods. Fred's fly rods are museum quality but meant to be fished.
The Milne Collection is a great place to get lost in a slice of fly fishing heaven. The collection hours are Monday through Friday, 12:00-4:00 p.m., with extended hours Wednesday until 7:00 p.m. You can go to the library website under collections to see a list of the 3,000 volumes which are catalogued.
The Milne Collection is a real gem. Take a trip to Durham and enjoy this wonderful resource your state university has to offer. Oh, and don't worry, college kids don't bite.
George Liset of Dover is an outdoor writer and avid fly fisherman who shares insights of his time on the water exploring New Hampshire streams and rivers as well of those around New England. George is a graduate of Wheaton College, Illinois, and the University of New Hampshire.