By PAULA TRACY, InDepthNH.org
ROCHESTER – With hours to go before the polls open in New Hampshire, candidates were working at a frenzied pace across the state on Monday.
And many voters were still trying to decide among a field of Democratic candidates for president of the United States.

InDepthNH.org caught up with two candidates trending upward in New Hampshire: Pete Buttigieg, the former mayor of South Bend, Indiana, and Minnesota's U.S. Sen. Amy Klobuchar.

In Rochester Monday night Klobuchar was at the fourth of her five campaign stops, the American Legion Post, talking about how people screw up and how we can and should forgive, and be there for them throughout their lives.
She talked about her father. She said he has suffered from alcoholism and talked about him getting sober after three DWIs where he agreed to go to treatment rather than jail.
Today, he is in long-term care at an assisted living facility where he tells her, "It's hard to get a drink around here." She said he is lucky because he has long-term care insurance that pays, but she knows the exact day that that money runs out. It's in a year and a half.
Then he has to go through all of his life savings for care. It shouldn't be that way, she said.
Klobuchar addressed climate change and said she the worries for the state's lobster industry, for the maple trees that provide fall foliage and syrup, for the loons and the moose and said there is an economic argument to be made for fighting to reverse climate change to "make sure the solutions work for the average people."
Klobuchar said keeping Social Security strong, keeping Medicare strong, making it easier to buy long-term care insurance and making it easier for folks to stay in their homes with a caregiver make sense.

Maybe free college is not the best way to handle education needs, she said, citing other candidates touting the policy. If you can refinance your yacht and you can't your federal student loan, she said, something is wrong.

Forgiving debt for nursing, teaching and other careers that help society makes more sense without bankrupting the government. She received applause for stating that she would fire Education Secretary Betsy DeVos in the first 100 days.
In Plymouth
Earlier in the day, Pete Buttigieg was in Plymouth at one of his many stops in a break-neck effort seeking votes.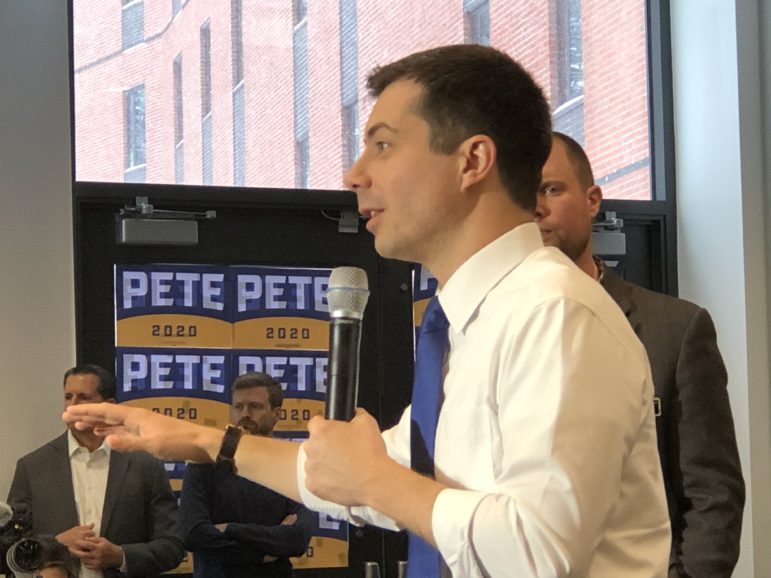 Empathy and hope were the two main focuses of his address to a mix of college students, local residents and a throng of national media.

"I know how seriously New Hampshire takes this responsibility," he said, "and I thank you."

He shared his differences with U.S. Sen. Bernie Sanders, particularly as they relate to healthcare.

"A president is uniquely able to help out," he said. "It's not just about the laws you sign, it's not just about the administration, it is about the tone you set."