Special edition of Wayne D. King's podcast The Radical Centrist to celebrate the first-in-the-nation-primary and Carol Stanigar's first time voting as a U.S. citizen at age 77.
A 'New Old Immigrant,' a Red Pickup and a Trump Voter and a Glimpse of the Real America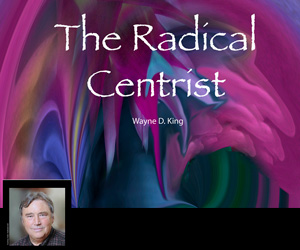 This morning at 4:34am Carol Stanigar of Lebanon, New Hampshire wrote this email to her friend Maryann in California.
Dearest Maryann,
I can always be sure that you will be cheering me on.
I am sure that people in San Francisco get all gussied up to vote but here in NH I'll be wearing my uniform. A flannel shirt.
OMG! Im up before the sun. Sooooooo excited!
Can you STAND it: My Trumpster neighbor is going to take me to show me the ropes and to "make sure that nobody shoots me," although I am contemplating making a sign to hang around my neck that says NEW OLD IMMIGRANT.
Furthermore, he is going to take me in his pickup truck. All these years and I never did get a ride in one. God, I wish that I could ride in the back with my sign.
Oh, I did get his wife, who is going to be tending the event to agree to write-in Romney if she can't bring herself to vote Democrat. Maybe Roy will too.
OMG! This brings back memories of my first day of school….running up Mountain View avenue with Nursie in full pursuit.
I was soooo excited. No, nervous.
I wish that you could have seen Roy. I tried to take a picture but my camera failed me.
He had the red Ford pickup with his HUGE moustache all gooped up and extending 2" on each side. Blue jeans and felt cowboy hat.
I was so proud hanging onto his arm so I wouldn't slip on the ice. You should have seen the look on a lot of the faces that knew Roy. OMG! I'm causing a small-town scandal.
He walked me through the whole thing and insisted I wear my "I voted sticker" on my coat.
The Honorable Wayne D. King
22 Orris Rd #F1 – Thornton, NH 03285
PO Box1208 Campton, NH 03223
603-530-4460 Cell
waynedking: Skype
@wayne_d_king:Twitter
http://bit.ly/WayneDKing
PodcastsThe Radical Centrist PodcastNew Hampshire Secrets, Legends and Lore
Support the Work of Wayne King. Become a Patron of The Radical Centrist at PatreonPatreon.com/TheRadicalCentrist*NEW!*Mindscapes – Wayne King Fine Artwww.WayneDKing.com
*Sacred Trust, a Novel*
"The Monkey Wrench Gang Meets the Third Industrial Revolution"https://thesacredtrust.blogspot.com/
The View from Rattlesnake Ridge
New England Newspaper & Press Assoc. award winning column by Wayne King
at InDepthNH.org, New Hampshire Center for Public Interest Journalism's website.
*Art: **The Best of Wayne King* – The Artist's Best Selling and favorite
images.
Join the mailing list to receive occasional news about upcoming events
and new images by Wayne. Join now and you'll receive a free PDF version of Asquamchumaukee – Place of Mountain Waters, a photographic ramble through the Baker River Valley of NH by Wayne.
Coming Soon: My New Hampshire – A love story in images and words Common Sense for Our TimesSteady Hands and Open HeartsRenewing the American Idea in the Post Trump Era