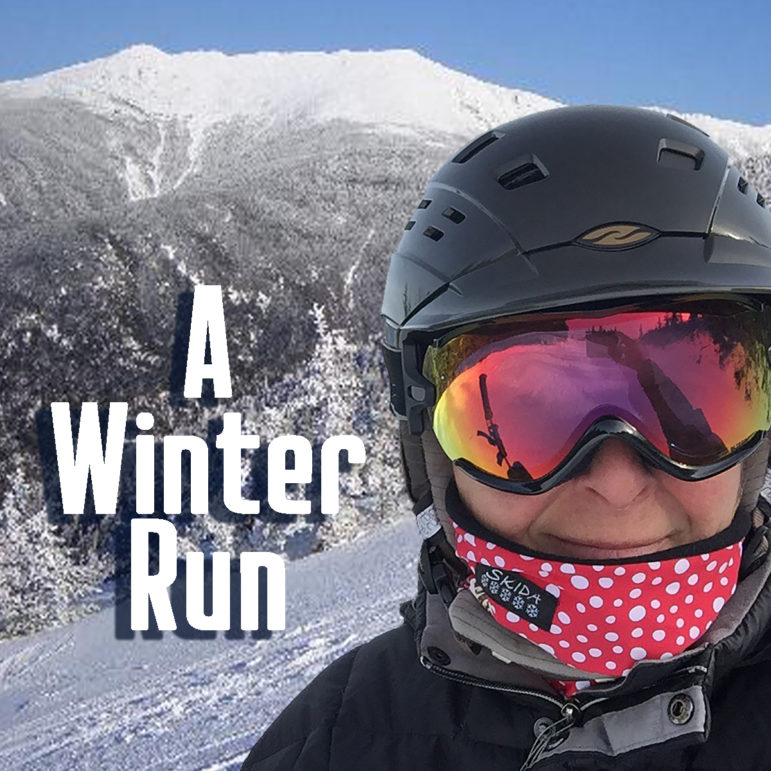 By PAULA TRACY, InDepthNH.org
WARREN, Vt. – I recently rediscovered a gem of our neighboring state: Sugarbush Resort.

Recently purchased by Alterra, one of North America's largest players in the ski industry, Sugarbush is likely about to see some investment and fresh faces on their trails as they join the IKON pass next year for full season access. Currently, those pass holders can ski five non-holiday days.
This vast outdoor playing field of 484 skiable acres, with its natural glades left in their natural state in the Castlerock area, to its steeps and narrow switchbacks off Heaven's Gate Triple Chair and even in the front area on groomers like Snowball, Sugarbush is an emerald in the tiara of the Green Mountain state.

And it is big.

You can ski almost 2,400 vertical feet in a single run.

My husband Tom and I went over Sunday afternoon, through the back roads from Center Harbor, up through Plymouth to Lake Tarleton and over on to Route 302 to Barre, Vt., hopped on I-89 for an exit or two then drove along the beautiful fields and bending river road into Waitsfield and Warren, Vt.

It took about two and a half hours and it was a delightful drive.
We got a room at the Sugarbush Inn for about $200 which included a nice breakfast. This valley, with its towering green mountains and laid-back vibe, is just so beautiful.
I have a friend who lives in Waitsfield and she joined us for dinner at Fit to be Thai'd, a great little restaurant in the Inn, which is on the access road.
We enjoyed delicious pad thai, quaffed down a few local brews and prepared us for the big day to come.
Start Your Week
At 9 a.m. Monday, we had the base parking lot virtually to ourselves.
There were perhaps 200 vehicles with license plates mostly from Connecticut, New York, and Vermont. Not a Live Free or Die plate in the lot, except for ours.

The ropes had dropped on everything the week before and it was skied off on natural stuff but they had all 111 trails open and most lifts spinning.

The sun was breaking through but eventually lost the fight to clouds which lightly snowed and made for some minor visibility issues at the top, but the snow was in great shape.
If you have not been in the past decade, the base area has changed dramatically, with a Vermont farm-themed village, luxe hotel, new lifts, and a good base lodge.
The place has great flow and feel. It's friendly, seemingly happy staff are to be complimented.
There is a locker room in the base area to boot up and leave your bag which is convenient, but it might be too small and tight for a holiday or weekend.

Get Better Here
Outside, there are many lifts to choose from that zoom you up to a great variety of terrain.
Although I traditionally prefer Mount Ellen, which is part of Sugarbush now and connected by the long Slide Brook Chair that goes between valleys, it was fun to explore Lincoln Peak.
Usually, on the weekend, Mount Ellen is not as busy.
We found the best skiing off the top of the Heaven's Gate Chair where there was a lesson of some sort going on below. About 15 really good skiers were making nice turns under instruction.
The motto at Sugarbush is "Get Better Here."
I get it. If I wanted to challenge myself and step up my game, I might be intrigued to join a lesson here.
They certainly have the terrain, if not the staff, to work on my improvement as a skier. We can always keep learning.

Castlerock
One of the main reasons we chose to go over to Sugarbush was to ski Castlerock.
This glade area at Sugarbush has always alluded me and never been open when I was there in the past. They opened Castlerock the week before on Monday and there had been little to no snow since then.

We skied the cut-over to Castlerock and it was like staying on a bucking bronco. My, those were huge troughs and short crests for those long skis (180cm) that had me worried my bindings were going to cough me out.

We made it over unscathed to the Castlerock Chair to see nothing but dirt, exposed rocks, long grass, and little snowmaking bumps but some snow in the hardwood forest.
Then there was the ominous sign that nailed the coffin shut.
"EXPERTS ONLY" caught my eye. The message ended with "…Did we mention, rocks?"
There's no grooming here. No snowmaking either. Just what the good Lord intended and what has not been consumed by other skiers and boarders.
I looked down at my newly minted skis, with four days under them, not even a burr on their edges and thought better about it all.
Just what the bottoms would look like after a run, here? We bailed, at my request.
We took the escape route which in itself was again a flat ride through the rapids out to the base area, thankfully, able to ski another day.
Sitting here watching this beautiful snow come down, I look back on it as a wise decision and a bit of a reconnaissance mission.
I will be back to Castlerock in the spring after a nice fall of snow, with beat-up rock skis on and I might even hire a guide. There is so much to explore.
Sugarbush has variety, flow, and great lift systems to connect you along this vast play area in the Green Mountains.
My advice: Go on a weekday.
It will only get better this winter as the snow hopefully continues to fall as it is doing there right now.
It was nice to reacquaint myself with this vast, steep and fun gem of Vermont.
It's an easy overnight trip and nice to get out of the 603 to visit our beautiful neighbor state.
For information on the resort visit https://www.sugarbush.com/
InDepthNH.org's Paula Tracy learned to ski at Pats Peak in Henniker in 1972 and has been looking for ways to fit it into her work life ever since. Her first ski column First Tracks was for the Salem (Mass.) Evening News. She then wrote one for the New Hampshire Union Leader and later for WMUR. Paula now writes A Winter Run for InDepthNH.org when she is not busy on her State House reporting.
InDepthNH.org is New Hampshire's online nonprofit news outlet. More information by emailing nancywestnews@gmail.com