By MARIA HEETER, InDepthNH.org
DOVER – Andrew Yang wants New Hampshire voters to know that the United States is "in the midst of the greatest economic and technological transformation in the history of our country," and there is no going back.
Yang, a former tech executive who has held no prior elected office, warned a crowd Saturday night at Dover City Hall in Dover, N.H., about a takeover of jobs once seen as stable and secure by artificial intelligence and other technological advances.
"My friends in California are working on robot trucks that can drive themselves. They tell me that they're 98 percent of the way there," Yang said to the crowd.
"If these robot trucks are on the way, what will that mean for the three and a half million Americans who drive a truck for a living, or the seven million plus Americans who work at truck stops, hotels, and diners that rely upon the truckers getting out and having a meal everyday?" Yang asked.
Tobe Ezekwenna, a software engineer working in Boston, resonated with Yang's approach to problem solving and automation, saying Yang's "grasp on automation, artificial intelligence and technology overall taking these jobs" attracted him to the candidate.
"These issues affect everyone. So that was the big thing that I was like okay, great. This is going to be the candidate who can unite the country." Ezekwenna said.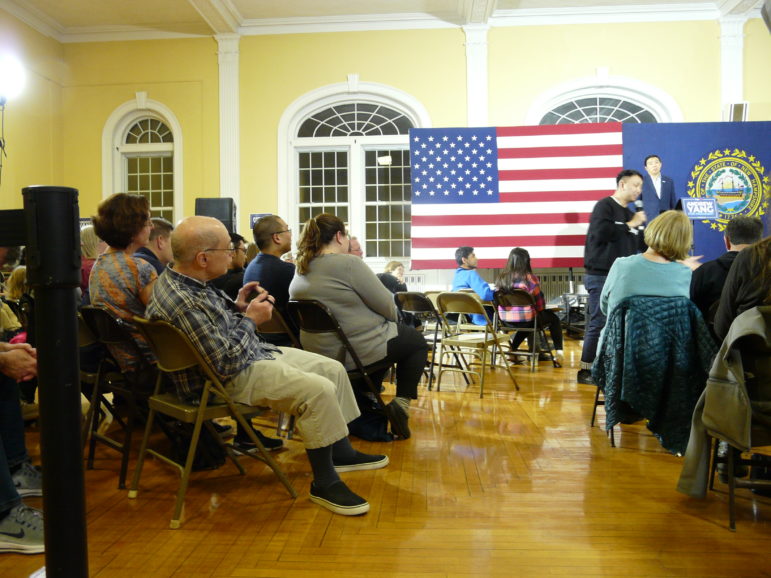 Yang stressed that the universal basic income would cushion Americans from the inevitable elimination of jobs by artificial intelligence, which Yang said would target repetitive manual and repetitive cognitive jobs like trucking and food service, among other examples.
Yang also spoke about New Hampshire's loss of 12,000 manufacturing jobs, saying that "community never recovered after the jobs left." And why are those stores closing? Yang asked.
"Amazon," Yang answered, and went on to criticize the government for allowing Amazon to pay zero dollars in taxes last year.
With a universal basic income of $1,000, Yang acknowledged that some money would go to Amazon and other non-local businesses, but said "most of [the money] would stay right here in your community," and "supercharge the things we value most," like nonprofits and local businesses.
A UBI will also end up "creating opportunities where people work and live," Yang said, arguing that the UBI will cushion a transition during the, as he coined earlier, "fourth industrial revolution."
When Yang opened up the room for questions, William Chan, an Asian-American immigrant and former combat veteran living in New York City, stood and praised Yang for advocating for de-escalation in Iran.
"As a former drill sergeant, as a combat veteran, as someone who went to Iraq as a civilian twice, and Iran, I would not have a problem following Mr Yang with me to combat tomorrow," Chan said.
"Seventy-five percent of Americans want nothing to do with war with Iran," Yang said after Chan was applauded by the audience. "And so you have to ask: why the heck were we or are we on the brink of war with Iran?"
When asked why Granite Staters should vote for him, Yang stressed that New Hampshire has seen the economy transform around them with a loss of 12,000 manufacturing jobs in the northern part of the state.
"People in New Hampshire see what's happening around them where Amazon's closing 30% of the state's stores and malls, and rural areas in particular are getting sucked dry while getting nothing in return. So we have to change things," Yang said in an interview with InDepthNH.org.
"Right now many people who are growing up in New Hampshire feel like they have to leave the state for better opportunities."
"We can do better," Yang said.
Ann Spires, who came with her husband to see Yang from Haverhill, Mass., currently leans toward Elizabeth Warren ("Honestly, I would love to see a woman president at this point"), but said Yang has been a "breath of fresh air."
"I was very impressed with him," Spires said. "What he said really made sense. He seemed inclusive, he didn't seem divisive, which I think is really important, and he seems to understand a lot of the issues that have led us to where we are now."
A CNN/ Des Moines Register poll released Friday showed Yang with 5% in Iowa, trailing Sen. Amy Klobuchar of Minnesota (6%) and falling well behind the four front-runners: Sen. Bernie Sanders of Vermont (20%), Sen. Elizabeth Warren of Massachusetts (17%), Mayor Pete Buttigieg of South Bend Indiana (16%) and former Vice President Joe Biden (15%).
Yang did not qualify for the seventh Democratic primary debate to be held Wednesday, Jan. 14 in Des Moines, Iowa.
To qualify, candidates needed contributions from 225,000 unique donors and to meet one of two polling requirements: two polls at 7 percent in the four early nominating states: Iowa, New Hampshire, Nevada and South Carolina; or four polls or national surveys at 5 percent or more in early nominating states.
Yang met the 225,000 donor threshold but did not meet polling requirements in time for the 11:59 p.m. Friday deadline. Wednesday's debate stage will include Sanders, Biden, Warren, Buttigieg, Klobuchar and California billionaire Tom Steyer.
Campaign manager Zach Graumann was "disappointed" that Yang failed to qualify, and said "there were simply not enough polls for us to qualify with."
"To have this debate in Iowa, hosted by the Des Moines Register, and their poll has us as a top contender for the presidency, to not be on that stage is disappointing to us, it's disappointing to voters in Iowa, and it's sadly not, in my opinion, the business the DNC should be in, in terms of choosing the nominees for the voters," Graumann said in an interview with InDepthNH.
Graumann ended by warning not to underestimate Yang.
"Everybody who has bet against Andrew Yang has been wrong, for two years. You can quote me on that."