A Winter Run: Paula Tracy's column about the love and business of skiing with video of every run she makes with friends.
By PAULA TRACY, InDepthNH.org
FRANCONIA – My winter runs at Cannon Mountain with Tim Phillips, whose enthusiasm for skiing is simply infectious, were nothing short of joyful on Friday.
Tim loves to ski and approaches it with a child-like sense of wonder and appreciation. He learned how to ski in his 30s and did so, he said, to enjoy the outdoors with his kids.
They came to New London to visit their grandparents each winter growing up and loved skiing at Mount Sunapee.
Tim taught himself mostly by watching others, skiing behind them and then asking questions.

He now skis about 10 days a winter, including about 4 days out west. Tim grew up in Maryland and was a swimmer in high school and college.
Although he went to one of the biggest ski colleges in America, "The Big Green," Dartmouth College in Hanover, he was always too busy in the pool to make it over to Dartmouth Skiway.
More than 30 years ago, he married my sister, Nora. Nora and I learned to cross country ski with our parents but our parents did not do any downhill skiing.
However, she learned at Pats Peak as a student at St. Paul's School but has never been nor is now, a huge downhill enthusiast.
Not so for her husband.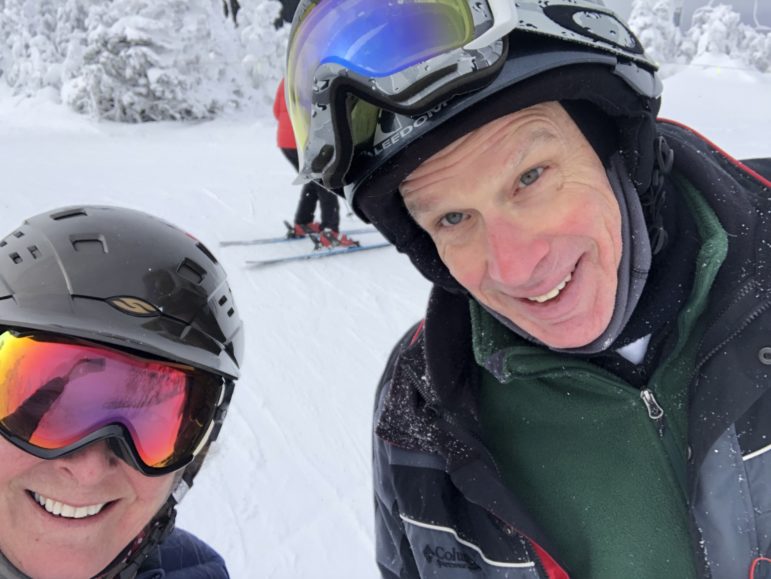 Becoming a parent to Jonathan and Susannah, who wanted to try skiing, Tim took to Mount Sunapee and a number of other ski areas including in Colorado where Susannah went to Colorado College.
He is still an active swimmer, has competed at the Master's level and works out in a gym to keep himself in shape when the summer ends and he can't swim in a nearby pond.
He has become partial to Cannon for its breath-taking scenery, challenging terrain and laid back atmosphere.
On Friday, Tim decided to ditch the piles of work on his desk, packed a sandwich and met me at the Peabody Chair. I paid $59 for the day and got more than my money's worth by the first four runs.
We skied for four hours, mostly off the top of the mountain where all trails, including some that seemingly do not have snowmaking, were open and in great shape.
 The lift attendants kept us happy with their musical playlist which ranged from Ozzy Osbourne to old Grateful Dead bootleg to more contemporary selections.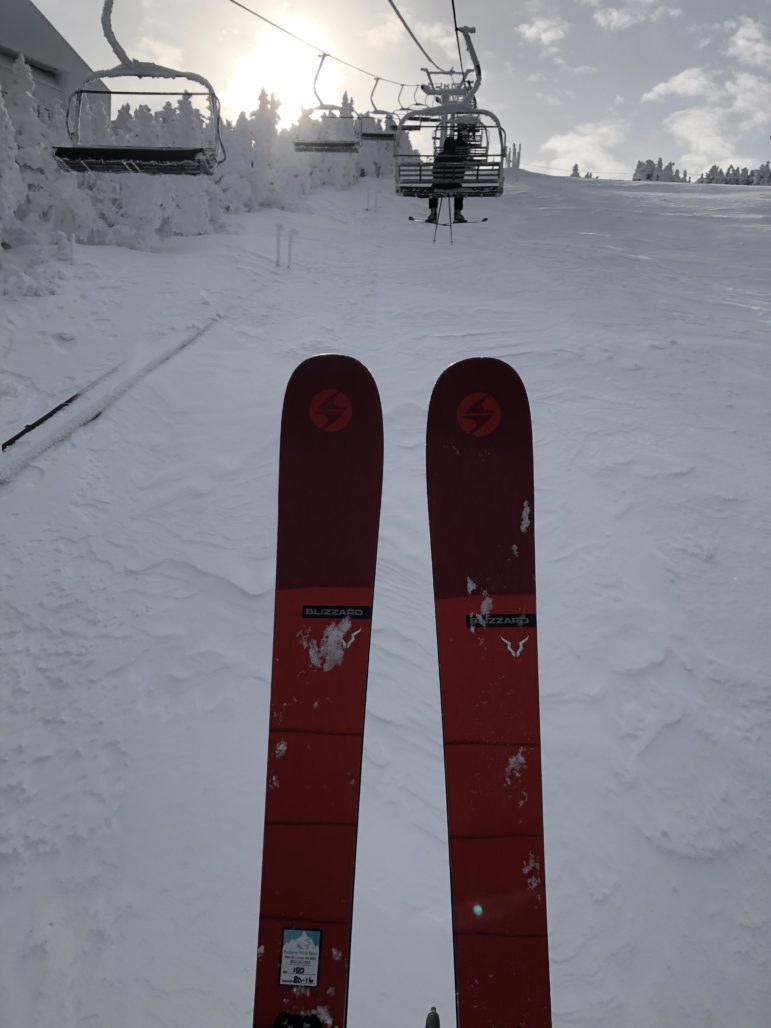 I spent $40 to demo a pair of skis I had read good reviews about this summer: the Blizzard Bonafide. I loved them.
I stopped at Rodgers Ski and Sport in Lincoln on the way up and picked up a pair of 180 centimeters to try after I tried a pair of 173s the weekend before at Killington.
The latter were a bit too short for me but the 180s were just a perfect length, with great response and stability and versatility. They are an aggressive ski but in a good way.
They force you to be over your toes with shoulders, knees, and feet all aligned and square to the fall line to make good turns. You can't lean back on these things. They will go out from under you.
I ordered a pair for this season and hope they are here for Christmas when my daughter returns from Colorado so she can try them.
Before I got to Cannon, Tim was taking laps on the Taft Slalom trail. He went up the lift with a skier who told him the history of the trail being cut by hand by the Civilian Conservation Corps.
Taft has a wonderful view of the north and is a pretty straight shot until you get to the saddle for Mittersill, where some folks were taking off their skis and hiking over to the slopes there. We did not go to Mittersill, but skied a few times on the trails below Taft.
Perhaps my favorite trail on Cannon is Vista Way with its view of Mount Lafayette across the notch.
The snow-laden trees there topped with a hoar frost look like dribble castles on the beach.
Cannon sits on a uniquely high perch in the mountains and sometimes rain forecast for the flatlands falls up there as snow at 4,000 feet.
If we do lose this powder, I am not too worried right now.
I think there is a good cold base to start this winter and am impressed with the impeccable grooming job they now do at Cannon to make it more user-friendly than when I was growing up in the 1970s and 1980s.
The rumors that this mountain is for experts and too cold are mostly false and keep some people away. It helps keep the crowds down but don't believe it.
Tim describes himself as an intermediate skier. Joyfully, he reminds me how much fun this sport can be for anyone, even someone who did not know how to ski as a child or who hasn't that much time to spend in the mountains.
Hopefully, he will move to New Hampshire in retirement age to ski more often. Cannon offers seniors from New Hampshire free skiing on weekdays, with a few blackout dates and even Wednesdays are $25 for residents of the Granite State with no blackout dates. Tuesdays and Thursdays are two for the price of one days, with some exceptions.
A quick glimpse at Cannon's trail report for Monday showed they received up to seven new inches of snow in the last 24 hours. Yay!
For more information on Cannon https://www.cannonmt.com/
InDepthNH.org'sPaula Tracy learned to ski at Pats Peak in Henniker in 1972 and has been looking for ways to fit it into her work life ever since. Her first ski column First Tracks was for the Salem (Mass.) Evening News. She then wrote one for the New Hampshire Union Leader and later for WMUR. Paula now writes A Winter Run for InDepthNH.org when she is not busy on her State House reporting.