Editor's Note: The New Hampshire Center for Public Interest Journalism's stories about the infamous "Laurie List" of dishonest police are listed under the Criminal Justice category in the compilation that includes stories from 230 members of the Institute for Nonprofit News.
The New Hampshire Center for Public Interest Journalism has been digging into the process in which the names of 264 dishonest police officers are kept confidential even though a judge has deemed them a matter of public information. The ACLU-NH named the center's InDepthNH.org lead plaintiff in suing the state attorney general to make public the names of officers who have a history of dishonesty, excessive force or mental instability. Read the Story »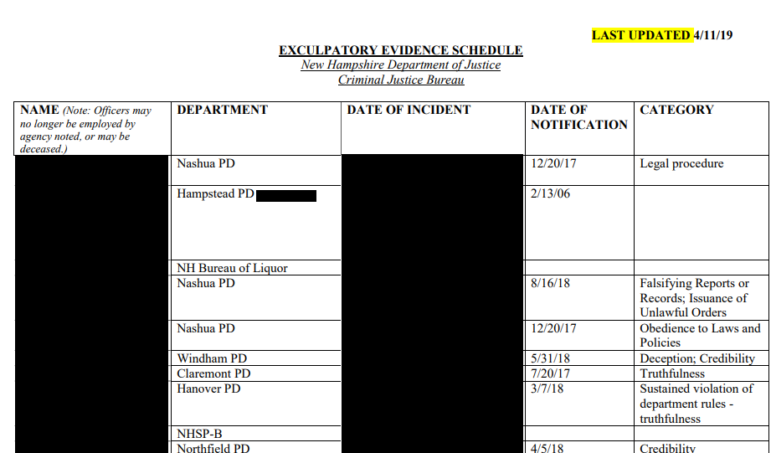 At Institute for Nonprofit News, we love celebrating mission-driven journalism — and our newsrooms give us lots of reasons to celebrate.

Over 230 of our members that produce rigorous public service journalism to elevate diverse voices, inform communities and hold the powerful accountable, have submitted their most powerful stores of the year. The 2019 Best of Nonprofit News collection recognizes stories that would have gone untold if not for the efforts of nonprofit newsrooms.

From launched investigations to erased debts to impacts on elections, our members are producing inspirational work with high impact. As we enter the season of giving, take a moment to give thanks for civic-minded journalism — and consider supporting a civic-minded society by donating to your favorite newsroom through NewsMatch.
Criminal Justice
Solitary Watch helped debunk claims of correctional officers being sickened by drug-laced mail, which had been used to justify a 12-day lockdown of the entire Pennsylvania prison system, and a subsequent ban on all original mail items. The story revealed an internal "Exposure Log" and a Facebook group with hostile and racist comments by Pennsylvania prison guards. Read the Story »
Injustice Watch exposed troubling Facebook posts by people working in law enforcement in eight cities across the country. Building on a database created by a young Philadelphia lawyer who uncovered the posts, Injustice Watch showed how the large number of civil rights complaints against officers with posts could undermine public trust. The report was co-published on Buzzfeed News and continues to have enormous impact, including resignations, official discipline, retraining and reviews by prosecutors to determine if the posts would compromise the police as credible witnesses. Read the Story »
The New Hampshire Center for Public Interest Journalism has been digging into the process in which the names of 264 dishonest police officers are kept confidential even though a judge has deemed them a matter of public information. The ACLU-NH named the center's InDepthNH.org lead plaintiff in suing the state attorney general to make public the names of officers who have a history of dishonesty, excessive force or mental instability. Read the Story »
Carolina Public Press led a statewide investigative collaboration with nine other media partners examining the low rate of convictions for sexual assaults. CPP generated story ideas and sources by analyzing more than three years of statewide court data and hosting three listening sessions in different parts of the state. CPP then tied together the multimedia reporting by the partners and conducted three forums around the state to discuss the issues that arose from the reporting, creating momentum for legislative solutions. Read the Stories »
Months after San Francisco's Department of Police Accountability issued a finding of misconduct in an excessive force case, Mission Local was first to name the officer and uncover that he had lied under oath about the incident that led to him and another officer punching a man in the head a dozen times while also beating his legs with a baton. Read the Story »
KPBS investigated the lasting impacts of a 2003 gang shooting in Southeast San Diego that killed two women caught in the crossfire in a liquor store parking lot. Ultimately, the shooting and the call for change led to task forces, more police presence in the predominately African-American community, changing attitudes about cooperating with police, and finally, a conviction. Read the Story »
KCUR collaborated with The Topeka Capital-Journal and APM Reports to investigate child sex trafficking. The story revealed that although anyone under 18 who performs a commercial sex act is considered a victim not a criminal, some of them were later charged. Lawmakers and newspapers began calling for a change, as the reporting found that instability in the Kansas foster care system had led to a surge in runaways that left some vulnerable to sex traffickers. Read the Story »
The Frontier identified and contacted every person in an Oklahoma prison who was sentenced as a juvenile to life without parole to show the struggle they have taking advantage of their right to request new trials. The inmates must send a request to the district attorney's office that prosecuted them, asking for a hearing. Most DAs appear to just ignore those requests, especially when the inmate has no attorney, but the story prompted some lawyers to work on the cases pro bono. Read the Story »
The closing of two youth prisons in Wisconsin will affect the futures of the state's most vulnerable residents. The Milwaukee Neighborhood News Service traveled to New York, which has been cited as a model for how young offenders should be treated, to seek solutions. Read the Story »
Focusing on an often-ignored effect of imprisonment, Milwaukee Neighborhood News Service looked at a program serving incarcerated mothers and the kids they leave behind. Read the Story »
The Kentucky Center for Investigative Reporting showed how money seized through asset forfeiture provides leverage in resolving drug trafficking cases and has become an ingrained aspect of the justice system in Louisville. In the process, the investigation found, defendants lose their money and property even when cases are dropped ' or reduced to possession, a charge that doesn't fall under the intent of the law and one for which police don't generally seize assets. Read the Story »