By SUSAN DROMEY HEETER, InDepthNH.org
DOVER – Today I muse joyfully on an old school meet up both in the literal and figurative sense.
As I was volunteering at Dover's Library Book Sale (which, fyi, is going on until November 10), a beautiful young woman wearing scrubs asked, "What is your name?" And as that is a question I can answer without much thought or contemplation, I responded with my usual, "Susan Dromey Heeter."
And then, well, the Dover Library Book Sale sent me back to 1992 as the beautiful young woman remarked, "You were my Spanish Teacher at AFCENT."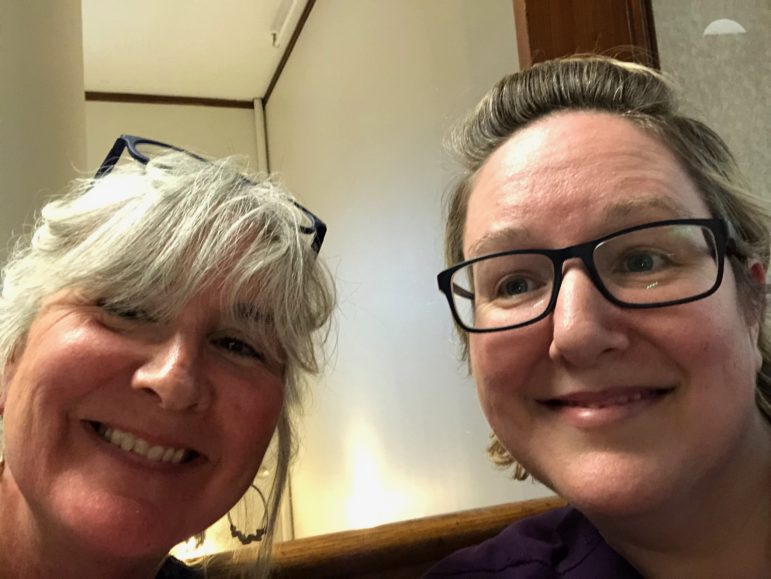 Now, for those of you who know what AFCENT stands for, wow, how wonderful to connect once again. And for those of you who do not, AFCENT is the acronym for Allied Forces Central Europe and is a school located in the town of Brunssum, The Netherlands. It is now known as AFNORTH, but to me, and I imagine to Jen Niles, it will always be AFCENT.
Jen now lives in Dover, works at Wentworth-Douglass Hospital and is someone I taught last century when we both lived in Central Europe; she lived in Germany, I in Holland. She reminded me that she'd had me as her Spanish I teacher as a senior after taking three years of German with Frau Seidel (hi, Erika!).
Jen also reminded me that I'd kicked her out of class and when she hung out in the 400 Building's Hall, she decided simply to go into the bathroom.
And I love that I vaguely remember that moment, but more importantly, how I knew that bathroom intimately: the two stalls, the location across from the copy room, the hallway that led to the main building.
And Jen brought back a flood of memories, of connections, of Dutch living, of the 400 Building, of students who are now, impossibly, parents, grandparents, writers, nurses, doctors, lawyers, teachers.
But at that moment on a Friday afternoon, we went back. I asked her about her AFCENT friends, students I'd attempted to teach while in my twenties, back when my hair was black, back when I had my single girl apartment in Maastricht, back when I'd taken a job that allowed me to meet "military brats" those teenagers who moved with their parents from base to base, from school to school, from new friends to new friends.
I asked her about Pinkpop, a concert I'd hear all about; it sounded so amazingly Dutch and crazy. Jen told me both Pearl Jam and Soundgarden played in 1992; I did not attend, but now wish I had. Jen was there with her AFCENT friends, and, while I imagine that hair they pulled back in banana clips may have gray in it now, they will know they were definitely in a very special place.
And Jen reminded me that we, too, were in a very special place, a NATO school that had not only an American section but British, Canadian and German sections as well. 1992. The Year of the Woman, the year of baggy jeans, the year of tracksuits, the year almost thirty years away.
I muse joyfully you may find as much joy as I did meeting up with Jen at the library book sale, may you find as much joy in recalling special places, special people, special times. And if you're going to Pinkpop 2020, do let me know. Maybe it's time I go.
Susan Dromey Heeter is a writer from Dover who recently let her hair go au natural white. Writing has been her passion since her English majoring days at the University of Massachusetts in Amherst. Dromey Heeter has lived in The Netherlands, Alaska and currently basks in all things New England, including the frigid winters. An avid swimmer, Dromey Heeter's great passion is to bring back body surfing as most children have no idea how to ride waves without ridiculous boogie boards.
The opinions expressed are those of the writer. InDepthNH.org takes no position on politics, but welcomes diverse opinions.