By PAULA TRACY, InDepthNH.org

MANCHESTER – Manchester Democrats were served some wicked good chicken fingers while dining with four presidential candidates at their Countdown to Victory Dinner at the Puritan Backroom on Friday night.
It was the kind of event that sent folks home with fire in their belly after getting fired up for the next election.
U.S. Senators Amy Klobuchar of Minnesota, and Michael Bennet of Colorado, South Bend, Indiana Mayor Pete Buttigieg, and billionaire Tom Steyer spoke at the packed gathering.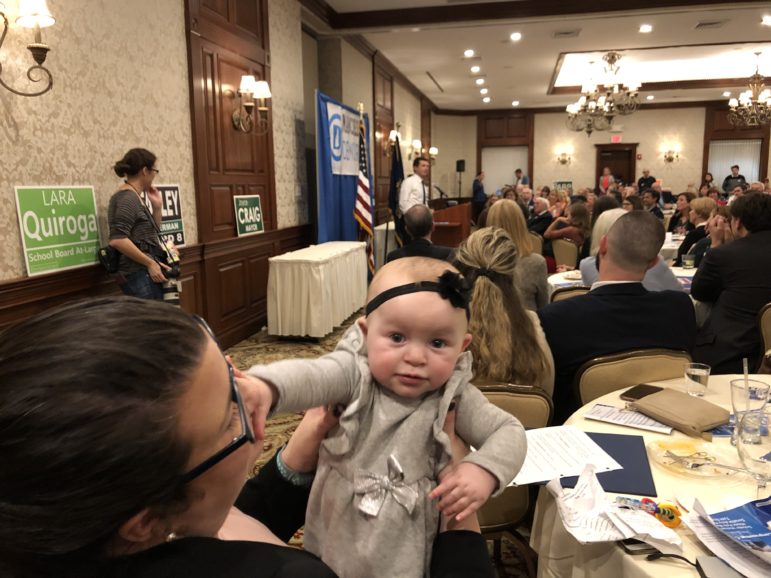 The room was also filled with local political activists who seemed to enjoy the food and seeing each other as much as the choices they have this year on their presidential menu.
In addition to presidential candidates, local candidates were also at the celebration, including Manchester Mayor Joyce Craig who is running for re-election next month and Democrats running in the primary for governor, state Sen. Dan Feltes and Executive Councilor Andru Volinsky, both of Concord.
Sen. Bennet came out with arms swinging and implored Democrats to get rid of President Donald Trump.
"New Hampshire, you already know how to win this race. And you know how to win the U.S. Senate back because the way Jeanne Shaheen ran and Maggie Hassan ran is the way we need to run nationally if we are going to win," Bennet said. "That is the way to win the purple parts of this country."
Steyer said corporations are not people and they should not be treated as such. He said that some consider him a rich guy but he hopes people see he is more than that.
Steyer said his father taught him that you have to fight at the heart of evil. And his father fought the Nazis.
"I listen to people talk and it sounds like we have a failed society," Steyer said. "We are not a failed society."
Klobuchar said she knows she can win the Midwest states.
"I look people in the eye. I am blunt, that's a good thing and I am honest," Klobuchar said.
Trump "has made tons of promises to working people and has not kept those promises. So that is on us to make that case."
Buttigieg said he wants to be the person who picks up the pieces at the end of this presidency.
"I am running because America is running out of time. We can't wait any longer to change the trajectory of this country," said Buttigieg. "I am running because I reject the idea that we have got to choose between either taking bold action to move the country forward or unifying this country in a common direction."