By PAULA TRACY
CONCORD – Victoria Sheehan of Nashua has been renominated as Commissioner of the Department of Transportation by Republican Gov. Chris Sununu.
Sheehan oversees a $650 million budget and a staff of 1,600 employees.
She has held the job since 2015 and was previously a manager of strategic planning and highway performance for the Massachusetts Department of Transportation.
Originally from Ireland, Sheehan holds a master's degree in structural engineering and architecture from the University of Edinburgh. The term runs through Dec. 3, 2023.

Executive Councilor Debora Pignatelli, D-Nashua, congratulated Sheehan on her renomination at the Governor and Executive Council meeting Wednesday. Pignatelli said she would be happy to support her confirmation at the next meeting.
Sununu said Sheehan has a good vision of where to take the department next and does a great job of advocating for more from the federal government.

The council confirmed Alexandria Peary of Londonderry as the state's Poet Laureate among other confirmations.

Pignatelli asked Sununu about this recent visit to Merrimack in which she said she was told the governor said she "loved toll booths" and loved increasing toll fares.

"I really hate them and think they are an environmental hazard and safety concern and always have," Pignatelli said. She said Merrimack is "landlocked" and surrounded by tolls.
Sununu claimed she got incorrect information.
A conversation ensued in which both agreed to discuss the elimination of the tolls at Merrimack.

Meeting with reporters after, Sununu said he would like to get rid of the Merrimack tolls but noted that's the job of the legislature.

In other business, the Executive Council proclaimed Weatherization Day Oct. 30, 2019.
People who are looking for low-income assistance should call their community action programs or CAPs to begin the process.
New Hampshire tends to have an older stock of housing, the governor noted and low-income residents pay an inordinate percentage of their money on heating costs, according to the proclamation.
After contacting a local CAP, energy auditors will go into a house and look at issues of weatherization.
The council also recognized Future Insight, an organization that helps the blind and those who are challenged by loss or lack of sight.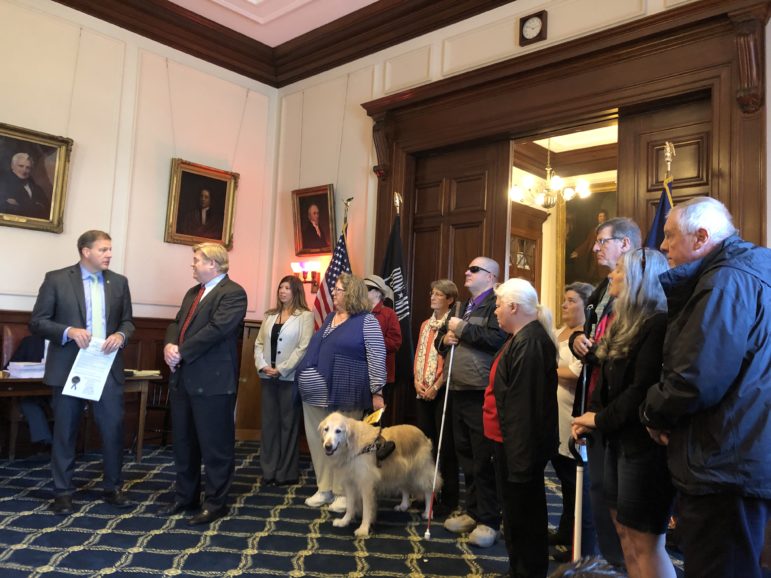 David Morgan of Future Insight said the organization used to be known as the NH Association for the Blind. It serves about 5,000 people with sight loss from babies to seniors.
Sununu proclaimed October the White Cane and Dog Guide Users Month.
Dana Trahan with her service dog "Brody," Lisa Reynolds and Fred Fournier, all of Exeter, and their volunteer driver Dave Kenepp of Newmarket, attended the council meeting, among others who are served by and volunteer for Future Insight.
The Shrine Maple Sugar Bowl football game was also honored.
It has had 66 annual games and features all-star football players from Vermont and New Hampshire.
It raises funds for children's hospitals in the region. New Hampshire has won more games than Vermont over those years. This year, New Hampshire won the game, 21-9, and raised over $25,000 for children's hospitals.

Michael Vose of Epping was sworn in as state representative following a special election in which the Republican beat Democrat Naomi Andrews 880-806. His wife, Denise Vose, stood by as the governor swore in Vose.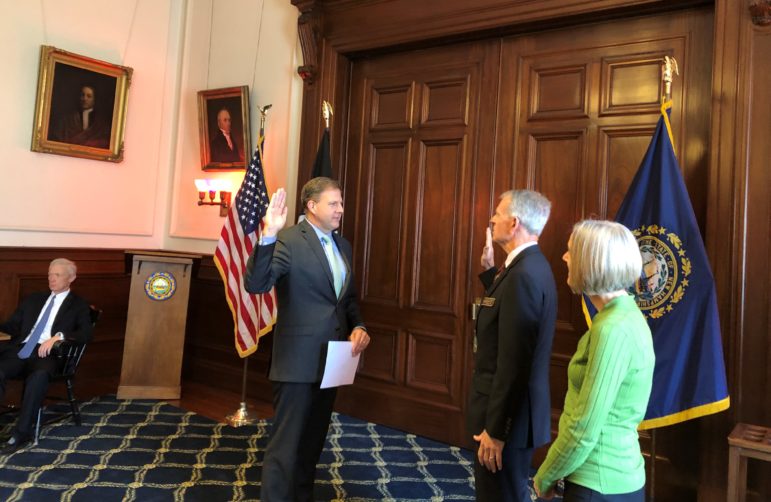 It's Halloween and the council chambers were decorated spooky as the council discussed the important business of favorite candy for Trick or Treat.
They welcomed a large group of fourth-graders from Windham and a small group of fifth- and sixth-graders from the Bath Village School. Talk turned to favorite treats.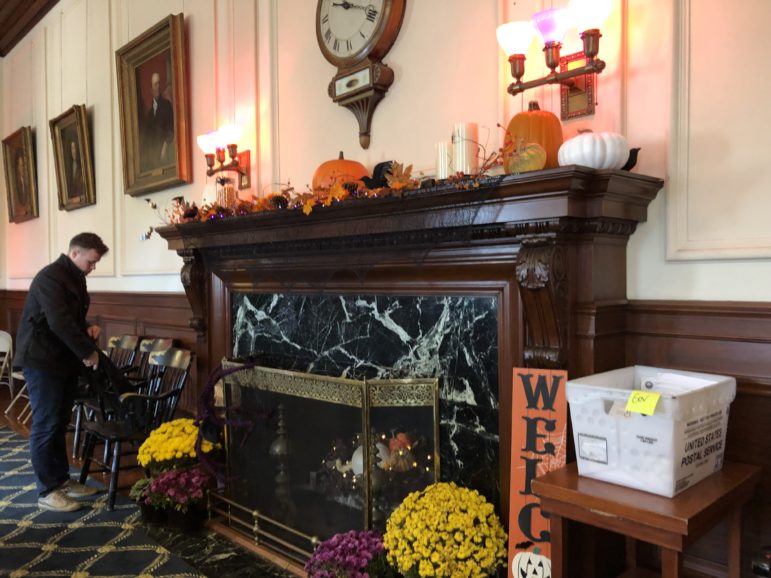 Councilor Pignatelli said she hands out big Snickers bars. Yes, she eats them before, during and after trick-or-treating, she said.
It's Heath Bars for Republican Executive Councilor Ted Gatsas of Manchester. Councilor Russell Prescott, R-Kingston, likes anything Hershey's but not white chocolate.
Councilor Andru Volinsky, D-Concord, and Sununu agreed on one thing. They both like dark chocolate Reese's Peanut Butter Cups.
"We agree on more than people think," Sununu quipped.
Councilor Mike Cryans, D-Hanover, said, "My favorite is chocolate chip cookies."