By GEORGE LISET, Writing on the Fly
There are many notable rivers in the state of New Hampshire, including the Connecticut River, which is probably the most recognized.
If I had to choose another, it would be the Pemigewasset, also known as "The Pemi."
The Pemi, according to Wikipedia, is sixty-five miles long with its headwaters starting from Profile Lake in Franconia Notch State Park and merging with the Winnipesaukee River to form the Merrimack River in Franklin. The name Pemigewasset is Abenaki for "Where Side (entering) Current is."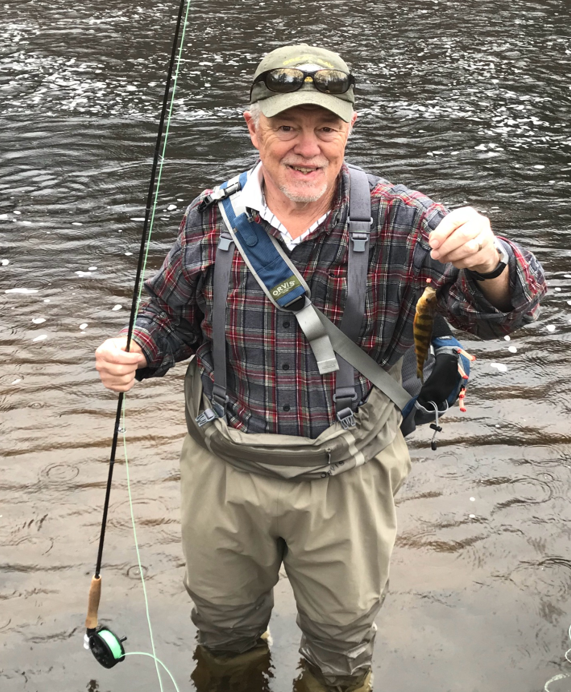 My first encounter with the Pemi was coming back from the first fishing trip I took with my son to Pittsburg. We had stopped at Profile Lake to see the Old Man of the Mountain, then we visited "The Basin," which is another favorite tourist destination. Since it was a hot day, we walked down the trail where there was a natural water slide and took a dip to cool off.
Most visitors to New Hampshire recognize the Pemi since it parallels Interstate 93 from Franklin to Franconia Notch. They also know it as a great swimming, canoeing and in Plymouth, float-tubing river. Few realize what a great fishery the river is. The East Branch of the Pemi, the Lost River, the Mad River, the Beebe River and the Baker River are some of the tributaries of the Pemi, and all these rivers are great fisheries in themselves.
So, when my son Reed, who occasionally works in the Franklin area, asked me to meet him after work to wet a line, I jumped at the chance. Reed has fished the Pemi quite a bit and I was anxious to do something other than swim in it. When he got out of work, we threw on our waders and rigged our fly rods and headed to the river.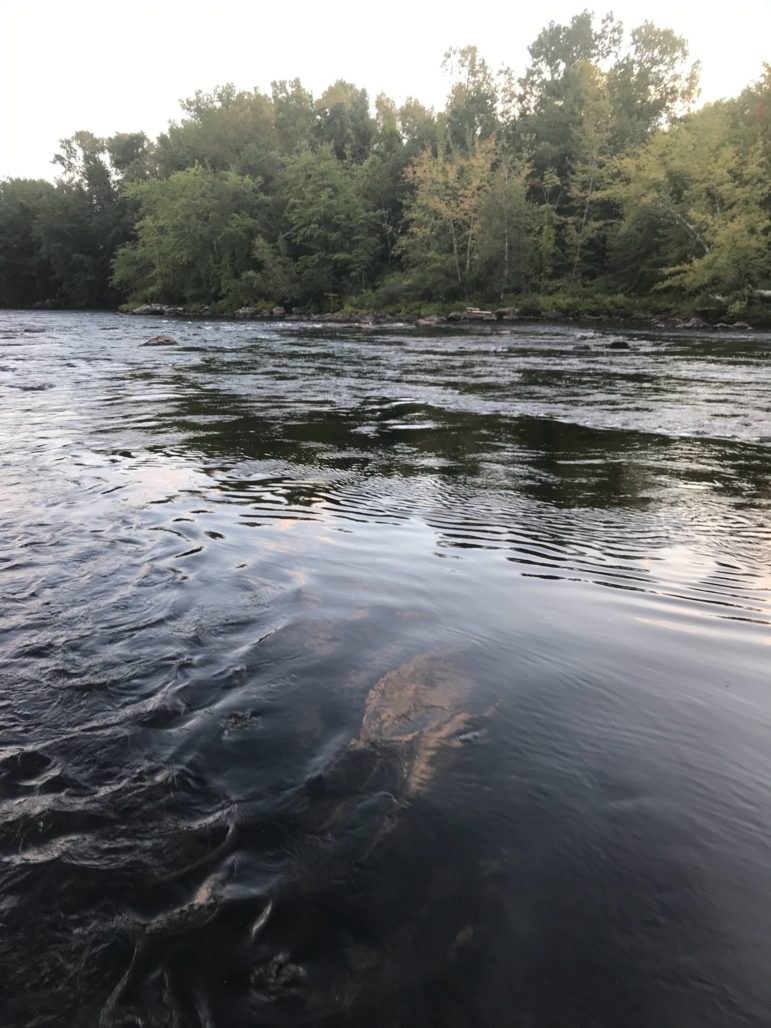 We drove through town and then through some neighborhoods, twisting and turning and finally ended up on a dirt road. We then turned down another dirt road that looked like someone's driveway and finally reached a space where we could park the truck. I asked him how he ever found this spot and he laughed and replied, "Through a good friend." Enough said.
After we parked, we bushwhacked for a while until we came to the river. Like most good fly fishers, we watched for a time to see if there were any fish rising. We couldn't see much action, so we each tied on a terrestrial and went with a small ant pattern, size 18. Reed no sooner put his fly in the water when a big Brown Trout grabbed his ant and headed down stream. Line was screaming out from the reel and off he ran down river. The fish slowly tired and about ten minutes later he brought in a nice healthy 15' Brown.
Reed had no sooner landed his when my rod tip started dancing and I was into another Brown. I was a little hesitant to chase mine down the river since the rocks were a little greasy, so I played him as well as I could. I had the Brown about ten feet away from the net when the fish conducted a long-distance release and my line when slack.
The fishing was slow for a time, then the sun started setting and the action picked up once again. Reed, using a midge got into a couple more Browns. I went to my old stand by and went with a Pheasant Tail Nymph and a Bead Head Nymph dropper. I caught a couple of nice Sunfish, which even with my six-weight rod, gave me a battle.
As the dark chased us from the river, we headed back to the truck. As we got back to the truck, Reed asked, "What do you think?"
 "I think you are a great son to share this spot with me." We laughed.
A writer from Dover, George Liset writes about all things Fly Fishing. George has worked as a lobsterman, lifeguard, wrangler, boat captain, fishing instructor, and has traveled in most of the lower 48 states. Upon graduation from Wheaton College, Illinois, George began his teaching career and currently teaches in Dover and has coached Track and Field most recently at UNH. Liset has been published nationally and internationally in the area of track and field and coaching.