By New Hampshire Fiscal Policy Institute
The Supplemental Nutrition Assistance Program (SNAP) helps households in New Hampshire and across the nation facing difficult economic circumstances brought on by recessions, economic shocks, or long-term economic hardship, afford enough food. About one in eight children across New Hampshire benefit from SNAP, and 73,959 individuals were enrolled as of August 2019.
Existing program requirements and eligibility guidelines are in place to promote work among individuals receiving assistance who can work and to reach the most households in need. Enrollment in SNAP has been declining since 2013, both in New Hampshire and nationally. The decrease in overall enrollment in SNAP since the period immediately following the last recession is an indicator that the program is responsive to economic conditions and helps lift people out of poverty by supplementing their income for food.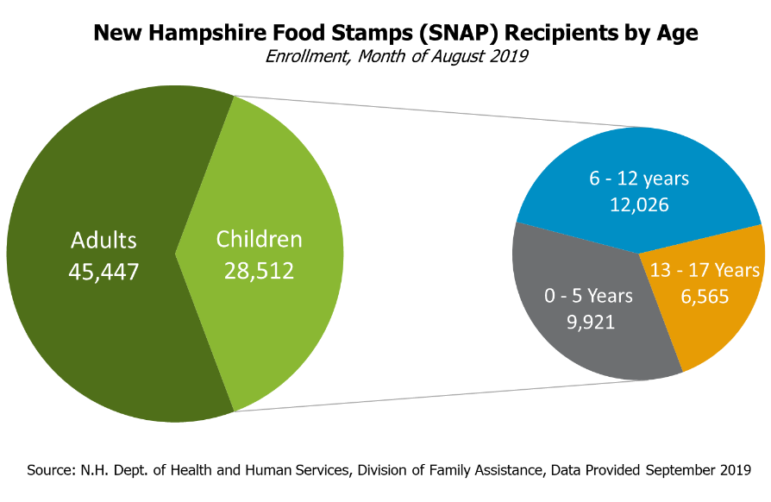 Recently, federal officials have proposed increasing the scope of work requirements mandated in order to receive benefits. Additionally, proposed policy changes to SNAP eligibility guidelines, which would affect households with children, have been introduced. These changes would make it difficult for many households to access sufficient food. Changes to the eligibility criteria are projected to result in an estimated 3,500 New Hampshire households losing benefits, including up to 18 percent of all New Hampshire SNAP-enrolled households with children.
The New Hampshire Fiscal Policy Institute's analysis, The Potential Impacts of Proposed SNAP Eligibility and Work Requirement Changes on Food Insecurity, reviews the success of SNAP in helping to feed Granite Staters in need. The report also focuses on the risks caused by the disenrollment of thousands of individuals and families in the state resulting from potential federal policy changes to SNAP.
The full report and summary one-pager are available online at NHFPI's website: http://nhfpi.org/research/health-policy/the-potential-impacts-of-proposed-snap-eligibility-and-work-requirement-changes-on-food-insecurity.html
Additional NHFPI Publications from Newly-Released Census and Other Data for 2018
New Hampshire's levels of median household income, poverty, and health coverage are estimated to be unchanged compared to 2017. About 100,000 Granite Staters are still living in poverty. Read the full Fact Sheet and Common Cents blog post.
Levels of food insecurity in the state in 2018 are estimated to have finally returned to pre-recession levels after a long period of remaining elevated. Read the full Common Cents blog post.