By PAULA TRACY, InDepthNH.org
MANCHESTER – New Hampshire's Democrats came out in force to hear 19 presidential candidates talk for five minutes each at the New Hampshire Democratic Party Convention on Saturday.
It was the largest Democratic convention ever for the New Hampshire party and the first time all the candidates were at the same event, party officials said.
About 10,000 were in attendance at the SNHU Arena for the day long-event which featured senators Elizabeth Warren, Michael Bennet, Bernie Sanders, Amy Klobuchar, Kamala Harris, Cory Booker, former and current congressmen John Delaney, Beto O'Rourke, Tim Ryan, Congresswoman Tulsi Gabbard, and candidates Tom Steyer, Marianne Williamson, Andrew Yang, New York Mayor Bill De Blasio, Mayor Pete Buttigieg, Vice President Joe Biden, former HUD Secretary Julian Castro, Montana Gov. Steve Bullock and Admiral Joe Sestak.
The candidate who brought the most applause and electricity to the room was Warren.
While there were plenty of gray hairs among the 1,227 delegates who attended the convention and sat on the floor of the convention center, the bleacher seats were filled with many people, some of whom will have their first chance to vote in five months when New Hampshire casts its ballots in the nation's first primary.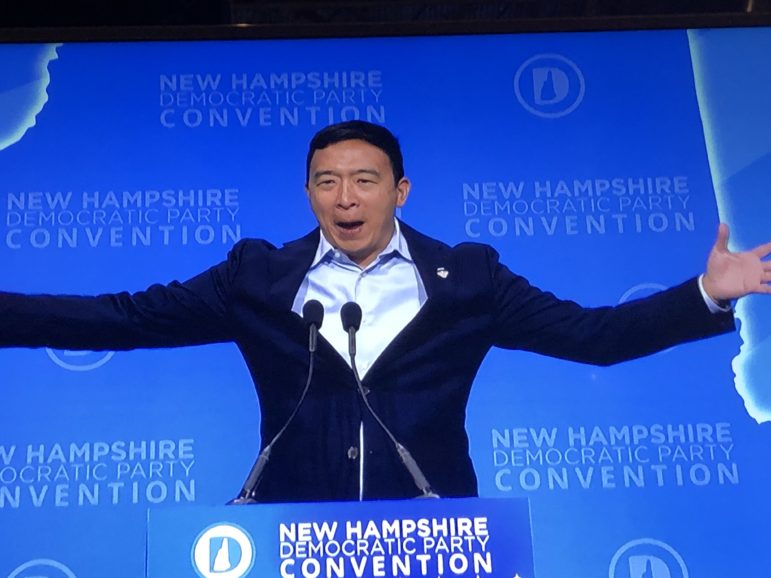 People like Ana Obergfell, Noah Harris, Nyah Jordan, and Elise Webster sat with a group of Kamala Harris supporters and cheered on their candidate.
In the crowded and noisy hallways of the convention center, they spoke about their priorities for this their first Presidential election as American voters.
Of the group, all but Noah are students at Boston University.
Noah is from Mississippi and attends Harvard University.
He said he was "really inspired" by the event and better informed after taking a weekend day and bus trip, provided by the Harris campaign, to see all the candidates.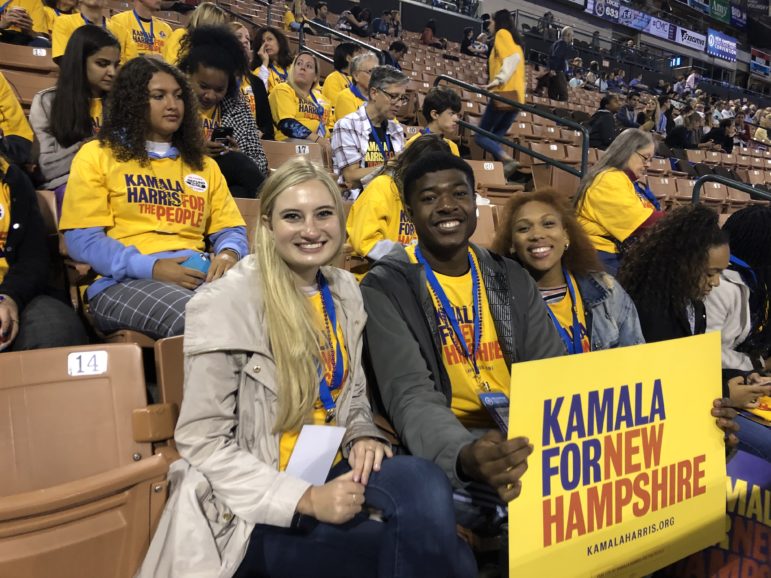 Climate change and immigration are the top issues for Ana, a Colorado native. While for Nyah, a resident of Mississippi, the top issues are immigration and resolving racial disparities. For Jordan, a resident of Georgia, the issues are race and climate change.
If for some reason, Harris got out of the race, he said he would like to see U.S. Sen. Bernie Sanders as the nominee. Ana would prefer to see U.S. Sen. Elizabeth Warren as the nominee.
Nyah said he found the day in Manchester "inspirational," allowing him to hear from almost all the candidates in one day in one room.
The young voters are incredibly important to the Democratic party and the future of the nation, candidates said.
They agreed that Republican President Donald Trump should be denied a second term and as the youths shouted as their candidate took the podium "Dude's gotta go."
U.S. Sen. Amy Klobuchar of Minnesota said the youth vote in this election will be terribly important and she laid out the issues that have galvanized them: climate change, environmental concerns and the high cost of education.

Ray Buckley, chair, said the New Hampshire party will sweep the next election in this state because of its beliefs. He said Democrats "believe the President should not be a racist."
Also addressing the huge crowd were candidates U.S. Sen. Jeanne Shaheen, state Sen. Dan Feltes, who has announced a run for governor and Executive Councilor Andru Volinsky, who said he expects to decide in the next six weeks whether or not to run for governor.
A total of 1,227 delegates met the quorum necessary to hold the convention.
Tom Perez, national DNC chair assured the crowd, "you are going to hear from all the presidential candidates today…the largest field in American history."
He noted this is "the most important election of our time" because the current Trump Administration has led the country so astray.
"We don't put children in cages," he said, referring to the immigration crisis at the Mexican border.
"In order to govern, we must first win," Perez said.
Noting that Trump, when he was in the same convention center two weeks ago for a rally, told those attending "you have no choice but to vote for me," Perez said, "I have some news for you, the motto of this state is 'live free or die' and we are going to show him he has no choice…but to pack his bags."
Former Vice President Joe Biden was first up. He said Wall Street did not build this country, "you built this country and unions built the middle class."
He said the greatest crisis is climate change and pledged if elected to dedicate $400 billion to bring the United States down to zero emissions by the year 2050.
"We chose science over fiction, truth over lies," Biden said. "Our very democracy is under attack."
Castro spoke of raising the minimum wage to $15, investing in affordable housing.
"No more children in cages no more families separated," he said. "I want you to live free from Donald Trump starting on Jan. 20, 2020."'
Sen. Harris talked about her mother, and how she told her and her siblings that they would be judged by a life of service. When they would get upset about some injustice, she said her mother would say to them, "'What are you going to do about it?' So I decided to run for President of the United States."
She said the only thing that Donald Trump has manufactured is chaos and that we are "one Tweet away from war."
Tom Steyer, a millionaire who began an effort to impeach Trump, said he is running to restore a government "of and for the people." He said if elected, health care will be a right, children will get the education they deserve and "we will get clean air and clean water as a right for every American."
Sanders, who won the primary in New Hampshire last time, said no matter who is the nominee – and he hoped it would be him – "we will all come together to defeat the most dangerous President in modern American history."
He said Trump is such a liar that he even lies about the direction of a hurricane. He called for $15 an hour minimum wage, equal pay for equal work and the elimination of student debt.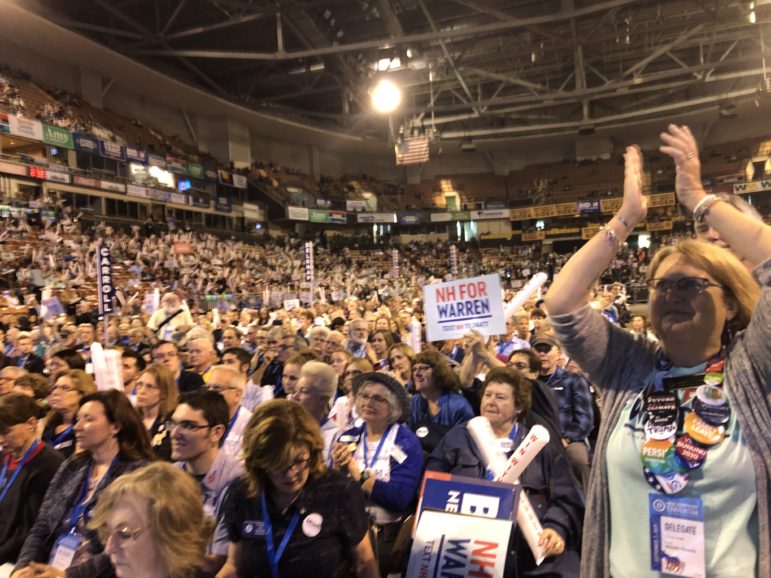 She noted she even got a tattoo on her inside forearm a few weeks ago with the word "Persist!" in Warren's own handwriting.
"She's got the plans, that's what we have been needing," Thomas said and that resonates with the youngest of voters who want change.
Warren rocked the house with her comments that "we aren't afraid and we will never give up!"
What we need to win, Warren said is to show what is broken and how to fix it.
Many of the candidates said they are looking forward to this week's national debate to help introduce themselves to the voters and to share their visions on how to take over the White House.
Booker said he was not discouraged by the polls noting "we don't want to win the summer news cycle." He said beating Trump should not be the ceiling but the floor and that playing it safe was not the way to go.
"I want to go to the top of the mountain," Booker said. "We are in a moral moment."
Buttigieg said for too long we have "accepted the unacceptable" from our president. He noted that when he got off a transport plane to fight in Afghanistan the flag on his shoulder was not the Republican flag but the American flag.
He said he would offer a Douglass Plan for black Americans to attack racism and allow for health care for all without forcing people to leave their company's health care plan, and he would appoint women to the judiciary and to the highest levels of his administration.
Castro said what he is hearing on the campaign trail is "people are ready for a new generation of leadership." He would invest in rural hospitals, improve mental health care access, invest in the Veterans Administration and suicide prevention programs.