Part I Editor's Note: To celebrate our fourth anniversary reporting news that matters in New Hampshire, InDepthNH.org is writing about where we came from and where we are going. For the rest of the week, ask us anything at nancywestnews@gmail.com and we will answer – Thanks, Nancy West, founder
By NANCY WEST, InDepthNH.org
I know you have been hearing all the bad news about the state of news in New Hampshire and everywhere else in the country – declining circulation, disappearing revenue, fewer subscribers and ugh, even way fewer readers.
Now, for the really good news. Yes, there is a future for independent, unbiased news that matters and holds public officials accountable to you and it is part of a national trend moving to online, nonprofit news. And you have already found us.
InDepthNH.org is that future and we are celebrating our fourth anniversary today. Well, really yesterday for the sake of accuracy, but I didn't finish this report until just now.
In those four years with a tiny budget, we have exposed serious problems with New Hampshire housing people in the state prison Secure Psychiatric Unit even if they didn't committed a crime, a situation state leaders are trying to change as a result of the light we shined.
InDepthNH.org also revealed more problems with the secretive list of dishonest police officers called the Laurie List and joined forces with ACLU-NH and several other media outlets to sue Attorney General Gordon MacDonald to force the state to make the 246 names public. A judge agreed they are a matter of public record, but MacDonald has asked the state Supreme Court to keep the names secret.
We won't stop fighting and reporting on that list and why you should know which police officers have been disciplined for dishonesty. If police testified against you in your trial without disclosing their wrongdoing, you could be eligible to seek a new trial. But without those names, you wouldn't know that.
InDepthNH.org was also the only news outlet to cover the Northern Pass transmission project day in and day out during the many adjudicatory hearings held in Concord. Without our coverage, the public would have had to rely on news releases from the developer and those released by the opposition. You deserve better than that.
InDepthNH.org takes no position on politics, but we welcome diverse opinions – clearly labeled – from you and political leaders. We also showcase Mike Marland's left-leaning editorial cartoons. In four years, we haven't found a right-leaning counterpart, but we continue to look.
InDepthNH.org won awards from the New Hampshire Press Association for our reporting on each of those issues and we have clearly won your support. Most of our funding comes from you in the form of tax-deductible donations.
We appreciate it. And the fine reporting that earns our praise for the work of veteran journalists such as Garry Rayno, Paula Tracy, Rachael Brown and all the people behind the scenes such as Bob Charest, Roger Wood and John Harrigan. And of course our columnists Susan Dromey Heeter, Monica West, Wayne King, who is also our podcaster, photographer Bob LaPree and my son Montana West who does our website.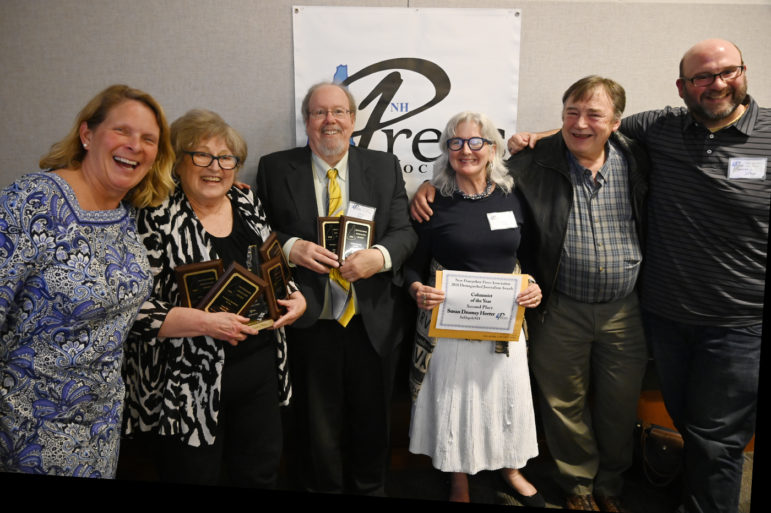 Stay tuned this week to hear from our board of directors on why they support our watchdog news. And find out how you can help us grow.
We do need a much bigger budget because there are many more pressing problems and issues to report on. And we have a major fundraiser coming soon. But more on that later in the week.
Every day this week I will share information about who we are and who we plan to become with your help. Please read InDepthNH.org and sign up for our free newsletter.
We are YOUR news outlet. Please like us on Facebook and Twitter and let us know what you want your local news outlet to become in our fifth year.
We love working for you New Hampshire. Thank you for these wonderful four years. — Nancy West