By MARY HELEN GILLESPIE
and PAULA TRACY, InDepthNH.org
Manchester prepped for the arrival of President Donald J. Trump Thursday with long lines of happy, smiling supporters, some of whom had waited since Tuesday, to cheer their candidate's first appearance in the Granite State this year.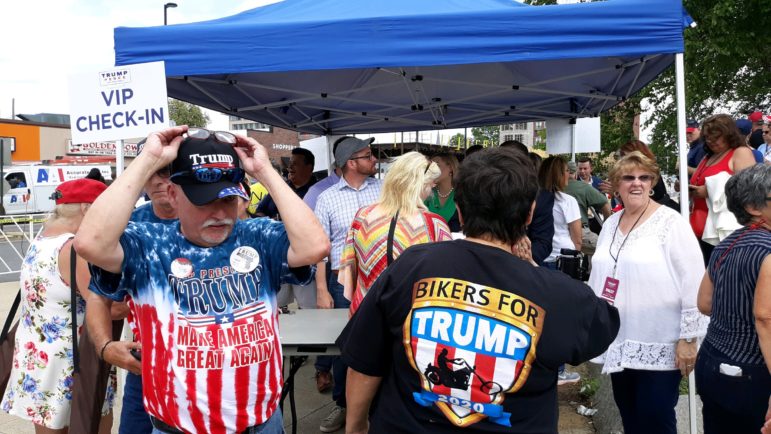 By noon, bright red MAGA hats, Hot Pink "Women for Trump" signs and out-of-state license plates from as far away as Florida lined the streets around the SNHU Arena hours before the 7 p.m. campaign rally.
So did troves of police and security vehicles, including trailers of U.S. Air Force military police dogs and horses from the Manchester Mounted Police Squad.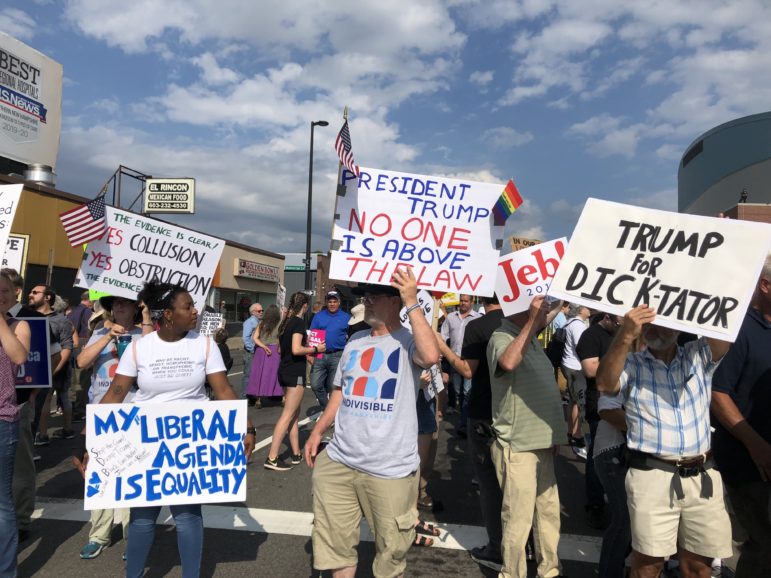 Heather Hamel, spokesman for the Manchester Police Department, indicated there had been two arrests for disorderly conduct by late afternoon and the lines to get in were very long.
"People are being patient," Hamel said. Protesters were being separated from the pro-Trump crowd at Lake Street, she said.
Allen Crigger of Hollis said the rally was good for panhandling.
Asked what President Trump had done for him, he said, "Nothing."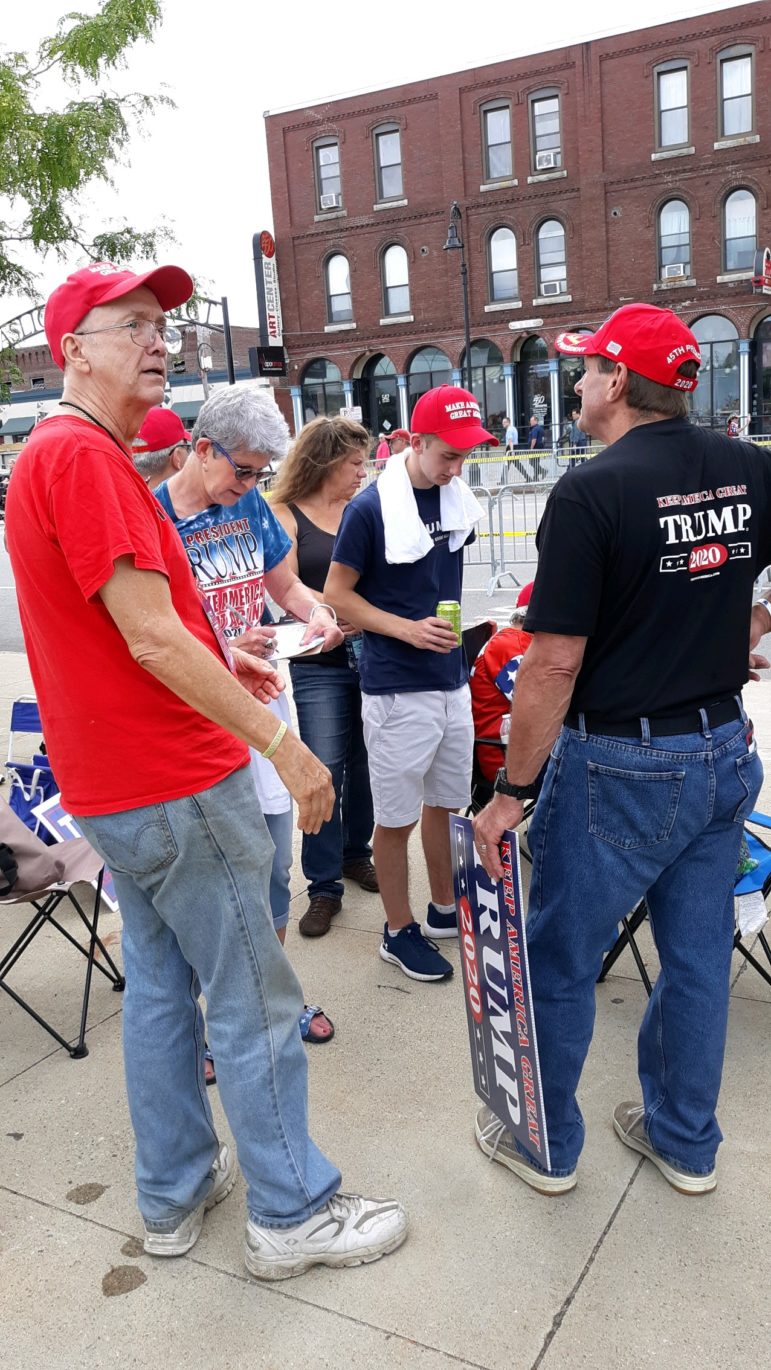 An Aug. 13 Granite State poll by the University of New Hampshire Survey Center https://scholars.unh.edu/cgi/viewcontent.cgi?article=1562&context=survey_center_pollsfound Trump with 42 percent favorability among polled New Hampshire residents, a number that has remained stable through much of the year.
Trump won the 2016 Republican primary in New Hampshire but lost the state's four electoral college votes in the general election when former Secretary of State Hillary Clinton, a Democrat, beat him by 0.3 percent of the vote. Such a small margin – fewer than 3,000 votes – makes the state a battleground.
Republican Gov. Chris Sununu was expected to attend the 7 p.m. rally and Trump was expected aboard Air Force One to arrive at Manchester-Boston Regional Airport at 5:55 p.m.
Local business workers streamed out of office buildings on their lunch hours to swirl through the growing Trump crowd. Restaurants, like the city's iconic Athens, a Greek legend, and Murphy's Taproom were filling up with Trump supporters, out-of-town media and GOP officials. Some establishments offered private parking on site for prices ranging from $60 to $30 a pop.
Once the doors opened at 2:30 p.m. to VIP and handicapped audience members, the seats closest to stage began filling up with all the electricity of a rock concert.
The chatter could not down out the sound system blasting out tunes ranging from opera to Broadway to Michael Jackson's "Billy Jean." Concession stands inside the arena offered a plethora of Trump/Pence merchandise as well as bags of popcorn and soft drinks to nosh while waiting for the main event.