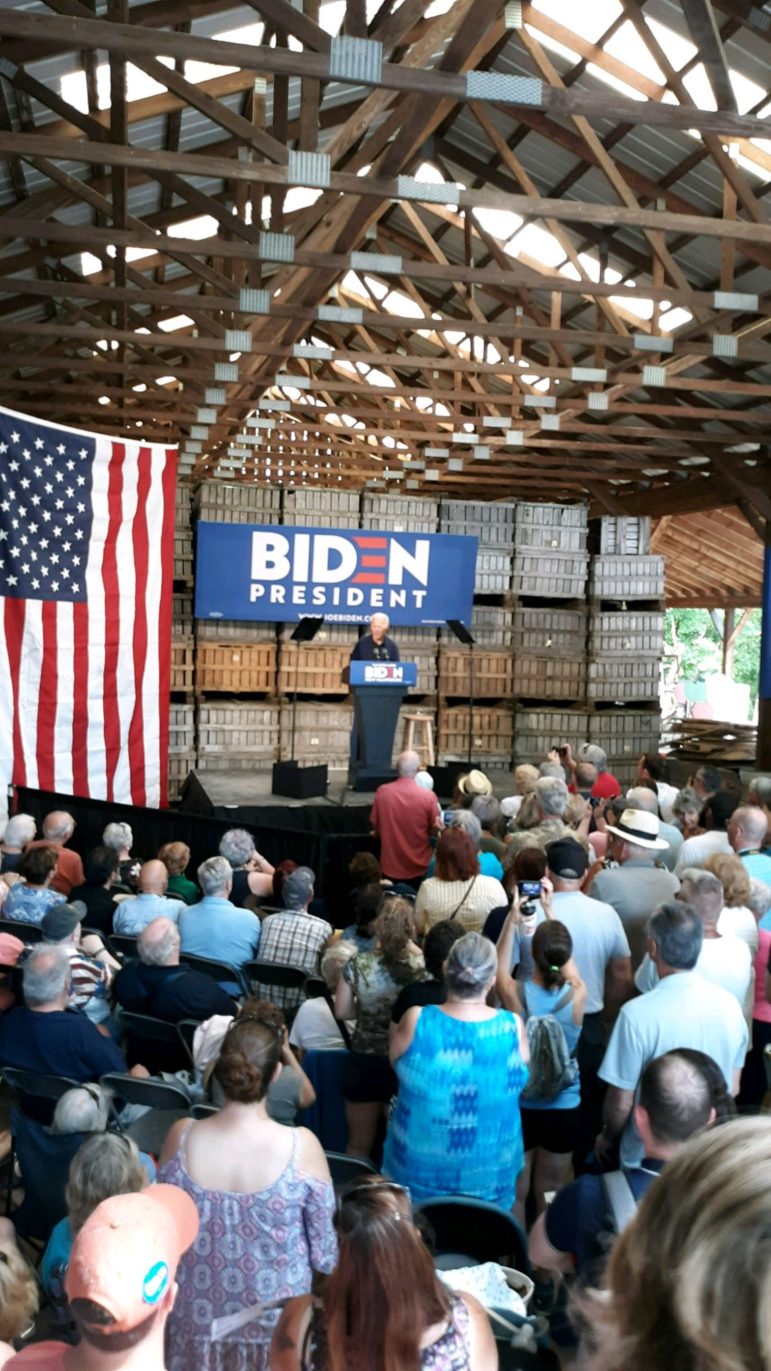 MARY HELEN GILLESPIE, InDepthNH.org
LONDONDERRY — Former Vice President Joseph R. Biden Jr. pounced on President Donald J. Trump's record plus vowed to maintain affordable health care in an old-fashioned barn-burner of a stump speech Saturday.

The Democratic 2020 presidential front-runner also made a promise to nearly 400 people — many of whom stood sweltering under blazing sun in a dirt parking lot — that he would be a frequent visitor to New Hampshire in the six months ahead of the First-in-the-Nation primary.
"You're going to see more of me than ever before," Biden said, sharing a stage with weathered gray fruit boxes in an old red barn at Mack's Apples, a popular family-owned farm known for its ice cream in the summer and its apples and pumpkins in the fall.

The crowd roared its approval as Biden called out the divisiveness tearing through the United States as directly attributed to Trump's core values, which Biden described as vicious bullying which is "tearing the soul of our country."

"Everything we know as America is at stake," Biden said. "We choose hope over fear. And I promise you, we will choose truth over lies."

Allison Yankowskias, 58, of Londonderry saw the blue Biden 2020 signage while out on a bike ride through town and decided to stop.

"I'm really curious," she said. "I am keeping my options open. I hope to see a change."

Yankowskias, an elementary school teacher, was delighted when former student Liam McIntyre recognized her in the growing crowd outside the old red barn. McIntyre, 17, of Londonderry, said he was inspired to attend the rally to learn more about Biden's stance on reproductive rights, the economy and climate change.

As Motown classics pumped through the sound system, McIntyre said he was also concerned about the future of the middle class. "I won't be old enough to vote in the primary but I will be for the general election in 2020," he said. "Climate change is very important. We need to be tougher on China and India because they are polluting our world at a higher rate than anyone. It's very high risk."

Biden did not disappoint the rising high school junior. "The first thing I will do when elected is to rejoin the Paris Climate Control," Biden said, referring to the Paris Agreement on Climate Change which the United States left in 2017 under Trump's orders.

"We are shredding our relations with other leaders in the world. You need to put these alliances together," Biden said.

Biden devoted most of his final stump speech over a two-day blitz of the Granite State to maintaining affordable health care for all Americans. Without mentioning his Democratic opponents by name but singling out the Rebublican president, Biden said he was the only candidate who wanted to build upon the Affordable Care Act and not decimate the health services it currently provides.

"How do you maintain your dignity if you look at your child as a pre-existing condition?" Biden said.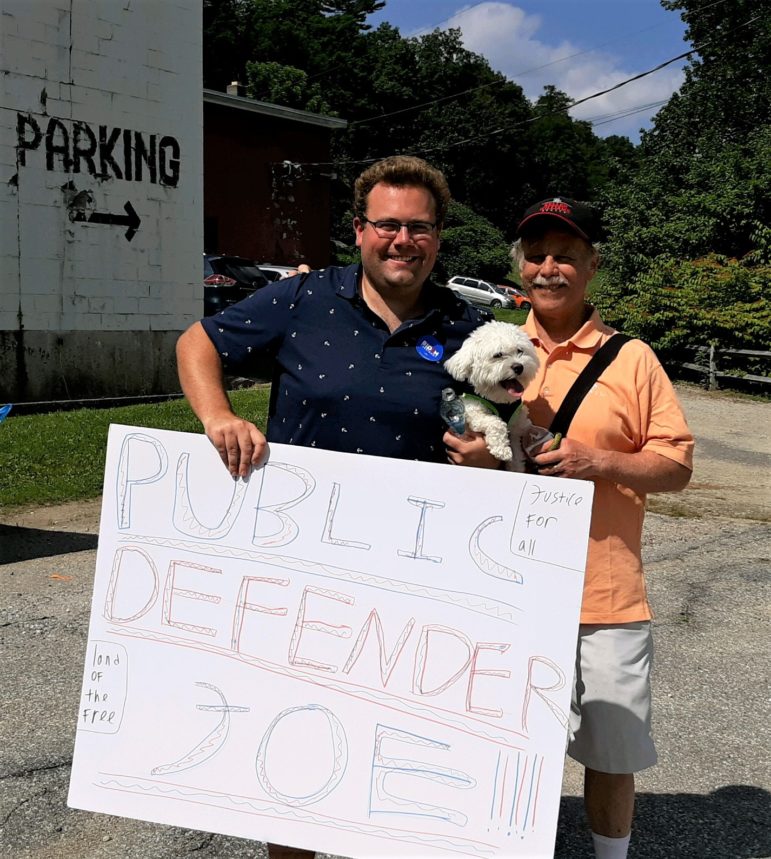 Donald Reape, 64, of Hollis, is a physician who supports maintaining the ACA. "I worry about dismantling it quickly. Health care is a right."
He was joined by his 31-year-old son Donald Reape, also of Hollis, an attorney who is a former public defender. The son held a homemade Biden poster, saying he was intrigued when Biden mentioned his own role as a public defender during the first Democratic debate: "I was shocked when Biden brought it up at the debate. It's a thankless job and I had to support my brother."
The father-son team was joined by two-year-old Granite, a curly white Shistu-Maltese pooch, one of at least a dozen canines in the crowd. "This is his first rally," the elder Reape dryly noted, hinting it will not be Granite's last.

Biden ended his half-hour address with a strong jab to Trump: "The American people have had enough. They have no illusions about this man's character."

Chris Clifton, 75, of Londonderry is a Trump supporter and Navy veteran who was not impressed by what he heard. "I want to hear all sides…not only listen to Fox News."
Turning to the now-empty stage, he made a disparaging gesture with his right arm and said: "Trump has it all over him."
Mary Helen Gillespie is a freelance journalist whose work has appeared in the Boston Globe, Boston Herald and The Wall Street Journal Digital Network. She is also an adjunct professor of social media and public relations at Northeastern University in Boston.