By PAULA TRACY, InDepthNH.org
Citizens and first responders from Meredith to Randolph lined overpasses and intersections along Routes 93 and 3 Saturday as thousands of motorcyclists rode to remember seven members and friends of the Jarheads motorcycle club killed June 21 in a crash in Randolph.
A group of Bethlehem and Franconia area residents were joined by a fire truck on the Route 18 overpass in Franconia to watch the motorcycles head north to the site of the crash.
One man identifying himself only as "Jesse" said he had been standing there for almost 45 minutes watching "a lot" of motorcycles head north, noting it was a moving experience.
On the highway, near on ramps and off ramps people waving American flags participated in honoring the fallen motorcyclists.
Authorities say Volodymyr Zhukovskyy, 23, was driving the truck that struck the motorcycles and he has been charged with seven counts of negligent homicide.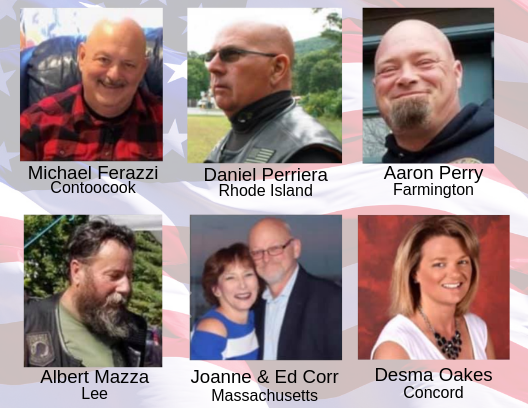 The seven victims include: · Michael Ferazzi, age 62, of Contoocook, NH
· Albert Mazza, age 59, of Lee, NH
· Daniel Pereira, age 58, of Riverside, RI
· Joanne & Edward Corr, both age 58, of Lakeville, MA
· Desma Oakes, age 42, of Concord, NH
· Aaron Perry, age 45, of Farmington, NH