WRITING ON THE FLY,
By George Liset
One of the nice aspects of fly fishing is that you can do it alone or with a friend. What I enjoy about fishing alone is that I can fish for as long as I like or can make a quick trip and get home. There is also the solitude of fishing alone that helps you unwind and gather your thoughts. Also, if you do something dumb there are no witnesses.
I was on a local river recently and had spent a few minutes rigging up my line. When I finished I walked into the river a little way and proceeded to put my first back cast in the tree behind me. My friends would have been all over that and we would have had a few laughs.
Choosing a friend to go fishing with can be a complicated process. The reason being, is that if you are going to be spending any amount of time with them on the water you want it to be enjoyable and relaxing, not a competition. That could make the time on the water real long. You really don't need to spend a relaxing day with someone keeping score.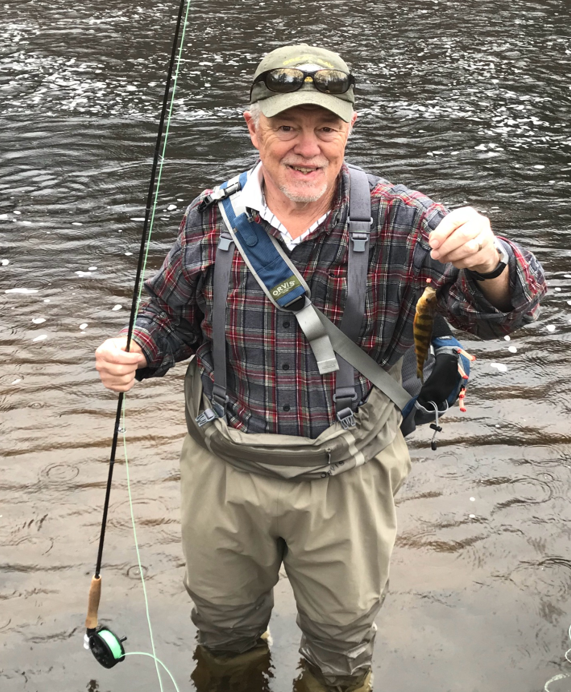 Fortunately now, most of my fishing friends and I are on the same page. Fishing is an excuse to get out and get some fresh air, catch up on what is happening and if we get into some fish that is great. I got one of my best friends, Jim, out for some casting on a local pond. He had not been on that pond since he was a teenager. It was great to hear his stories about growing up in the area and spending time here. It also brought back some fond memories for him as well.
We worked on our casting and we both tried out the new rods we had received for Christmas. The evening turned cool once we got on the water, so we weren't sure how the fishing would be. We started casting some small Bead Head Nymphs which I had luck with the previous few trips over, but after thirty minutes or so we had no takers, but our casting was improving.
We could see the fish rising and even jumping out of the water so we tied on some dry flies. I tied on some small Caddis imitations but again, no takers. I was thinking about trying a streamer when I looked over at Jim and we both thought the same thing, time to call it a day. We had a nice leisurely walk back to the truck and broke down our rods.
At the truck, we talked about a couple of trips this summer. We have a good friend who has offered us a great barbecue dinner after we fish Fifteen Mile Woods up in Berlin. Food and fishing are a good combination. It is nice to have friends like that. We discussed hitting the trophy stretch on the upper Connecticut River in Pittsburg, but most of all we talked about getting out more often.
A writer from Dover, George Liset writes about all things Fly Fishing. George has worked as a lobsterman, lifeguard, wrangler, boat captain, fishing instructor, and has traveled in most of the lower 48 states. Upon graduation from Wheaton College, Illinois, George began his teaching career and currently teaches in Dover and has coached Track and Field most recently at UNH. Liset has been published nationally and internationally in the area of track and field and coaching.