By PAULA TRACY, InDepthNH.org
CONCORD — Six of eight New Hampshire governors since 1983 gathered together on Monday to celebrate the State House's 200th birthday.
They all agreed that the openness, access, and transparency of the building and its functions differ from any in the country.
Sitting in Representatives Hall as current and former governors on the occasion of its Bicentennial were two sitting Democratic U.S. Senators from New Hampshire: Jeanne Shaheen and Maggie Hassan; former Republican Governors John Sununu, and his son, current Gov. Chris Sununu; Steve Merrill and Craig Benson.
Unable to attend were former Democratic Gov. John Lynch and Sen. Judd Gregg.
The event, which is part of a week of activities related to the June 2, 1819, opening of the State House, was moderated by WMUR-TV Political Director Adam Sexton.
The governors were asked to name their favorite moments, rooms and objects at the State House and what each saw as the representational meaning of the building.
Although they have many political differences, the governors agreed that citizens have easy access to their elected leaders in this building. People can come here and see "real change" happen before their eyes, said Hassan, the state's 81st governor, who served from 2013-17.
The elder Sununu noted the building has seen many U.S. Presidents who had to sign up to run for the job in the New Hampshire Secretary of State's office.
He recalled a memorable moment in the building when U.S. President Ronald Reagan chose to address his tax reform package from the New Hampshire State House, which Sununu said was the "gold standard for keeping taxes low."
He said there were more than 10,000 people on the lawn to hear Reagan speak that day. Reagan was astounded at how small the building is, he said.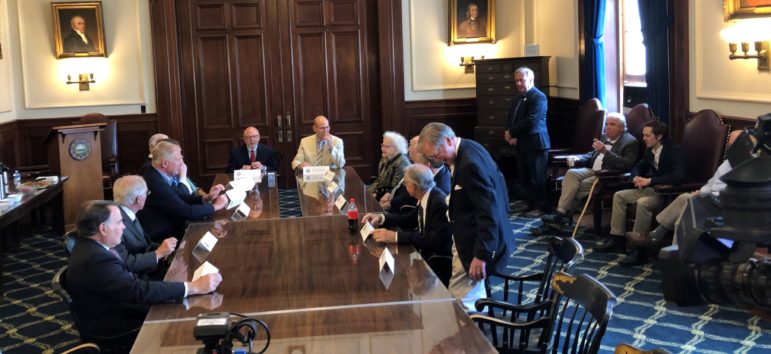 Benson, the state's 79th governor from 2003-05, recalled playing Nerf golf in the hallways with a young boy who was dying of cancer and wanted to visit every state house.
New Hampshire was the only state where the boy, who subsequently died, got to meet a governor. "(In) no other place could this happen," Benson said.
Hassan agreed, recounting the process of marriage equality when she was a state senator and how people who had never been in the building before could access their elected leaders to talk about being part of the "real change" that occurred almost exactly 10 years ago today.
People like Leo
Gov. Chris Sununu recalled the moments before he was to take the oath of office.
"I was scared to death," he said.
But taking a walk outside with his youngest son, Leo, helped him to recognize what the job was all about: the future and people like Leo.
Asked their favorite spot in the building the elder Sununu said it was the Executive Council chambers where the "process of transparency" occurs. He said no state has such open discussions on such important things as contracts, appointments of judges and commissioners and does it in such an open fashion.
Merrill said his favorite is the "spectacular" gold dome that looks great from the outside but is not as impressive from inside. He recalls walking on boards inside it "and if you fall it would be 100 feet."
Shaheen said the Senate chambers are her favorite and noted the beautiful restoration of that chamber in time for its 200th birthday this week.
Benson said he likes Representatives Hall because it is the most representative of any in the nation with each legislator representing a little more than 3,000 voters and all for the princely wage of $100 a year.
Gov. Chris Sununu recounted the contentious 3-2 vote in the Executive Council to fund Planned Parenthood when he was a counselor, and how close supporters and opponents were in the packed room.
The accessibility and civility impressed him.
"That wouldn't and couldn't happen anywhere else in this country," he said.
Shaheen said she loved meeting the fourth graders who tour the State House each day and noted they reminded her of the job's central goal.
"This really is about the future," Shaheen said.
The current governor's favorite object is a quote on the portrait of General James Miller of Peterborough, who later became the governor of Arkansas.
It contains a quote, "I'll try."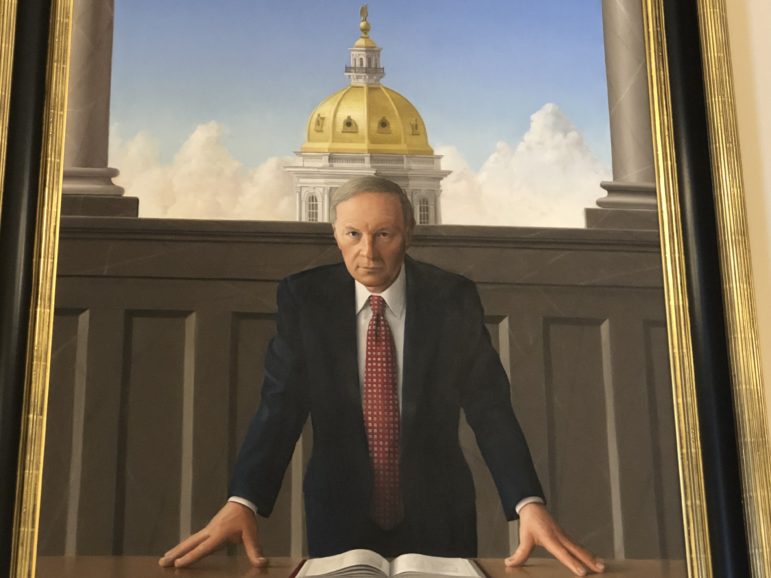 Scary portrait
The group talked about their own portraits on the walls with Merrill admitting that his own portrait scares him.

Gov. Chris Sununu said he often has to tell people that Merrill is really one of the nicest guys in spite of his portrait.
Hassan said her favorite object at the State House is the portrait of Shaheen, which tells "every little girl in New Hampshire that she can be whoever she wants to be."
There is no charge to visit the State House, which is open from 9 a.m. to 5 p.m. daily.
New Hampshire State House Bicentennial Commission
Bicentennial Week Celebrations
Please check back soon for more information on the week's events!
---
1:00pm – State House Opening Ceremony
2:00, 3:00, 4:00pm – 1819 Session Reenactments
1:30 – 4:30pm – Tours of the State House
---
MONDAY – JUNE 3, 2019 – GOVERNORS' DAY
10:00am – Governor's Roundtable
11:30 am – Unveiling of Historic Documents with Governor Sununu
1:00pm – Executive Councilors Roundtable
View the live stream of today's activities here.
---
10:00 am – Supreme Court Oral Arguments in Representatives Hall
1:00 pm – State House Press Corps Roundtable
View the live stream of today's activities here.
---
10:00am – 4:00pm – New Hampshire Cultural Heritage and Arts Day on the Plaza
12:00pm – State House Students Mixed Media Awards Ceremony
View the live stream of today's activities here.
---
THURSDAY – JUNE 6, 2019 – LEGISLATORS HOMECOMING DAY
10:00am – House and Senate in Joint Convention
12:00pm – Legislative Old Home Day Picnic
View the live stream of today's activities here.
---
11:00am – 7:00pm – New Hampshire Made Street Market, Capitol Street
---
10:00am – 2:00pm – Tours of the State House
2:00pm – Closing Ceremony