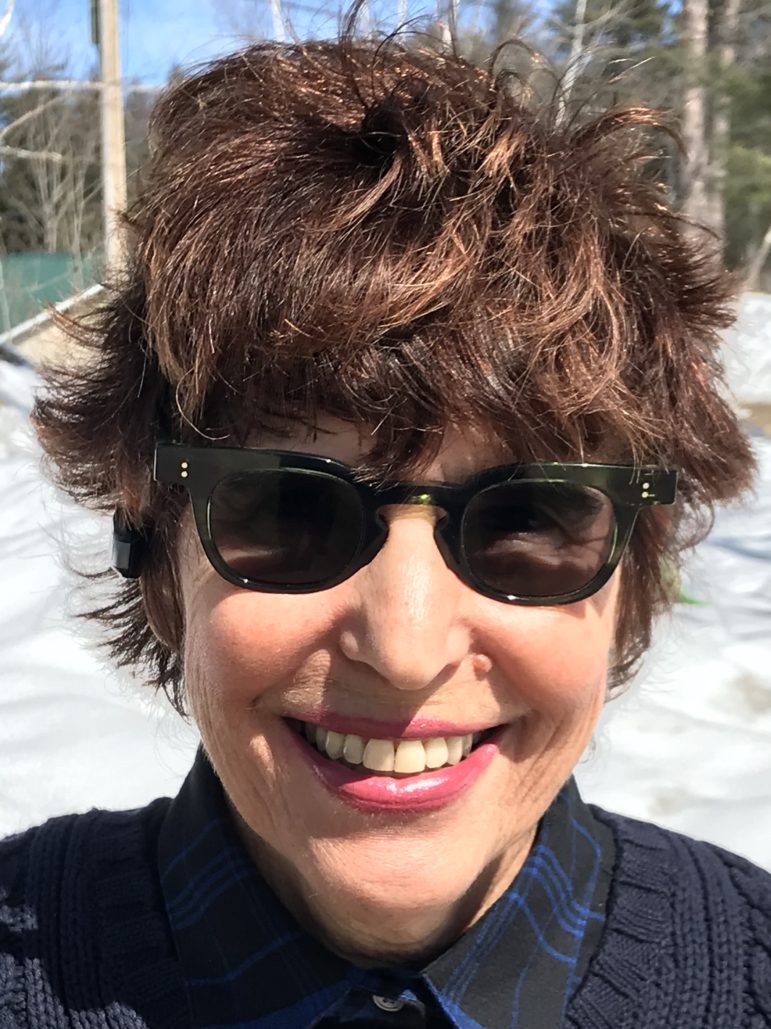 Welcome to InDepthNH POINTS NORTH, our reporting on North Country business and entertainment news and community event listings. If you know what's happening, tell Rachael Brown at rachaelbrown@roadrunner.com.
New Business in Berlin: Gaming and Co-working Space Opens
By Rachael Brown, InDepthNH.org
Work and play go hand in hand at Assemble Makerspace and Assemble@Work in Berlin.
Assemble Makerspace is the brainchild of Ryan Somerfield and his associates, Laura Jamison, Maria Neal, Heather Piche, and Gary Coulombe. The collaborative studio space was formed two years ago and just this past April, Somerfield open Assemble@Work, the shared desk work and gaming space.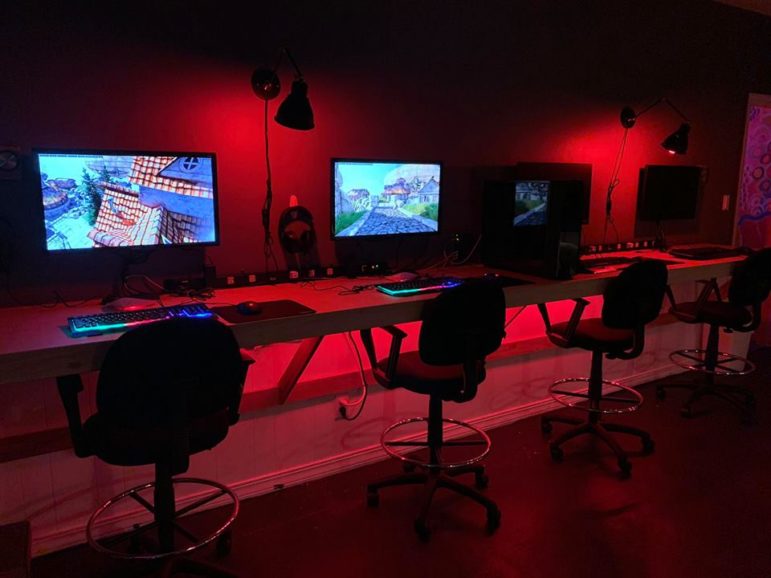 Tucked away on the second floor of a former NH DOT office and former car dealership at 38 Glen Ave., behind Aubuchon Hardware, artists, entrepreneurs, independent contractors, tourists, other professionals and gaming enthusiasts have a place to create and work at Assemble Makerspace and Assemble@Work.
Somerfield says they are trying to make the business accessible to anyone, at any level of interest and for the community just to hang out.
"We are reaching out to east Vermont, Randolph, Dummer, Milan and of course Berlin. The cost to join is reasonable and the finances are not complicated. I was doing consulting from home and driving myself crazy. Your options are your house or Dunkin Donuts. This solved the problem, you can interact with others," said Somerfield, adding that the gaming piece has really taken off.
"I moved here from Boston and my friends were all a part of a group that belonged to WREN. After WREN collapsed, I was approached by those looking for new makerspace and co-working space," said Somerfield giving a tour of his new business.
The 1,600 square foot studio space is shared by Laura Jamison, metals studio, Heather Piche, glass studio, Maria Neal, clay studio and Gary Coulombe, woodworking studio.
The brand spanking new state-of-the-art shared desk and gaming space takes up about 600 square feet including a small kitchen, which was the DOT office. The kitchen is open to members for unlimited Keurig coffee and a place to heat up lunch.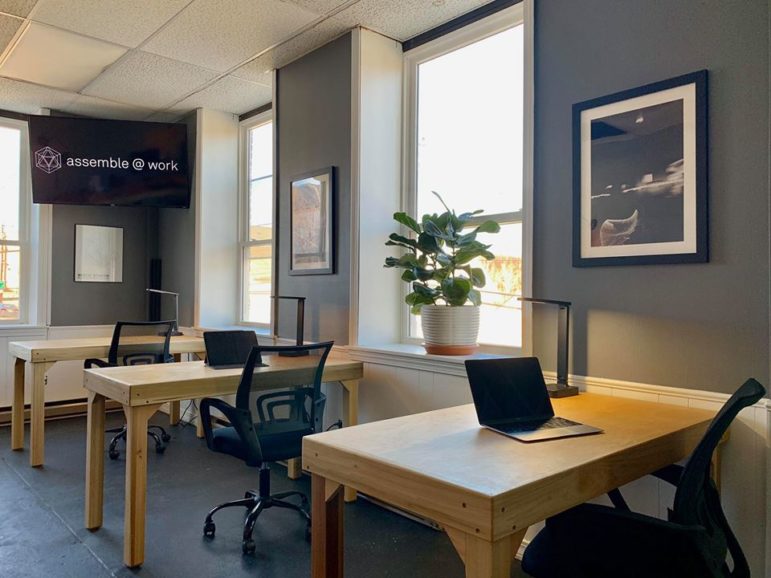 "This is a solid building. There was even a body shop here where they brought cars in. We gutted everything, got rid of wallpaper, the picnic tables, put down carpet, painted and built work area. Our goal was to have a multi-purpose space," states Somerfield pointing to the brightly painted kitchen and to the newly painted grey flannel walls, with the custom blond wood desks and gaming bar made by Gary Coulombe.
Other than building a work space – and as he says, his man cave, Somerfield had another incentive to open in Berlin
It was love.
"I met and fell in love with Kelsey (Andre), who lives in Berlin. Kelsey is a key holder and works in pottery," stated Somerfield, adding Kelsey is from North Carolina.
Andre explains how the studio space works.
"Everyone has their space (Jamison, Neal, Piche, Coulombe) which others can use. There are twelve key holders. The cost to be a key holder is sixty dollars a month, including 24-hour access and you have to take a class if you are new. For the clay studio, there is an additional cost for clay ($35) and you don't pay for the glaze…," said Andre.
So, how does co-working and gaming work?
Desks are available by the month or day. There are game nights and game weekends. Monthly memberships include discounts for classes and membership to Assemble and 24-hour access.
"The desk fees are twenty dollars a day, available 8 a.m. to 6 p.m. Monday through Friday and one hundred sixty per month with 24-hour access. The access is electronic and when unlocked connects to a WiFi code to the network, to the kitchen and coffee. You can book online, it is not a shared code and is for one-day access," said Somerfield, who says he is not on the premises. He works at Tri- County CAP.
Somerfield pays particular attention to network connection. WiFi is powered by Ubiquiti, Gigabit and Network Drops.
"We have a high-end network performance, an enterprise grade network, large scale like what you find in hospitals. You can't have eight or nine people playing without it. We spent a lot of money and time," stated Somerfield.
Seems like it is paying off.
"Gaming is really exacting. I didn't think it would be as popular. We planned the bar desks and started talking about gaming. We have teenagers, adults and multi-players. You can see the person, the enemy right behind you and it is multi-generational," he added.
Somerfield's intention was to break even. He did that and more.
"We are starting to make money," he said.
Somerfield also fell in love with Berlin.
"I love the people, the environment, the skiing. We are seeing more and more people working remotely from the Boston area. I was talking to the town manager in Berlin about how do we frame this, how do we attract younger people," commented Somerfield.
Somerfield also wants to give back to the community.
"We want to encourage more people to come to Berlin, the more we embrace, the more we can help. Give Berlin a shot," he said.
Berlin, NH/ White Mountains Community College declared the fourth Annual Grand Auto Show a success.
The event was held on May 4. Best of show trophies were awarded to:
Vincent Verdo for his '70 Chevy CST Pickup, Peter Goodman for his '55 Chevy 210, Andy Mullins for his '36 Ford Sedan, Andy Garon for his '74 Plymouth Cuda, and Russ Boisvert for his '69 Chevy Chevelle.
The people's choice trophy went to Alaina Bernard for her '87 Chevy 1500.
This year's event raised over $1,000 in scholarship money to assist Auto Technology students with their education. The fifth Annual Grand Auto Show has been scheduled for Saturday, May 2, 2020.
Littleton Opera House Gets Spring Clean Up
The buzz on the street is what's going on at the Opera House?
Stained glass maintenance on the Union Street side and new window boxes to be installed are in the works.
The stained glass windows have been removed and plywood has been placed in their spot for now. The windows will be cleaned and the frames will be painted to help maintain the historic Opera House.
New handmade classic window boxes will be installed. The plan is to plant flowers by Memorial Day Weekend with the help of the Littleton Garden Club.
The Opera House is open for business as usual.
Brodie Leavitt Memorial Scholarship Fund
By Family of Brodie Leavitt

Maplewood Country Club
2691 Main St.
Bethlehem
Music by Conniption Fits, 50/50 Raffle, Light Snacks
Saturday, May 18, 7 p.m.
$15, Cash Bar
Big Screen Classic 'E.T. The Extra Terrestrial
The Kaufman Theatre at the Tilly
14 Carriage Lane
Colebrook
May 22, 6:30 p.m. to 8:30 p.m.
Tickets, $5
Dueling Pianos
St. Kiernan Center for the Arts
155 Emery St.
Berlin
An Interactive Evening of Music and Fun
Friday, May 24, 7 p.m.
Tickets, $15 Adults, $10 Under 18
Redneck ATV Poker Run and BBQ Fundraiser
Jericho Mountain State Park
298 Jericho Lake Road
Berlin
Saturday, May 25, 9 a.m. to 4 p.m.
Third Annual Dixville Notch Music Arts and Crafts Festival
Mohawk Falls
1478 Rt 26
Colebrook
Arts and Crafts, Food Vendors, Live Entertainment
Saturday, May 25, 9 a.m. to 4 p.m.