By PAULA TRACY, InDepthNH.org
CONCORD – The Senate unanimously passed a bill making the red-tailed hawk the state raptor, killed a bill eliminating the use of plastic straws and voted that municipalities must notify abutters of plans to use their roads for OHRVs prior to a hearing.
Meanwhile, down the hall in the State House, Gov. Chris Sununu signed 21 bills into law, including one which will help in the development of the Balsams resort in Dixville Notch.
Sports betting
The Senate approved sports betting Wednesday on a voice vote.
The bill, which enjoys the support of the governor, will allow the state's Lottery Commission to pick up sports betting and will select agents to carry it out.
Sen. Bob Giuda, R-Warren, amended the bill to allow for a maximum of five mobile sports wagering agents to be in operation at any given time.
OHRV
House Bill 591, which amends the laws governing OHRVs and snowmobiles in the state, passed unanimously.
Proponents of this form of recreation called the bill "scary" claiming it could reduce the number of important trail connectors on public roadways that are important to the trail systems.
But residents who support the measure said residents should have the right to be told of an ATV group's request to use public roadways and not hear about it after the town has approved its use.
The bill requires municipalities to notify roadway abutters of proposals to use the roads for OHRV use.
While Sen. David Watters, D-Dover, said many may have heard from constituents upset by the amendment to HB 591, a study committee which is part of House Bill 660, looks at the economic impacts of OHRV use and other impacts. It also passed.
Drug prices
Dr. Tom Sherman, a Democratic state Senator from Rye and Sen. Cindy Rosenwald D-Nashua, are asking Gov. Sununu to join 44 other states in a lawsuit against 20 drug manufacturers for inflating generic drug prices.
New Hampshire is among only six states in the country that have not joined this lawsuit.
"This is about doing what's right," the senators told the Republican governor. "These companies must be held accountable for taking advantage of New Hampshire's families."
Sununu, at a press conference Wednesday, noted that New Hampshire was among the first states to sue big drug companies over the opioid crisis. He said that he would look at the measure, along with the attorney general.
The "Lion" is honored
It was another "Great American Day" as Sen. Lou D'Allesandro, D-Manchester, often calls it. On Wednesday the Senate honored him and his wife, Pat, for years of public service.
Known as the "Lion of the Senate," D'Allesandro was moved by the honor which included a framed copy of an article about him.
"Life's been great. I have had a wonderful experience of being with my wife for 58 years of marriage. To have her here today with my colleagues in the Senate….so thank you," D'Allesandro said.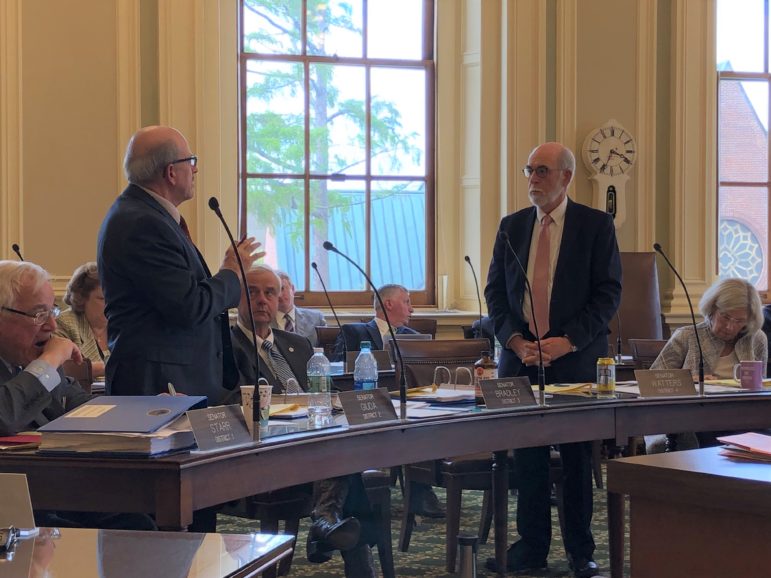 Red tailed hawk
It took four years, but House Bill 280, naming the red-tailed hawk the state's official raptor, was passed by a unanimous vote. It also passed the House by 333 votes.
Students of the Lincoln Akerman School of North Hampton were lauded for their dedication and persistence to get the bill passed, first as fourth graders and now, just before their eighth-grade graduation.
It was amended so it will become effective immediately upon the governor signing the bill, rather than 60 days after passage.
Wearing t-shirts reading, "Our second try to live free & fly" the students watched from the Senate gallery and posed for photos afterward.
"Today's passage of HB 280 in the Senate is a victory for the eighth-grade students of Lincoln Akerman School," said Sen. Sherman. "I commend these students and their teacher, Jim Cutting, for their tenacity and persistence in advancing legislation to designate the red-tailed hawk as the state raptor and succeeding in their second try to 'Live Free & Fly.' These students are an inspiration to the Hampton Falls community and our entire state; may we all learn from them the value of perseverance."
Plastic straws
On a voice vote, the Senate killed a bill that would have prohibited businesses from providing single-use plastic straws to customers unless specifically requested.
Sen. Kevin Cavanaugh, D-Manchester, asked the Senate to kill the bill noting that there is a lot being done voluntarily to move from plastic to paper straws.
"This bill does not detail a penalty and may not be followed by anyone," Cavanaugh said.
Plastic bags
A bill that was intended to limit the use of single-use carryout plastic bags was amended to focus on community reporting of reduction of products in the waste stream to the Department of Environmental Services.
Sen. Dan Feltes, D-Concord, offered an amendment which passed on partisan lines, 14-10.
It reads that, "In furtherance of the solid waste management planning requirements of RSA 149-M:23, all towns shall annually report to the department no later than March 31 whether and to what extent the town has met the state's goal of achieving a 40 percent minimum weight diversion of solid waste away from landfilling or incineration on a per capita basis…"
Feltes said he respected the work of the committee on the bill "but the overarching issue we need to deal with is how we deal with waste in the state of New Hampshire and whether or not we are meeting our goals."
Energy rates
The Senate passed HB 582-FN, relative to the regional greenhouse gas initiative cap and trade program for controlling carbon dioxide emissions.
Sen. Jeb Bradley, R-Wolfeboro, and Sen. Bob Giuda, R-Warren, said that repealing the RGGI rebate to residential ratepayers will increase energy costs to New Hampshire residents by $5.5 million.
"Our state already has some of the highest energy costs in the nation and instead of trying to lower costs for Granite Staters this legislation sends us in the wrong direction," Bradley said in a statement after the vote.
'Balsams bill' signed into law
Gov. Sununu signed into law 21 bills, Wednesday, including HB 540, relative to the issuance of bonds by the county for redevelopment districts in unincorporated places.
This bill is aimed at helping in the development of the Balsams resort in Dixville Notch.
Sununu also signed the following bills into law.
HB 111, establishing a committee to study the effect of the opioid crisis, substance misuse, adverse childhood experiences (ACEs), and domestic violence as a cause of PTSD
HB 123, relative to emergency response plans in schools
HB 139, relative to restrictions on smoking in state forests, parks, land, or buildings operated by the department of natural and cultural resources
HB 223, relative to night work
HB 225, relative to the National Guard Scholarship Fund
HB 237, establishing the New Hampshire rare disease advisory council
HB 310, relative to the membership of the wellness and primary prevention council
HB 321, relative to authorized organizations producing multiple decal designs in the multi-use decal number plates program
HB 357, relative to the public school infrastructure fund
HB 369, relative to the controlled drug prescription health and safety program
HB 406, relative to reporting and investigation of serious injuries and death in the workplace
HB 475, establishing a shoreland septic system study commission
HB 488, requiring interpreters for the deaf and hard of hearing at the State House campus
HB 548, relative to certain organizations that are authorized to issue decals
HB 597, relative to sales of beverages and wine hosted by other licensees
HB 634, establishing a commission to study the licensure of individuals who forage for wild mushrooms for sale to others
HB 649, relative to consumer credit corrections, consumer credit protection from fraud, and consumer credit regulatory reform
HB 668, relative to heating, agitating or other devices in public waters
HB 675, relative to the purchase of service credit in the state retirement system
HB 714, relative to New Hampshire products purchased and sold by the liquor commission