By PAULA TRACY, InDepthNH.org
CONCORD — A Lebanese immigrant now faces imminent deportation after the Executive Council voted against his pardon request on Wednesday.
The Council voted 3-1 against a pardon with one abstention from District 3 Executive Councilor Russell Prescott of Kingston who brought the request forward on behalf of Alain Ata, owner of Ata Boys Auto Services LLC of Manchester.
Ata sought a pardon for his felony burglary conviction that prevents him from becoming a citizen of the United States. The request was opposed by the Rockingham County Attorney.
Ata's family said sending him back to Lebanon would amount to a "death sentence" as his home town has been destroyed by war, and he has not been there since they fled when he was a child.
Executive Councilor Andru Volinski, D-Concord, opposed the pardon, although he agreed to hold the rare pardon hearing last week.
Though he said he finds many "shortcomings with our immigration system," Volinsky said Ata's case did not rise to the level of deserving a pardon.
He noted Ata served his time for a 2005 burglary, but in recent years has run afoul of the law in Massachusetts.
Volinski said he was also troubled by Ata's violating a domestic protective order. Also voting with Volinski against the pardon request were Executive Councilors Ted Gatsas, R-Manchester, and District 5 Councilor Debora Pignatelli, D-Nashua.
Voting to support the pardon was District 2 Councilor Mike Cryans saying he would be willing to place conditions, if some felt it necessary, to support Ata being allowed to stay in this country.
Pignatelli asked Gov. Chris Sununu how he was going to vote.
"I will cast my vote when it is appropriate," Sununu said. "And to be clear I don't want my opinion to affect the opinion of the council."
In the end, he did not vote.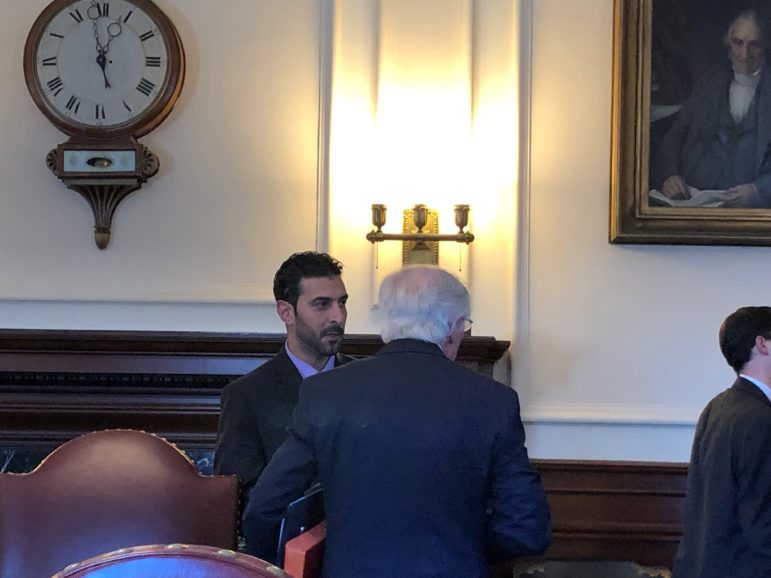 As Ata left the council chambers and entered the elevator on the State House second floor Wednesday, he asked for privacy from the media, but said: "Thank you. I want to thank everyone."
In March, the Executive Council took a rare step and voted 3-2 to grant a pardon hearing for Ata, 34. He sought the pardon because he wants to remain in the country and work to help support his elderly parents and continue his life with his fiancee.
Confirmations
Robert L. Quinn of Seabrook was unanimously confirmed as the commissioner of the Department of Public Safety. Perry Plummer of Dover was also confirmed to replace Quinn as assistant commissioner.
The 34-year veteran of the department, Quinn will lead it with an annual salary of $131,007.
The confirmation followed a public hearing last week in which Quinn was praised for his dedicated service to the state. No one spoke in opposition. He succeeds the retiring John Barthelmes of Hopkinton.
"I commend you, governor," for this nomination, said Pignatelli. "I think the Department of Safety will be in very good hands."
Plummer was also confirmed by a unanimous vote.
Sununu said he is incredibly proud to have nominated Quinn to lead the Department of Safety.
"Bob brings front line experience to the Department of Safety and will continue the Department's commitment to protecting Granite Staters with integrity and honor," Sununu said.
Commissioner Quinn issued the following statement:
"As I take up this responsibility, I am both humbled and proud of the faith and trust placed in me by Governor Sununu, the Council, and the public," Quinn said. "I will work tirelessly alongside the great men and women in the Department and our partners in public safety to continue to improve the security and physical safety of the citizens of New Hampshire."
Assistant Commissioner Plummer said his unanimous confirmation "is a great honor."
"I look forward to working with the commissioners, the excellent staff at the Department, and the public safety community in continuing to move the Department forward, and in bringing my homeland security and fire service perspectives to the Office of the Commissioner," Plummer said.
The council also confirmed Marc Lachance of Gilmanton to be Belknap County Fish and Game Commissioner, succeeding Ernest Millette of Belmont who resigned.
Confirmed to the Business Finance Authority were Stephen Duprey of Concord, and Jeffrey Hayes of Intervale, both reappointments.
The confirmation of Benjamin Wilson of Hopkinton as director of the Division of Historical Resources was passed, but did not receive the support of Pignatelli.
She said she was not moved so much by Wilson's worthiness but "concerned about the process by which he comes to us."
Pignatelli said he will succeed Elizabeth Muzzey "who has given all of her adult life as an excellent state employee not willing to roll over" for developers who would take historical resources away.
Executive Councilor Mike Cryans noted that the start day for Wilson has been pushed back until Aug. 1 to give some transition time. The vote was 4-1.
Nominations
Two people were nominated by the governor to serve as members of the state's Fish and Game Commission. Frederick Bird of Lee would succeed Barry Carr of Milton for Strafford County Commissioner, while Paul DeBow of Plymouth would succeed Todd Baldwin of Thornton.
Brian Temple of Claremont was nominated to the Lakes Management Advisory Committee, succeeding Ernest Millette of Belmont. Temple would serve as the member from the Fish and Game Commission if confirmed.
The governor also nominated Amy Bassett of Hopkinton to serve as acting director of the Division of Travel and Tourism Development while a replacement for Victoria Cimino is sought. Cimino will leave her post on April 4. Bassett currently serves as Deputy Director of Travel and Tourism Development.
Raises for Liquor Commission
Joseph Mollica, chair of the New Hampshire Liquor Commission will get a raise with a new annual salary of $124,579.52 under a request confirmed as a late item on the agenda. That is up from $118,707.
Mark Armaganian, director of the division of enforcement and licensing of the New Hampshire Liquor Commission, and Nicole Brassard-Jordan, director of the division of marketing, merchandise and warehousing, will each get $5,089 raises, and Michael Milligan, deputy commissioner would get a new annual salary of $117,805.
Projects approved
Contracts approved included: an amendment to use the Drinking Water and Groundwater Trust Fund grants to the city of Dover to complete an interconnection with the city of Somersworth's drinking water system, which will act as an emergency supply for both systems.
The council also voted to authorize, under the Community Development Block Grant program, a $500,000 grant to the city of Berlin to support the St. Regis Affordable Housing rehabilitation project.
It also voted to authorize the Division of Forests and Lands to enter into a memorandum of agreement with the Department of Corrections to oversee the harvest of timber from the DOC State Prison land in Berlin.
The council also approved three amended contracts to cover Medicaid by changing the program start dates from July to Sept. 1. The contracts total close to $1 billion.