By PAULA TRACY, InDepthNH.org
DIXVILLE – Balsams developer Les Otten – who is looking forward to his 70th birthday – has been known as a man with a vision since graduating from Ithaca College in 1971 with a degree in business administration.
Otten went to work in lift maintenance at Killington after college and at age 23, the Teaneck, N.J., native was sent by Killington's owner, Preston Leete Smith, to work at his newest asset, Sunday River in Newry, Maine.
At the time, Sunday River had a string of surface lifts and was a small operation that drew 30,000 visitors a year.
In five years under Otten's direction, the area blossomed to 300,000 skier visits a year. Inc. Magazine named Otten turnaround Entrepreneur of 1989.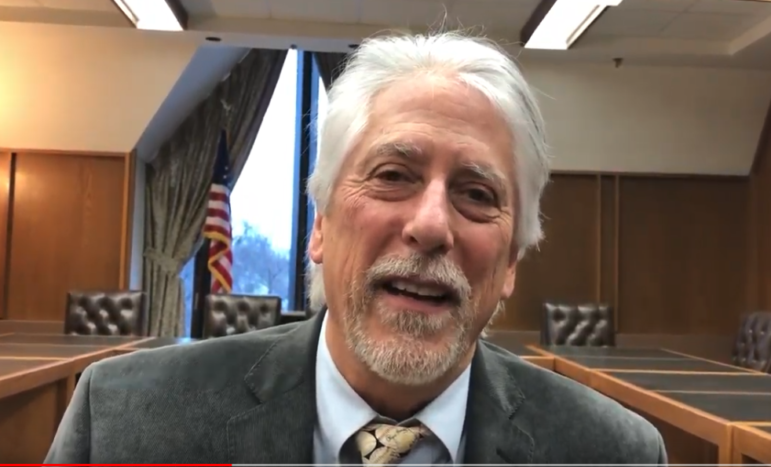 Otten said his father (who was 65 when he was born) offered him $100,000 to "NOT" go into the ski business. After several years watching him turn his hand at it, steel magnate Albert Otten, (who fled the Nazis penniless and remade his steel fortune in America) relented, and gave him the money, Otten said.
He used that and $30,000 he had scratched together over his first years out of college to make his first ski area investment.
By 1997, Otten had nine major resorts in his collection, including Heavenly Valley in California, Steamboat Springs in Colorado, The Canyons of Utah, Sugarloaf in Maine and New Hampshire's Waterville Valley, Attitash and Cranmore resorts.
Because the federal government believed he owned too many, he was forced to divest some of the assets. They included Waterville Valley, which went to Booth Creek in California and is now controlled by the family of Gov. Chris Sununu.
Otten focused on investing in marketing and developing the infrastructure at his remaining ski resorts. He was also a minority partner in the Boston Red Sox baseball team and was instrumental in the restoration of Fenway Park.
At one point, Otten's ski firm, American Skiing Company, became overleveraged.
Oak Hill Capital Partners came in and bailed the company out, but sent him out as well. Otten was criticized for growing too fast, according to a 2016 book Ski Inc. by Chris Diamond.
Otten has since focused on rural economic development and renewable fuel development. In 2008, he created Maine Energy Systems in Bethel, Maine, which seeks to help state residents move to local pellet fuel and other renewables to help Maine workers and forests, according to its website.
An unsuccessful bid in 2010 to become the Republican governor of Maine ended in the primary, with Otten losing to former Gov. Paul LePage.
Otten is also involved in developing a 62-lot subdivision located off the Sunday River Road in Bethel, Maine and a Bethel-based business called Sports Vision Technologies.
Otten has his supporters and detractors.
Rick Samson, who sits on the three-member Coos County Commission, said he may be "the lone wolf" opposing House Bill 540, regarding the redevelopment of the Balsams, "but I am just doing my job."
The bill would create a financing tool that would help move the project forward, but not leave the county on the hook if it fails. It has passed the House and will be taken up by the Senate.
"I might not be too popular," said Samson, "but I have concerns."
"It's partly Otten, but the way he's gone about it and the way he went about it at Sunday River," Samson said, referring to the Newry, Maine, ski area.

Some have criticized Otten for over-leveraging the resort and others. Samson said Otten's "salesmen" came before the commission in a non-public session to give an overview of the project several years ago, and it became obvious to him that fellow commissioners Tom Brady and Berlin Mayor Paul Grenier had already been briefed, when he had not.
Samson said the salesmen, whom he did not identify by name, told him "anyone who doesn't support this will never get reelected."
"I said, 'I'm not worried about re-election and I need a lot more information before I support this,'" Samson said.
Tom Tillotson, whose late parents Neil and Louise Tillotson, owned the
Balsams for more than 50 years, wrote a response to a letter to the editor from Samson saying Otten's current proposal to reopen the grand resort has "the elements to succeed."
Both attended the hearing Jan. 29 on House Bill 540.
Their opinion pieces appeared in several North Country publications. A resident of Dixville and owner of land once held by his Abenaki great-great-grandmother, Mary Titus Hodge, Tillotson said he is pleased with the size and scope of the project that Otten envisions. He believes it is perhaps the last, best hope going forward to revitalize the historic landmark hotel.
The problem in past years, Tillotson said, was the ski area was too small to attract a solid winter tourism business.
Upon completion, the proposed ski area would include more than 20 new lifts and more than 1,200 skiable acres, larger than even Killington, Vt., now the largest ski resort in New England.
At a base elevation of 1,754 feet on the 45th parallel, it is among the snowiest places in the state and would be better able to withstand climate change than other areas of the state, Tillotson said.