Business news of NH's North Country
Welcome to InDepthNH POINTS NORTH, our reporting on North Country business news presenting business features, news briefs and community event listings.
This week, read about husband and wife entrepreneurs Corinne Rober and Steve Baillargeon and their business Bear Rock Adventures located in Pittsburg, how a community alliance is "Riding Towards Change." Watch the North Country movie trailer, "Go North, Seeking the Source," to be aired on NESN. Check out local event listings and even get some Valentine ideas.
Look for our biweekly reporting. Please send what's happening at your business to: rachaelbrown@roadrunner.com.
Bear Rock Adventures Revs Up This Winter with Snowmobile Fleet
By RACHAEL BROWN, InDepthNH.org
New this winter season to Bear Rock Adventures is the high performance Polaris INDY Snowmobile. The addition of snowmobiles rounds out the fleet of ATV's-Polaris RZR and Ranger side-by-sides and Sling Shots-to make Bear Rock Adventures a year-round operation and an attraction in Pittsburg.
Corinne Rober, who owns the business with husband Steve Baillargeon, was on hand on a blue bird day at her home in Colebrook – where the business began in 2013 – to tell their story.
"My husband Steve grew up here and we would come up to visit. Actually we stayed at the Balsams in 1998. My dad, out of Boston, won a gift certificate to stay at the resort and said why don't we stay there," said Rober.
The handwriting was on the wall.
"In the room where we stayed there was a postcard on the wall and it was from my grandmother, who lived in Everett, Mass., at the time," added Rober.
You could say it was a sign.
As restaurateurs in Glen, Rober and Baillargeon would head north to get some respite from the hectic pace of their business. They purchased Margarita Grille Restaurant in Glen from Corinne's late father, John, and mother, Dottie, in 1999.
"We would come north and after we'd arrive it would take a couple of hours for the ringing in my ears to stop. It was so quiet up here. We knew we would move here eventually, but would keep working until the kids were grown," said Rober.
They had the wood for the house before they built the house or even owned the land.
"We stockpiled the wood. It was stored on the land next to Patch's Market and Deli in Glen (across the street from their restaurant)," explained Rober, adding Steve is a logger and still does some logging.
They bought the land in 1998, built the house and barn in 2000, high up on Bear Rock Road in Colebrook, about 8 miles north west of Dixville Notch and the Balsams. Then came the business idea some years later-not without some hesitation-Bear Rock Adventures was launched in 2013, around the same time Ride the Wilds came to be.
Ride the Wilds, the grassroots collaboration among riding clubs, businesses and chambers of commerce, which supports and maintains 1,000 miles of interconnected trails throughout Coos County was dedicated in June 2013. It is the largest interconnected trail work in the Northeast.
"ATV's weren't a big thing yet. We owned a snowmobile and Steve said let's go for it (open ATV rental business). I wasn't sure. We both were still working, but we went for it and two weeks later bought 12 machines. We bought every brand, but then couldn't get parts for all machines," said Rober. They opened in May 2013 and sold the restaurant in June 2015.
They applied for a grant from NCIC (Northern Community Investment Corporation) to redo their website and to establish a go-to site for information for Ride the Wilds.
Their website: www.bearrockadventures.com is interactive, including links to: The Wilds Blog, The Wilds Trail Map, The Wilds Play and Stay and adventures and booking opportunities in the area.
After a quarter of million dollar investment for the initial business startup, Rober and Baillargeon gave themselves three years to turn a profit. "We realized that the machines didn't last long. After 5,000, they needed replacement parts and the reliability was decreased, so after three years, we said, if we didn't make a profit we are done," explained Rober.
Bear Rock Adventures' three-year goal of making a profit was fast approaching when a call came in from Polaris Industries.
"At first I thought maybe this is a prank call. Polaris Industries called to say they had a brand new program and had scoured the country looking for dealers to participate. Would we be interested in leasing machines," said Rober.
Two weeks later, four representatives showed up, including a lawyer and local rep to sign up Bear Rock Adventures for the leasing program.
"They helped us navigate insurance, had a whole marketing initiation and a commitment to get more people into the off-road sport. They helped us elevate offerings, the latest technology, a tracking devise and we were one of the first premier sites in the country," said Rober.
For the first three years of operation customers came to their home to rent machines. Rober and Baillargeon moved their business from their home in Colebrook to 1564 Main St. in Pittsburg where they employ three people and this season they integrated a snow program and added the Polaris INDY Snowmobile to their rental fleet.
"We think of Bear Rock Adventures as an attraction. When parents have young children they may go to Santa's Village. When the kids hit their teens and twenties, we become a destination. Riding is something the whole family can do," said Rober.
Watch the Trailer for Explore New England's Film, "Go North, Seeking the Source" about the North Country
Explore New England created this movie for NESN.
"This is an hour long film, which we hope will give us national attention. Summer season has been already been filmed, we just did winter with ice fishing, snow activities. There is a historical backing and the goal is to get a feel for the people who live, work and play here," said Corrine Rober, marketing chair for North Country Chamber of Commerce.
Trailer:
Riding Towards Change with a $100,000 Grant from Polaris Foundation
In September 2018, a community alliance was formed between the North Country Chamber of Commerce, Bear Rock Adventures, Great North Woods Riders ATV Club, Metallak ATV Club, Millfield ATV Club and Umbagog ATV, with a $100,000 grant from the Polaris Foundation.
The goals of #Ridingtowardchange is to improve the riding experience, raise industry standards and to install 1000 signs throughout Ride the Wilds trail system. A May 2019 completion date is set.
Community Events:
Annual Valentine's Day Balloon Pop
Colebrook Country Club
12 Abeneki Lane
Colebrook
A sweet surprise in every balloon
Must be 21 or over
Thursday, February 14th

Valentine's Weekend Special
The Notch Grille
The Glen House
979 Rt 16
Gorham
Three-course dinner priced $60 -$70 per couple
Reservations requested, 603-466-3420
Thursday , February 14th – February 16th
Pittsburg Ridge Runners
Potluck Dinner & Monthly Meeting
17 Dickson Ln, Pittsburg
Thursday, February 14, 2019 6:30 PM- 8:30 PM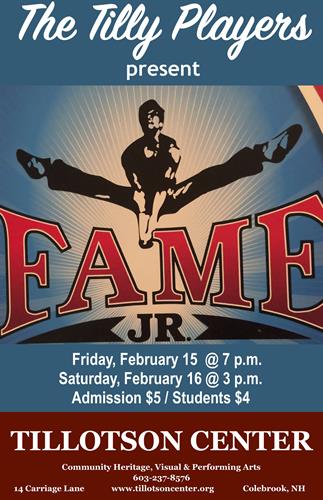 Fame Jr.
The newly formed youth theater group, The Tilly Players, present their first production. Fame, Jr. This musical is set during the last years of New York City's celebrated High School for the Performing Arts on 46th Street (1980-1984)
Kaufman Theater @the Tilly
14 Carriage Lane, Colebrook
Admission $5/ Students $4.
Friday, February 15, 7 PM Saturday, February 16, 3 PM

Small Business Finance Free Seminar
Mountain View Grand Resort, Whitefield
Tuesday, February 19th 6 PM to 9 PM
Coos Economic Development Corporation and SCORE announce a Free Business Seminar workshop.
The Coos Economic Development Corporation (CEDC), in conjunction with SCORE of New Hampshire, is pleased to announce that they will be conducting a fast-moving, informative and interactive session for those thinking of starting a new business called Small Business Finance: What you need to know.
Find events all over New Hampshire.