Distant Dome is co-published by Manchester Ink Link and InDepthNH.org
By GARRY RAYNO, Distant Dome
Today politicians are scripted, packaged with sound bytes developed from polling and strategies more reminiscent of selling laundry detergent than political ideals.
With the current "take-no-prisoners" battle plans and the demonization of your opponent, John McCain seems like a US Senator from another time.
He is not, but he was different.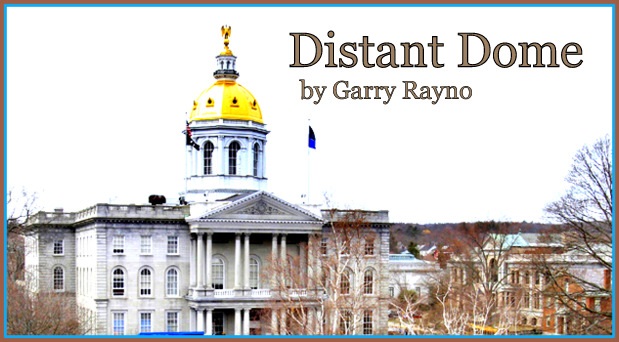 McCain with his heroic struggle as a prisoner of war during the Vietnam War and the desire to continue serving his country on the political front, could have been a politician out of central casting, but he did not want that role.
McCain was an independent thinker and bucked his party's leaders almost as much as he followed their directives which you have to do in Washington or Concord if you  want powerful  positions like Chair of the Senate Armed Services Committee.
New Hampshire and John McCain had a special relationship much like Bill Clinton and the Granite State.
New Hampshire voters remained loyal to both men when national brokers and deal makers had other ideas.
The GOP hierarchy wanted then-Texas Gov. George W. Bush as the party nominee to take on Vice President Al Gore who had been all but assured the Democratic nomination.
But the US Senator from Arizona had other ideas and a different battle plan: rent a bus, call it "The Straight Talk Express" and travel throughout New Hampshire holding town hall meetings that did not end until all questions had been asked or people left due to exhaustion.
Welcomed reporters
He invited reporters and photographers along for the ride sitting in the back of the bus and again answered every questions the professional questioners could throw at him.
Unlike most politicians, McCain never ducked a question or redirected the question into something off track instead answering. And he seldom if ever said "off the record," or personally attacked his opponents. It was always the ideas and solutions that were important along with a quip now and then that would have everybody laughing.
The crowds were small in the beginning but quickly began to grow and grow and grow.
Bush was endorsed by New Hampshire's big-name GOP politicians but made few visits to the state until the final weeks of the primary.
By that time McCain's campaign was steamrolling through the state from Coos to the sea and from Keene to Pittsburg.
When the votes were counted, it wasn't even close as McCain trounced Bush by 17 points and the party was on.
While McCain had spent most of his time in New Hampshire, Bush's much better funded organization was working to stop McCain down south where the next few primaries were held and they did.
Bush went on to defeat Gore by a hanging chad in Florida and serve two terms as president.
McCain continued to engage his New Hampshire supporters and made frequent trips here and when the presidency opened up in 2008, McCain was the one the GOP hierarchy had determined would be the party's nominee.
Out of cash
But things went off the rails as McCain's campaign burned through all its early money and he lacked the traction he had in New Hampshire eight years earlier and the donations dried up.
At one point he came for a short visit to meet with editorial boards walking into Manchester Regional Airport alone and carrying his own luggage.
Eventually McCain and his old supporters regrouped and determined what worked once in New Hampshire could work again and the "Straight Talk Express" bus again rolled over the interstates and highways of New Hampshire going from town hall meeting to town hall meeting, answering all the questions.
The 2008 GOP presidential wannabes were a large group and former New York City Mayor Rudolph Giuliani was the perceived frontrunner with Massachusetts neighbor and summer resident Mitt Romney a close second.
At a debate at Saint Anselm College, the large field had a hard time finding its legs when a women stood up and asked about the Iraqi War, noting her brother had been killed in the conflict. McCain stood up walked across the stage to stand in front of her and thank her for her brothers's service and engaged her in a discussion that maybe was not what she wanted to hear but was to the point.
That one moment made the debate more memorable than it should have been and showed McCain's ability to engage.
Romney presence
Giuliani's campaign never did find any traction in New Hampshire and Romney was expected to win, but McCain did not give up and returned to New Hampshire to hold a town hall meeting in Peterborough, where his first campaign had its start, and packed the hall with hundreds listening outside despite the winter weather.
Again when the votes were counted, McCain beat Romney by about 13,000 votes, with former Arkansas Gov. Mike Huckabee, third and Giuliani a distant fourth,
This time McCain went on to win the nomination but lost the general election to Barack Obama, who along with George W. Bush will deliver eulogies at McCain's funeral.
A man defeated by two political rivals for president asks them to deliver his eulogy? That would be an incredible gamble for most politicians.
McCain represented decency, integrity and honor, said former NH Sen. Kelly Ayotte who befriended McCain when she served in the Senate noting those qualities are needed more than ever in politics today.
Respect
On the other side of the aisle US Sen. Jeanne Shaheen said: "He was a patriot in the best sense of the word, whose contributions as a naval officer and public servant made us a better country and people."
McCain learned from his mistakes, forgave people and then moved on not seeking to settle long-held grudges.
He worked hard for his ideals but treated those with whom he disagreed with respect, not viciousness or hatred.
In today's divisive political environment, politicians like John McCain are needed now more than ever.
***
Having participated in many presidential candidate interviews over a long career in journalism, you never wanted your cell phone to ring, disrupting the give and take, and disturbing the candidate's thoughts.
In 2007, John McCain was being interviewed at the Union Leader with the paper's publisher, editorial writer and me who would be writing the story.
In the middle of a thoughtful question about the Iraqi War, McCain's cell phone rang loudly.
He apologized profusely and then deadpanned, "It was my wife."
Garry Rayno may be reached at garry.rayno@yahoo.com.
Distant Dome by veteran journalist Garry Rayno explores a broader perspective on the State House and state happenings. Over his three-decade career, Rayno covered the NH State House for the New Hampshire Union Leader and Foster's Daily Democrat. During his career, his coverage spanned the news spectrum, from local planning, school and select boards, to national issues such as electric industry deregulation and Presidential primaries. Rayno lives with his wife Carolyn in New London.