Sign up for InDepthNH.org's free weekly newsletter here.
By Chris Jensen,
InDepthNH.org
LANCASTER – The Coos Planning Board has tentatively scheduled a public hearing for Sept. 13th in Colebrook on plans for the new Lake Gloriette House hotel at the Balsams Resort.
The decision came Wednesday night as the Balsams' developers – after a year's absence – were finally back before the board with detailed building plans.
Lake Gloriette House will cost about $50 million and have 200 rooms, said Scott Tranchemontagne, a Balsams' spokesman.
The Balsams closed late in 2011 putting about 300 full or part-time employees out of work. Its resurrection has been seen as the North Country's best chance for a huge economic boost.
Gloriette House is described as providing lodging, a conference center, dining and skier services. It will be located just to the west of the existing Dix and Hampshire Houses.
The planning board slogged through a long list of information the developers are required to provide before the site plan application can be considered complete. The board can neither discuss nor approve any project until the application is complete and it holds a public hearing.
And some required information about Gloriette House was missing, including a study of the traffic impact.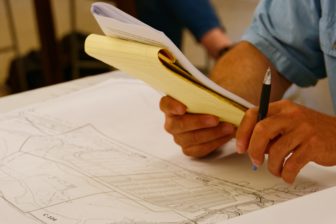 But Balsams developer Ed Brisson, of Dixville Capital LLC said that information will be available quickly. So, the planning board agreed to meet on Sept. 13 – earlier than usual – to consider it and possibly hold a public hearing.
On Wednesday evening there was a little of the friction seen previously when the Balsams' developers were before the planners.
It centers around the developers wanting a speedy approval that doesn't get delayed by what they consider minor details.
But the planners were again noting there are many issues that must – under the law – be carefully reviewed.
One of those requirements was where plowed snow would be stored. That was not noted on the plan. Brisson said the resort has 11,000 acres and there are plenty of places.
But the planners noted the issue isn't just a question of acreage. They said it is making sure that when the snow melts, road salt doesn't affect the water quality of nearby streams or Lake Gloriette.
Brisson urged the board to act quickly so construction could begin in October.
But developer Les Otten has said his financing requires the state guarantee a $28 million bank loan. And that's not available yet.
Getting that guarantee means providing extensive financial data for an analysis by the state's Business Finance Authority. As of Wednesday the BFA had not received that information, said James Key-Wallace, the BFA's executive director.
InDepthNH.org is NH's nonprofit news website published online by the New Hampshire Center for Public Interest Journalism. Veteran journalist Chris Jensen covers the North Country and can be reached at christopherjensennh@gmail.com