Click arrows above to see photo gallery
This story will be updated from now, July 17, 2017, until midnight as student reporters from Southern New Hampshire University document:
A Day in the Life of a New Hampshire Rock Concert
12:00 p.m. We are raring to go.
12:15 p.m. The Midway at the Bank of New Hampshire Pavilion looks deserted. Matt Krajcik  photo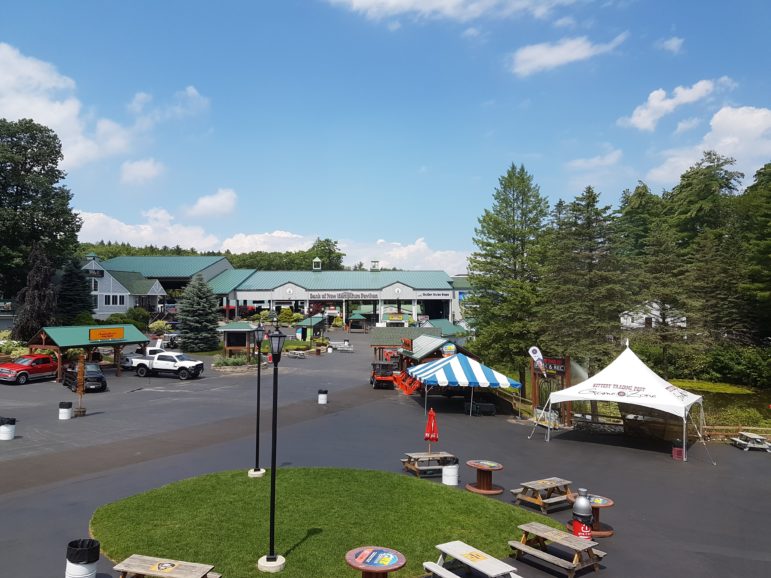 12:45 p.m.: Sound checks fill the air at the Bank Of New Hampshire Pavilion in Gilford. Ben Newman photo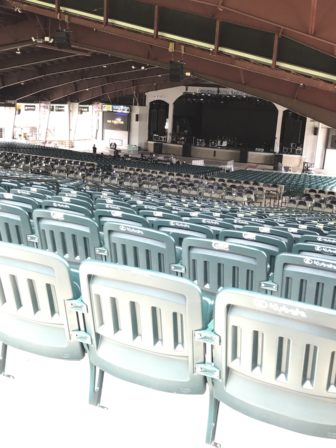 1:25 p.m.: Emma Womack (Vice President of Venue Partnerships) and Michael Seymour (Chief Financial Officer/CEO) review last–minute preparations for Tuesday's concert. Haley Mailloux photo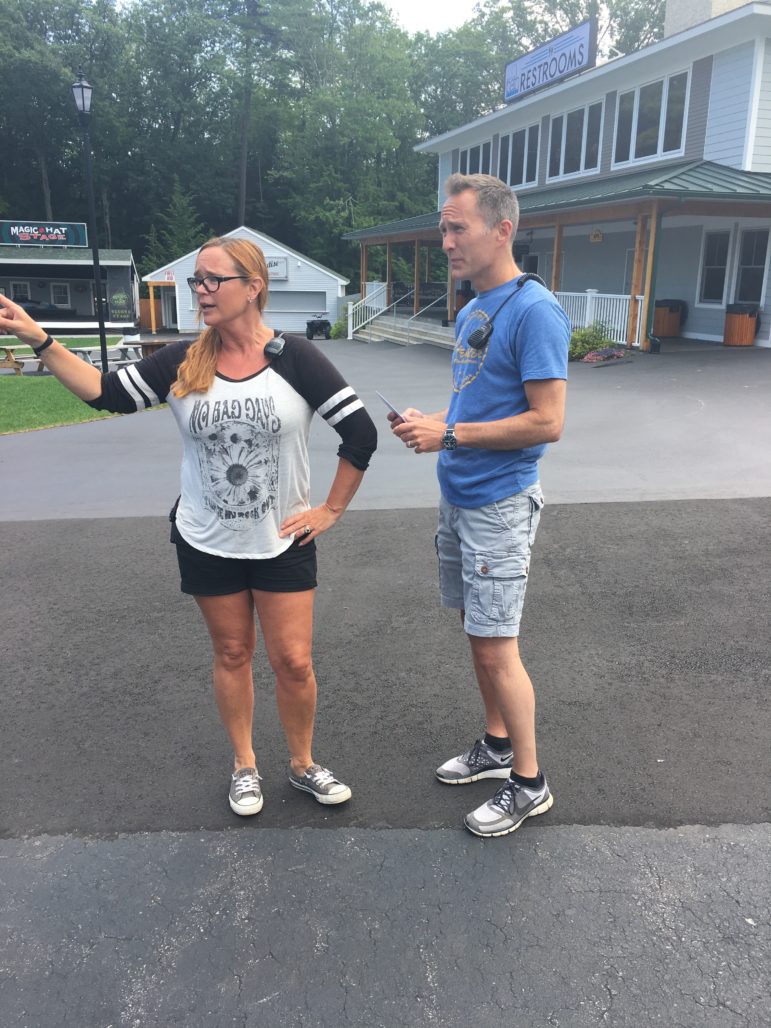 1:45 p.m.: Doors and the food court open at 5 p.m. for the fans of Avenged Sevenfold, Volbeat and Prospect Hill. Matt Krajcik photo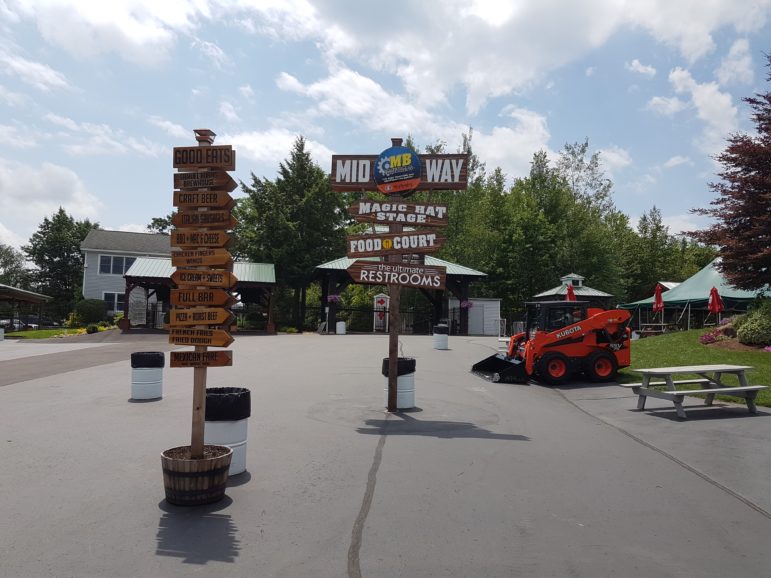 2 p.m.: The calm before the storm. Avenged Sevenfold will be performing a few tracks from the new album "The Stage" as well as songs from throughout their career, going back as far as their very first album. Ben Newman photo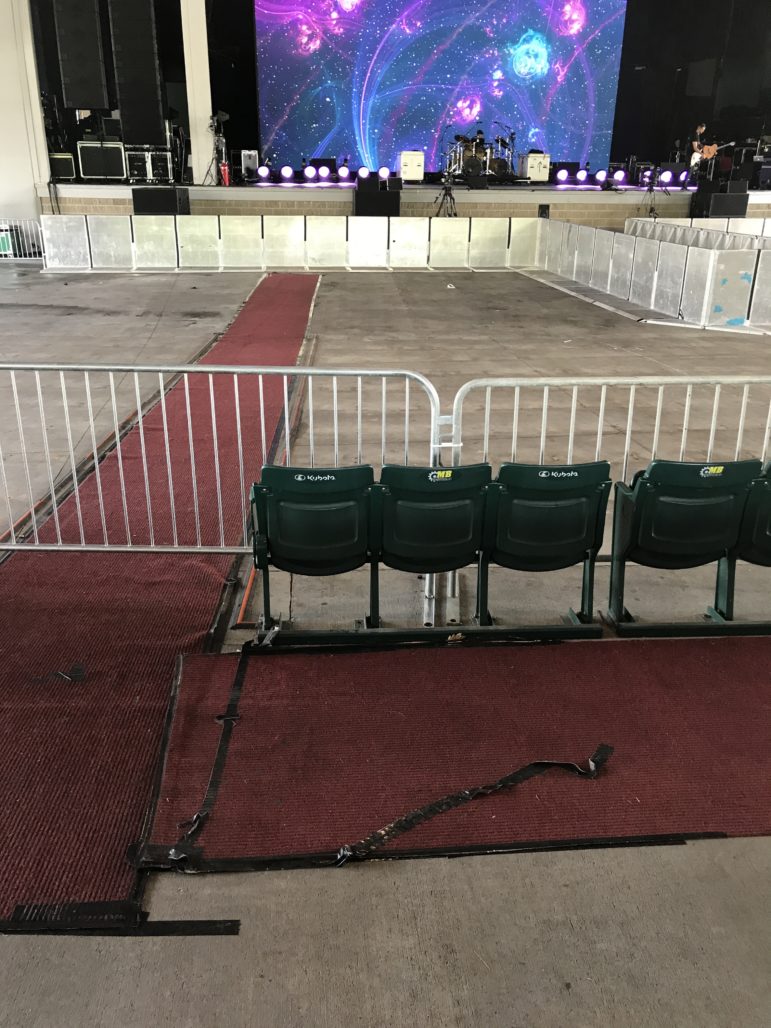 2:30 p.m.: Renovated from a house and a two-car garage, the Samuel Adams Brewhouse offers an upscale food option for concertgoers. Haley Mailloux photo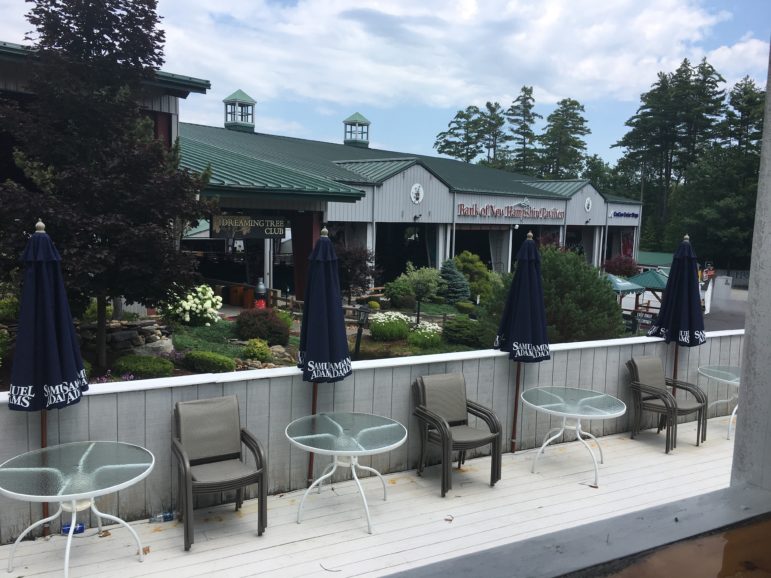 Samuel Adams Brewhouse showcases artwork from N.H. high-school students. Haley Mailloux photo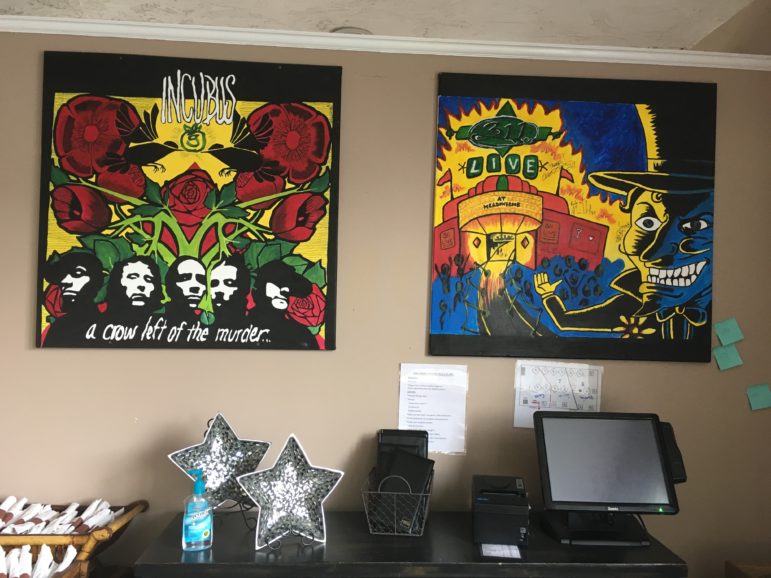 2:55 p.m.: An impeccable lawn prepped and ready for Avenged Sevenfold fans tonight at the Bank of New Hampshire Pavilion. Steph Rasmussen photo

3:17 p.m.: VIP fans Alexis Kerr and Nick Shields line up for early entry for the show. The top songs they're excited to hear are "Acid Rain," "Planets" and "Paradigm." Haley Mailloux photo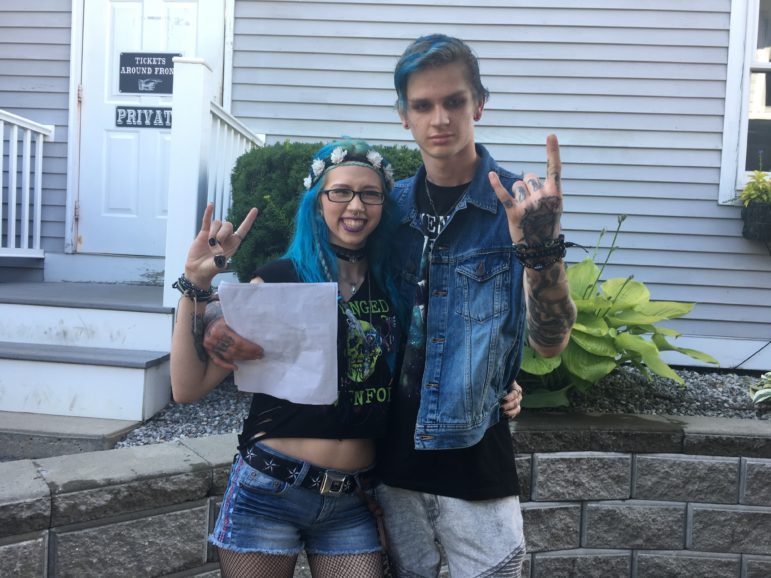 4:15 p.m.: Nick Falcinelli at the Rubbin' Butts BBQ stand says the busiest time for their booth is prior to the show, around 6 to 7:30 p.m., and picks up again during intermissions. They get an average of around 3,000 customers a night. Ben Newman photo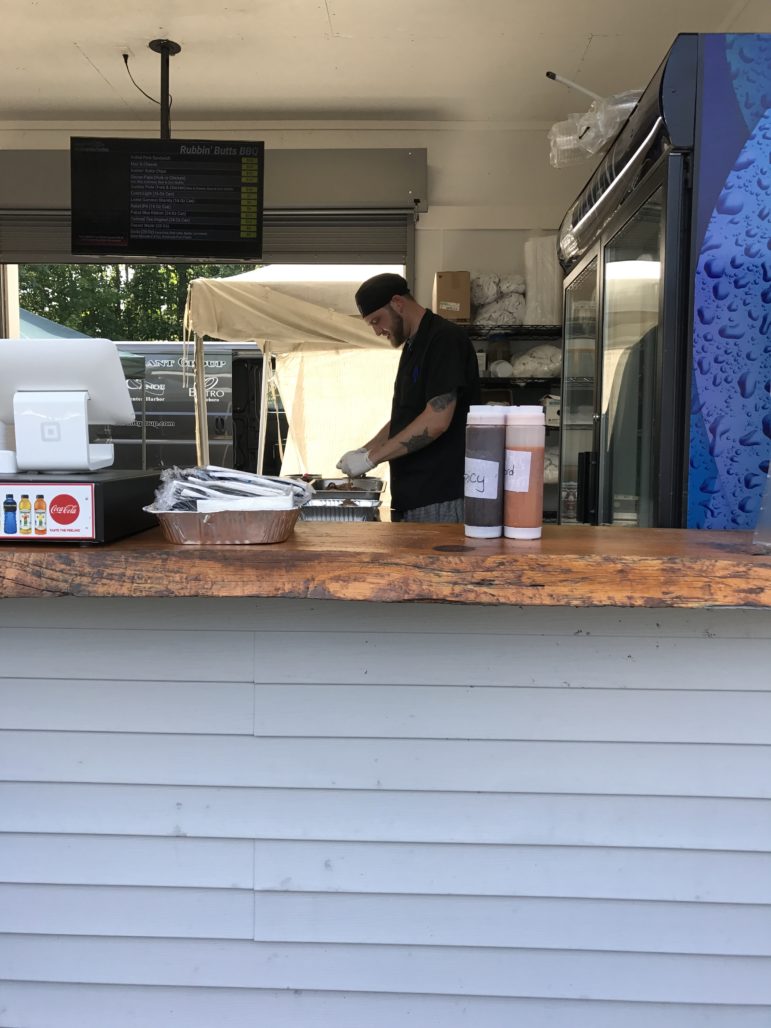 4:15 p.m.: Howard Kelleher works at the Pavilion's I.D. Check Booth. Ben Newman photo
4:49 p.m.: Michael Quint of Bristol, N.H., tailgating with a little music of his own. Steph Rasmussen photo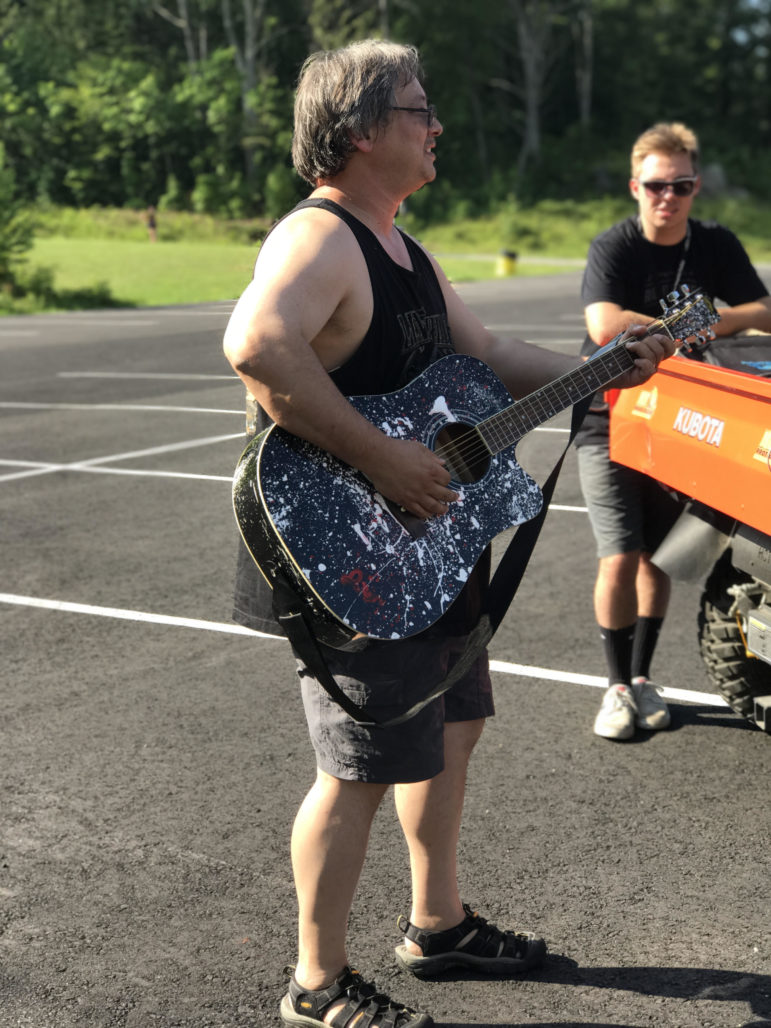 5:00 p.m.: Jade Wood, a three-year Bank of NH Pavilion employee and Jared Wire, a first-year employee are part of the Fan Experience Team. They're dedicated to enhancing the concert experience to tailgaters, and ride through the parking lots tossing prizes to the delight of fans waiting for the main stage. Matthew Krajcik photo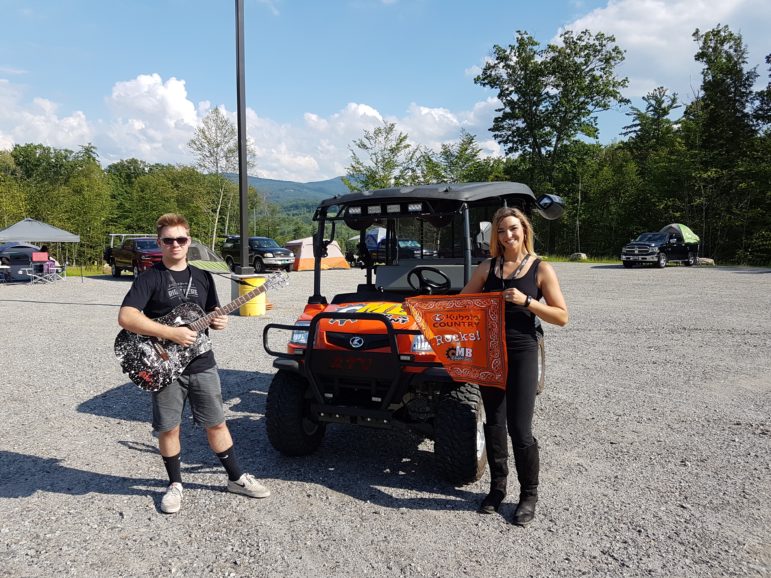 5:00 p.m.: the SNHU rock band "Contrast" takes the Magic Hat stage at the Bank of New Hampshire Pavilion. Stephen Boucher photo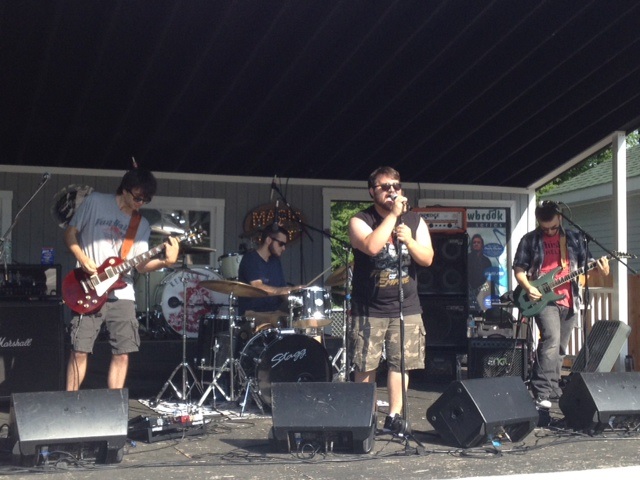 5:03 p.m.: Look what we scored. Tailgaters show off their free loot courtesy of the Pavilion.  Matthew Krajcik photo
5:07 p.m.: SNHU Digital Team members Steph and Matt with advertising giveaways at the concert.  Steph Rasmussen photo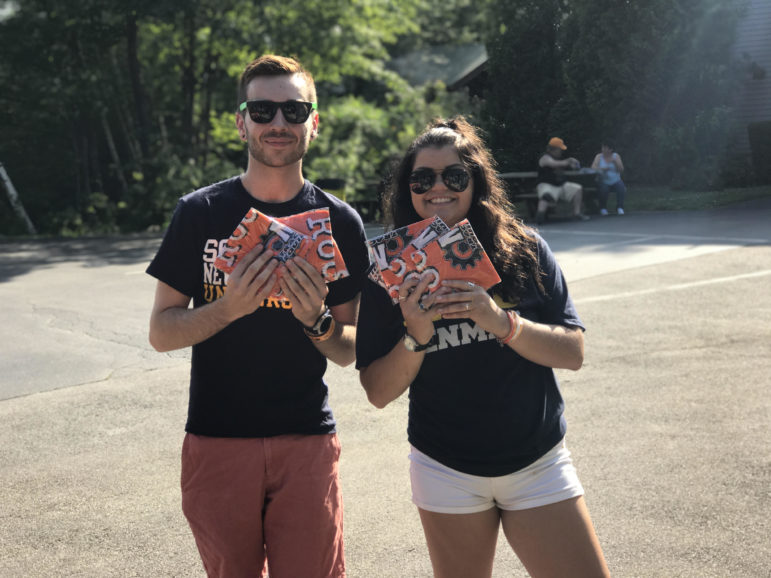 5:30 p.m.: Family and friends gather to enjoy some of their favorite music. Steph Rasmussen photo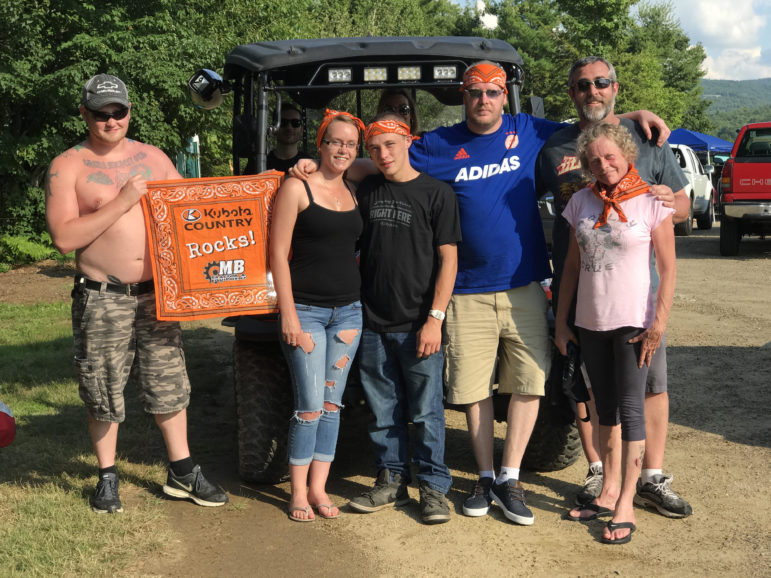 5:45 p.m.: More than 8,000 Avenged Sevenfold fans ready for the show!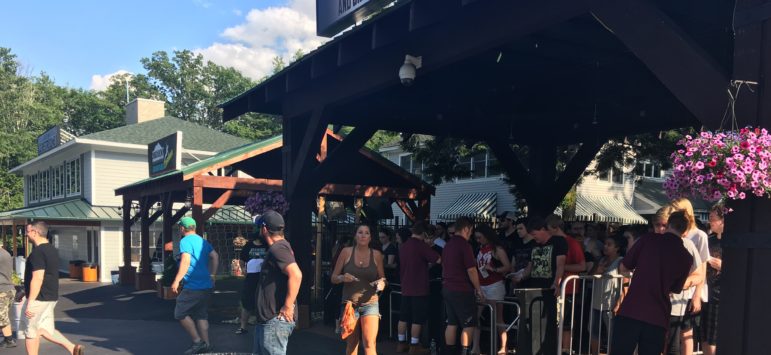 6:05 p.m.: Red Sky Mary, from Portsmouth, perform on the Magic Hat Second Stage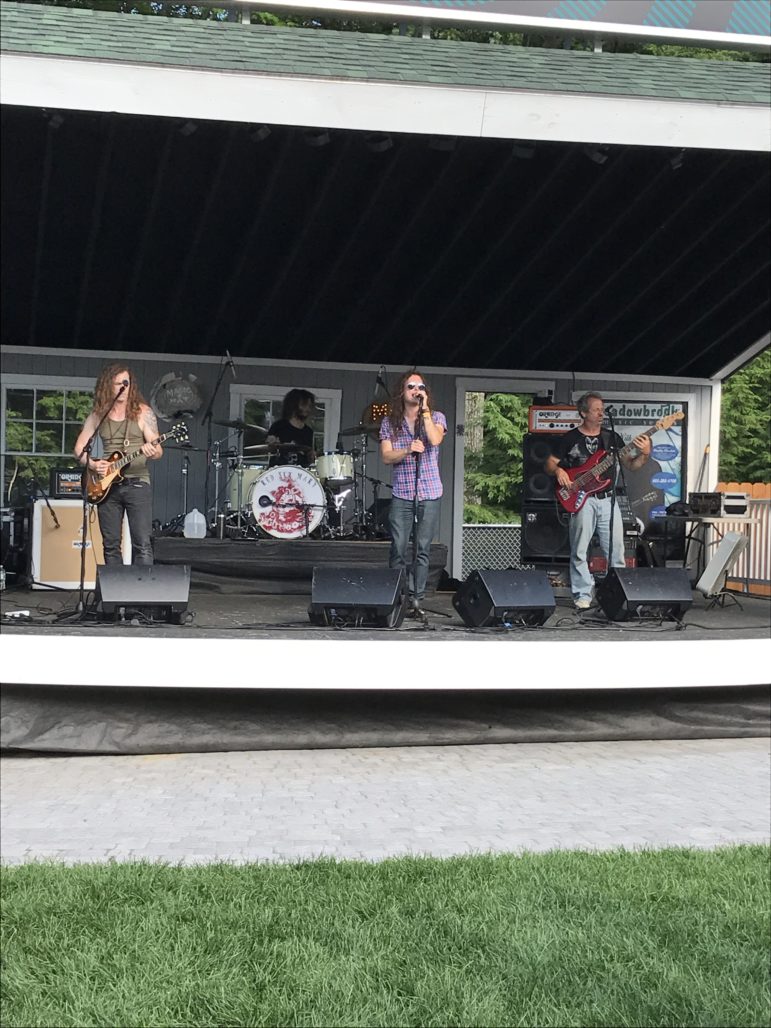 6:38 p.m.: Concertgoers flocked to test the cool virtual gaming experience by SNHU's Game Design students. Haley Mailloux photo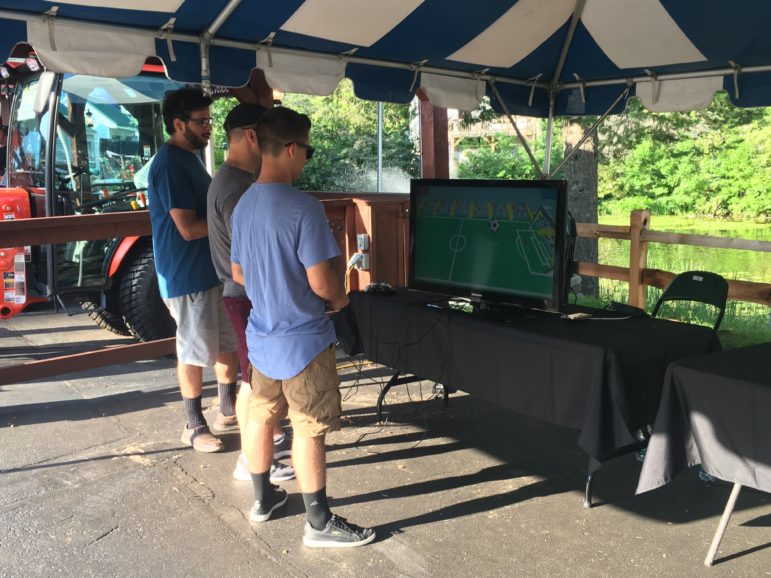 6:45 p.m.: Adam Fithian of Prospect Hill tears up the stage. Ben Newman photo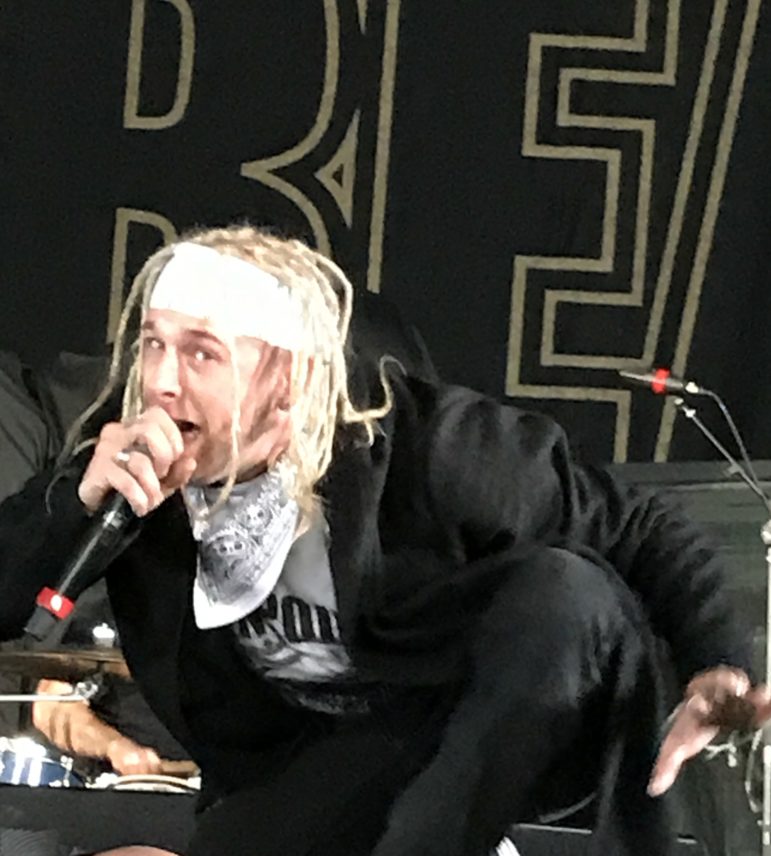 8 p.m.: Volbeat from Copenhagen, Denmark rocks the main stage. Ben Newman photo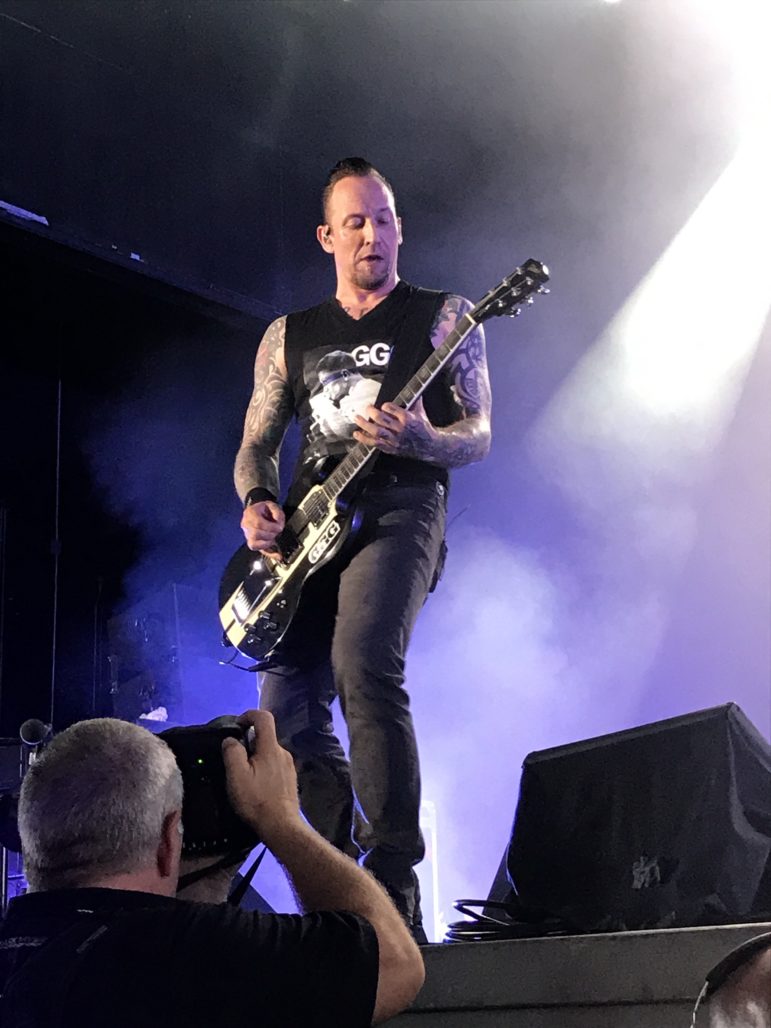 GILFORD – InDepthNH.org joins Southern New Hampshire University and the Bank of New Hampshire Pavilion – a 9,000 seat amphitheater in Gilford – to provide a unique experiential learning opportunity on Tuesday for four student journalists.
The student journalists are sharing their experience at an Avenged Sevenfold/Volbeat concert – two heavy metal bands – with IndepthNH.org readers through photographs, video and the written word as a day-in-the-life project.
"InDepthNH.org is thrilled to work on this project because training the next generation of  journalists is one of our missions," said executive editor Nancy West. "Start watching for posts of the event starting at about noon on Tuesday at InDepthNH.org. We will update the students' work as the day continues until the last song is sung."
As part of the day, SNHU game design students will be showcasing their new virtual reality games while the SNHU rock band ("Contrast") plays the Magic Hat Second Stage. The student news team will capture these developments as well as all of the activity on the midway, in the tailgate lot and on stage.
Join us for all of the latest happenings as we bring the world of rock 'n roll to your fingertips. The student news team includes:  Benjamin Newman, Haley Mailloux, Matthew Krajcik, and Stephanie Rasmussen.
They will be working under the direction of Mary Helen Gillespie, Steve Boucher and Chelsea Robinson.
Steve Boucher has worked as Senior Director of Strategic Communications and University Outreach for Southern New Hampshire University since January 2012. In his role at the university, Steve coordinates strategy for over 75 on campus social media properties, produces videos for a variety of audiences  and develops new partnerships between SNHU and the business community.
"This year's partnership with the Bank of New Hampshire Pavilion and InDepthNH.org is an amazing opportunity for our students to gain journalism experience covering a major event which will draw over 6,000 concert goers," Boucher said. "We are proud to work with such incredible partners to provide this experiential learning opportunity to the next generation of journalists and social media practitioners."
Mary Helen Gillespie of Londonderry is a digital journalist who served as a visiting professor of communications for the university's current academic year. Her "real-news" articles have run in The Wall Street Journal Digital Network, The Boston Globe and InDepthNH.org, among many other outlets in her 20+ year career.
"This exciting partnership is going to provide our students with a fabulous chance to cover breaking entertainment news in a visual fashion," Gillespie said. "This is also my first heavy-metal concert so I am double psyched."
InDepthNH.org is a nonprofit news outlet that is published by the New Hampshire Center for Public Interest Journalism. Executive editor Nancy West can be reached at Nancywestnews@gmail.com.